Help protect the Pando aspen grove and Tasha Creek areas!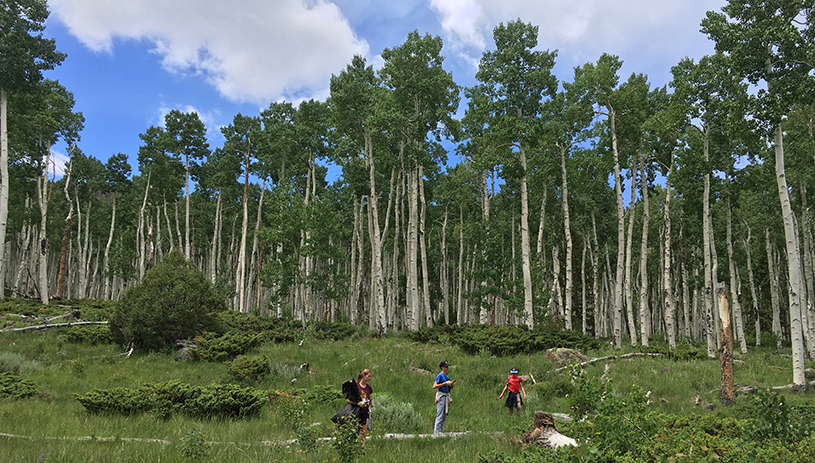 Tiny, young aspen shoots in the forest and willows that grow along streambanks are very tasty to cattle, elk, deer, and sheep. By fencing portions of these ecosystems, we can protect the most vulnerable parts — those new sprouts that need a few years to establish themselves and grow above the reach of these hooved creatures.
The Pando aspen grove, in central Utah, looks like many different trees, but it is actually one individual with thousands of stems emerging from a vast, connected root system, making it the largest known living organism in the world. In 2013, the Pando Working Group, which includes the Trust, built a tall fence around a 16-acre portion of Pando. This fence has been a great success, allowing aspen in this exclosure to begin growing up into the canopy to replace the mature and dying trees. We will continue our work documenting this recovery by taking repeat photos within the fence. We will assess the fence to identify any gaps where cattle and deer can enter and make repairs where possible. We will also remove a few of the invasive plants to keep this fenced-off area as natural as possible.
Just on the other side of Fish Lake from Pando is Tasha Creek – a beautiful stream flowing through lush willows, verdant meadows, and remnant beaver dams. We'll be building and repairing a short section of fence to better control cattle movement and provide more protection for this spectacular high-elevation creek.
If you've got some fence-repair experience, a botany background, or are keen to learn more about aspen, willows and wildflowers, join us for a weekend of hard work and incredible views.
Who can sign up?
Anyone! We ask that each participant become a member of the Grand Canyon Trust with a $50 donation, if you're not already a member. Please contact us if you have any questions. You'll also need to submit your Volunteer Application Form to secure your spot on the trip.
---
COVID-19 considerations
We are closely monitoring the COVID-19 pandemic as we plan for our field season. If we feel that a trip cannot be safely conducted due to public health conditions, we will cancel the trip with as much notice as possible. For the safety of all trip participants, we ask that each volunteer show proof of vaccination prior to attending. Other precautionary measures to be taken on trips will be communicated in pre-trip emails. The safety and comfort of our trip participants is our first priority. Please contact us with any questions or concerns.
---
Itinerary
Day 1
Meet around 5:00 p.m. at the campsite (exact location will be sent to trip participants via email), set up camp, and get to know each other. We will introduce the Trust and the goals of the project briefly over appetizers. Enjoy a delicious dinner prepared by our staff before settling in for a starry night!
Days 2 & 3
Wake up early. Coffee and breakfast served at 7:00 a.m. Conduct repeat photography, assess the fence conditions, and do some weeding from 8:00 a.m. to approximately 5:00 p.m., with a midday lunch break. We'll be joined by a U.S. Forest Service land manager who will speak to how this project fits into his work as a manager of our public lands. Return to camp for dinner, discussion, stargazing, and free time.
Day 4
Wake up early. Coffee and breakfast served at 7:00 a.m. Finish up any remaining work projects. After lunch, we'll hike (optional) up Tasha Creek to enjoy the landscape we've been working hard to restore. Depart after the hike in the late afternoon.
---
Accommodations
We will have a car camping base camp for three nights near our project sites. The Trust will provide a full kitchen, and we'll be at a campground with water, pit toilets, picnic tables, and campfire rings.
The Trust provides: All meals, snacks, field equipment, tools, and risk management.
Participants provide: Personal transportation to the site, individual camping gear, hiking gear (including wide-brimmed hat and sunglasses), and rain gear. Make sure to bring a warm sleeping bag and lots of layers for the cold nights (we'll be up at 9,000 feet). Please come prepared!
Our Gear Packing List will help you prepare. We can loan some camping gear items on a first-come, first-served basis — contact us for details.