Help us find and protect water in the desert!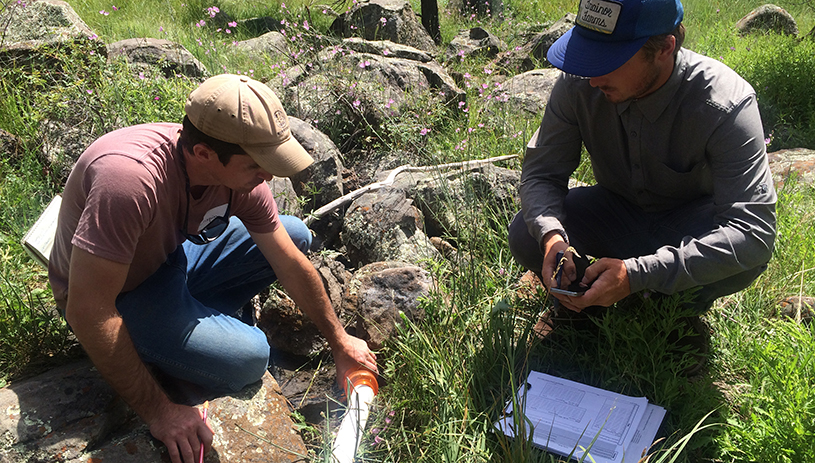 ---
We will be prioritizing participants who live close to Grand Staircase-Escalante National Monument. Once you complete this springs survey training, you'll be ready to go out and collect further data on your own throughout the year!
---
Springs are among the most biologically diverse, yet most threatened, natural areas on earth. In the arid Southwest, these rare pockets of water allow willows to grow, bobcats to drink, and birds to feed. We'll be working in southern Utah, where heavily grazed landscapes worsen the effect of a warming climate on springs: cattle trample the fragile native plants, invasive species take root, and humans divert water for other uses.
On this trip, we will set off to find springs and assess their water quality, flow, wildlife uses, and nearby infrastructure. Once you've been trained in our data collection methods, you will be ready to search for springs across Grand Staircase-Escalante National Monument on your own. This work will help us understand how wildlife and plants use springs, and help determine ways that we can restore and protect these precious hubs of biodiversity in the desert.
Who can sign up?
If you live in Page, Kanab, Tropic, Escalante, Boulder, or other nearby communities, we highly encourage you to sign up for this trip. We ask that each participant become a member of the Grand Canyon Trust with a $50 donation, if you're not already a member. Please contact us if you have any questions. You'll also need to submit your Volunteer Application Form to secure your spot on the trip.
---
COVID-19 considerations
We are closely monitoring the COVID-19 pandemic as we plan for our field season. If we feel that a trip cannot be safely conducted due to public health conditions, we will cancel the trip with as much notice as possible. For the safety of all trip participants, we ask that each volunteer show proof of vaccination prior to attending. Other precautionary measures to be taken on trips will be communicated in pre-trip emails. The safety and comfort of our trip participants is our first priority. Please contact us with any questions or concerns.
---
Itinerary
Day 1
Meet around 12:00 p.m. at the campground (exact location will be sent to trip participants via email), set up camp, and get to know each other. We will introduce the Trust and the goals of the project and then head out to do a practice survey at a nearby spring. In the evening, we'll enjoy a delicious dinner prepared by our staff before settling in for a starry night!
Day 2
Wake up early. Coffee and breakfast served at 7:00 a.m. After breakfast, split up into a few groups and head out to a survey a set of springs for the day. Using maps, GPS devices, and our route-finding skills, we'll locate and document observations of about 5-6 springs. Return to camp for dinner, discussion, stargazing, and free time.
Day 3
Wake up early. Coffee and breakfast served at 7:00 a.m. After breakfast, continue the surveying of springs at new locations. Return to camp, enjoy dinner, and conversation. Head out this evening if you'd like, or stick around for one more night and depart the next morning.
---
Accommodations
We will car camp for three nights on the south side of Grand Staircase-Escalante National Monument. The Trust will provide water, food, a full kitchen set-up, and a groover toilet.
The Trust provides: All meals, snacks, field equipment, tools, and risk management.
Participants provide: Personal transportation to the site, individual camping gear, wide-brimmed hat, sunglasses, rain gear, clothes for warm-to-cool days, and a warm sleeping bag for the cool nights. Please come prepared!
Our Gear Packing List will help you prepare. We can loan some camping gear items on a first-come, first-served basis — contact us for details.