Work with Coconino National Forest to restore ponderosa pine habitat.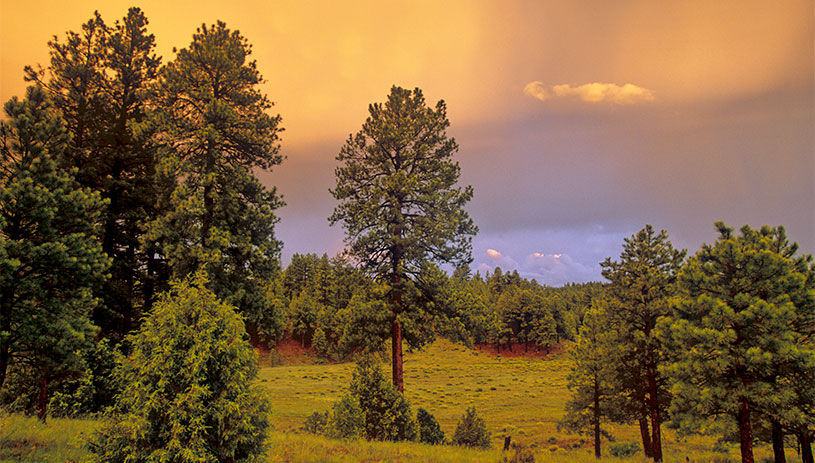 Ponderosa pine forest outside of Flagstaff, Arizona. TOM BEAN
In 2022, Coconino National Forest completed a new trail plan for the Mt. Elden and Dry Lake Hills area north of Flagstaff, Arizona. To meet growing recreational demands and protect natural resources, the U.S. Forest Service is building new trails, rerouting eroded trails, and closing and restoring others.
Join us this summer to help the Forest Service turn its paper plan into on-the-ground action. Working alongside the agency, we will restore closed areas as specified in its trail plan to help wildlife, soil, and water quality recover and to improve the fire resilience of Flagstaff's forests.
All ages are welcome to help us move rocks and branches, build barriers, and clean up campsites for the benefit of our forests. Childcare is provided for young children. Older children can join in the fun!
Who can sign up?
Anyone! Membership is optional, but we ask that participants who are comfortable financially become members of the Grand Canyon Trust with a $25 donation. Members receive a subscription to our biannual print magazine, The Advocate. Please contact us if you have any questions. You'll also need to submit your volunteer application form to secure your spot on the trip.
---
What to expect
We'll meet in the morning near Flagstaff, Arizona (exact location will be specified in pre-trip emails) for a project introduction and safety talk. We will hike into the site and work together until 2 p.m., with a midday lunch break. At the end of the day we'll pack up our tools and say goodbye until next time.
We'd love to have you at our other work days too. Sign up for more forest restoration fun June 17 ›
---
Accommodations
This is a day trip with no camping involved. Vehicles will be nearby, but plan to be without cell service or formal amenities for the day.
The Trust provides: Snacks, water, field equipment, tools, and training.
Participants provide: Personal transportation to the site, a pack lunch, work clothes, work gloves, wide-brimmed hat, sunglasses, rain gear, and a refillable water bottle. Please come prepared.