Hike to springs near Flagstaff and learn how to collect data.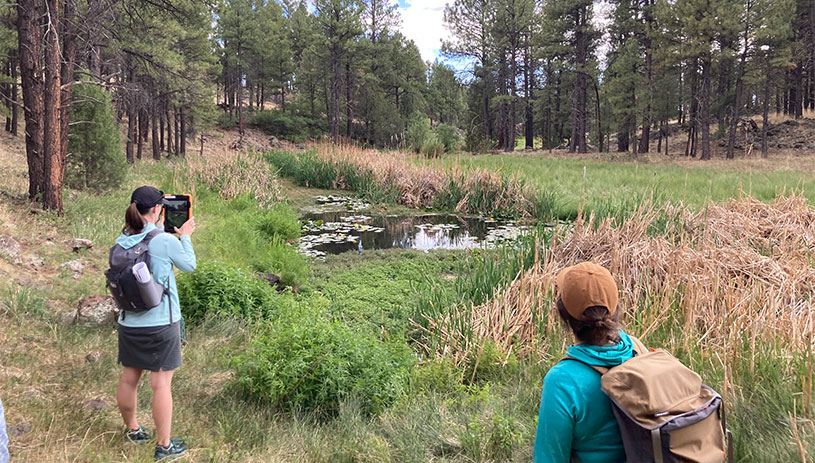 Volunteers survey a spring in northern Arizona. AUDREY KRUSE
Springs are among the most biologically diverse, yet most threatened, natural areas on Earth. In the arid Southwest, these rare pockets of water allow unique plants to grow, bobcats to drink, and birds to feed. Understanding the health of springs can better inform management decisions that support entire ecosystems.
Through the Four Forest Restoration Initiative, the U.S. Forest Service, the Trust, and many partners are working to reduce the risk of severe wildfire and improve the health of our ponderosa pine forests. Rivers, streams, and springs are vital to healthy forests.
During this trip, we will visit springs near Flagstaff, Arizona to document location, condition, wildlife use, and presence of grazing infrastructure. The data you collect will help inform springs-related restoration priorities.
This is a training trip to learn the surveying protocols. Once you complete the training, you will be ready to survey springs on your own. We ask that volunteers commit to collecting data two more times after the training.
Who can sign up?
Anyone! Membership is optional, but we ask that participants who are comfortable financially become members of the Grand Canyon Trust with a $25 donation. Members receive a subscription to our biannual print magazine, The Advocate. Please contact us if you have any questions. You'll also need to submit your volunteer application form to secure your spot on the trip.
NOTE: This trip is currently full. Sign up for a spot on the waiting list.
---
What to expect
We'll meet at 8 a.m. near Flagstaff, Arizona (exact location will be specified in pre-trip emails). Short, off-trail hiking may be required to reach the springs. Please come prepared with hiking gear, lunch, and water. We'll break around midday for a picnic lunch and aim to be back in the Flagstaff area by 5 p.m.
---
Accommodations
Vehicles will be nearby, but plan to be without cell service or formal amenities for the day.
The Trust provides: Extra water, snacks, field equipment, tools, and training. We will not be staying overnight at the site.
Participants provide: Personal transportation to the site, smart phone (for data collection), wide-brimmed hat, sunglasses, and rain gear.