Have a sharp eye? Help find old-growth pinyon and juniper trees in southern Utah.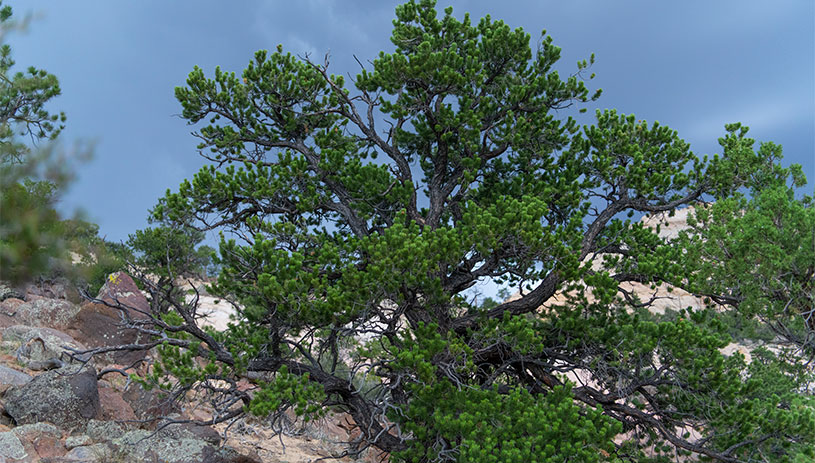 An old pinyon pine stands tall in Grand Staircase-Escalante National Monument. BLAKE MCCORD
If you've ever visited the Colorado Plateau, you've probably walked or driven through pinyon and juniper forests. These forests have been a source of food, medicine, and ceremony for Indigenous people since time immemorial. The pinyon jay, a striking blue bird, depends on the pinyon pine for its survival, collecting and caching its seeds throughout the year. However, old-growth pinyon and juniper trees are often slated for removal by federal agencies.
The slow-growing pinyon and juniper trees have learned to survive and thrive in the harsh climate of the Colorado Plateau. These native species can withstand hot, dry summers and bone-chilling cold winters, living for upwards of 500 years.
We need volunteers to hike through clear cut areas, or areas under consideration for tree removal, in southern Utah to document old-growth trees. The information we gather will help us advocate for old growth protections, ensuring the existence of all species that rely on these trees for survival.
Who can sign up?
Anyone! Membership is optional, but we ask that participants who are comfortable financially become members of the Grand Canyon Trust with a $25 donation. Members receive a subscription to our biannual print magazine, The Advocate. Please contact us if you have any questions. You'll also need to submit your volunteer application form to secure your spot on the trip.
NOTE: This trip is currently full. Sign up for a spot on the waiting list.
---
What to expect
We'll start out with coffee and breakfast in the mornings at our basecamp in Utah's Fishlake National Forest near Torrey, Utah. During the days, we'll look for old-growth tree stumps and large standing trees, taking samples and counting tree rings to determine their age. We'll return to camp in the evenings for free time, appetizers, dinner, and stargazing. We'll also have time for Trust staff to give a few informal talks about the importance of pinyon and juniper forests. On the last morning of the trip, we'll break camp, pack up, and head home.
---
Accommodations
We will camp at a national forest campground at a fairly high elevation (approximately 8,000 ft) in the Fishlake National Forest near Torrey, Utah. There will be toilets, drinking water, and a camp kitchen.
The Trust provides: All meals, snacks, field equipment, tools, and training.
Participants provide: Personal transportation to the site, individual camping gear, coffee mug, lunch container, work clothes, work gloves, wide-brimmed hat, sunglasses, rain gear, and clothes for warm days and cold nights. Please come prepared.