Be a citizen scientist!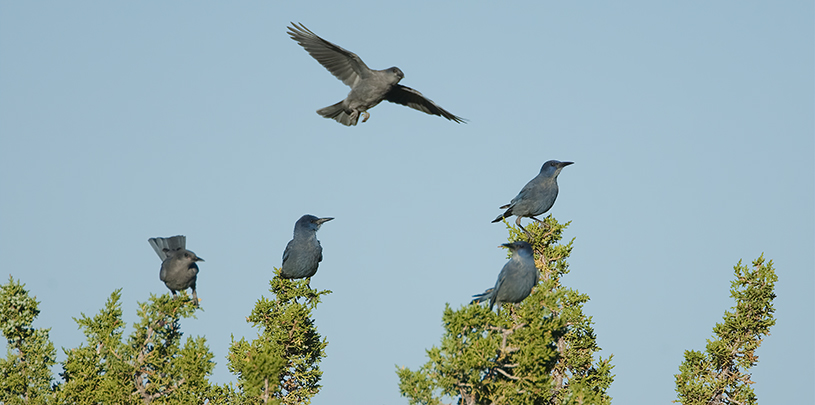 A flock of pinyon jays. Photo by MARIE READ.
We're currently defending the original boundaries of Utah's Grand Staircase-Escalante National Monument in the courts, while continuing to advocate for better land management on the ground. This project will gather information about pinyon jay locations to advocate for sound management of pinyon-juniper forests, which have unfortunately been the target of destructive vegetation projects. Large-scale removal of pinyon-juniper forests has occurred with heavy machinery, often in the service of cattle-grazing operations. Preventing the removal of these trees in areas known to be actively used by pinyon jays will help maintain the biodiversity that these pinyon-juniper ecosystems support, and protect a culturally significant resource.
If you plan to be in the Grand Staircase-Escalante area this year, come to our training workshop and then get out on the landscape with this independent project. We'll show you how to use eBird, a user-friendly bird observation platform used all over the world, including by the Utah Division of Wildlife Resources to inform their songbird management. The current conservation strategy for the pinyon jay recommends a 500-meter buffer of undisturbed habitat around nesting colonies, providing protection for both birds and the pinyon-juniper forests. By documenting where there are pinyon jays, we can prevent large-scale clear-cutting and support forests full of pinyon jays.
Who can sign up?
Anyone! We ask that each participant become a member of the Grand Canyon Trust with a $50 donation, if you're not already a member. Please contact us if you have any questions. You'll also need to submit your Volunteer Application Form to secure your spot on the trip.
---
COVID-19 considerations
We are closely monitoring the COVID-19 pandemic as we plan for our field season. If we feel that a trip cannot be safely conducted due to public health conditions, we will cancel the trip with as much notice as possible. For the safety of all trip participants, we ask that each volunteer show proof of vaccination prior to attending. Other precautionary measures to be taken on trips will be communicated in pre-trip emails. The safety and comfort of our trip participants is our first priority. Please contact us with any questions or concerns.
---
Workshop agenda
The two-hour workshop will cover pinyon and juniper ecosystem characteristics, a deep-dive into the natural history of pinyon jays and their symbiotic relationship with pinyon pines, and a tutorial on look-a-like birds. We'll also go over how to use the eBird app so that you can go out and document pinyon jays across the Colorado Plateau on your own.
The Trust provides: Training, trouble-shooting, and snacks.
Participants provide: Personal transportation to Bluff, Utah, a smartphone or device that holds apps, and binoculars.