Why jump when you can run?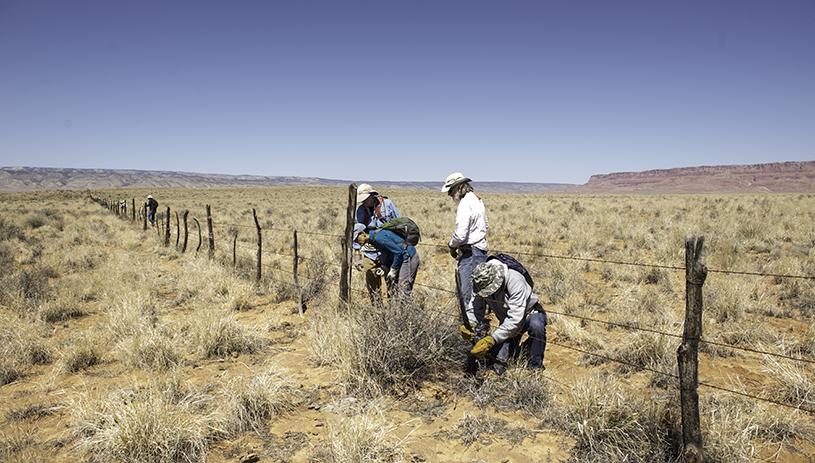 That's the mentality of pronghorn, the second-fastest land mammal on earth. Though they are highly adapted to speed throughout the flat grasslands that they roam, a simple fence can stop them in their tracks. Unfortunately, the Southwest is crisscrossed with miles of barbed wire cattle fences. Pronghorn have to navigate these fences as they search for food and water and migrate between habitats. Pronghorn may burn extra energy trying to get around these fences or try to crawl under the bottom wire. These wires are typically strung too low for pronghorn to move underneath; and if they do, it can scrape the hide right off their backs, leaving them susceptible to infection and disease.
As the livestock grazing permittee of North Rim Ranches, we strive to be stewards of this landscape, which includes minimizing the impacts of livestock fences on wildlife. On this trip, we'll spend a couple days fixing fences to reconnect habitats and facilitate pronghorn movement in House Rock Valley. Trust volunteers have already replaced the bottom barbed wire with smooth wire, 18 inches off the ground, across more than 15 miles of cattle fences, but we've got a few more miles to go. Research has shown that moving the bottom wire up a little is enough for pronghorn (and young deer) to scramble under, but low enough to contain cattle. Our neighboring permittees are doing the same work on their livestock fences – a true team effort to help pronghorn roam free in House Rock Valley.
Who can sign up?
Anyone! We ask that each participant become a member of the Grand Canyon Trust with a $50 donation, if you're not already a member. Please contact us if you have any questions. You'll also need to submit your Volunteer Application Form to secure your spot on the trip.
---
COVID-19 considerations
We are closely monitoring the COVID-19 pandemic as we plan for our field season. If we feel that a trip cannot be safely conducted due to public health conditions, we will cancel the trip with as much notice as possible. For the safety of all trip participants, we ask that each volunteer show proof of vaccination prior to attending. Other precautionary measures to be taken on trips will be communicated in pre-trip emails. The safety and comfort of our trip participants is our first priority. Please contact us with any questions or concerns.
---
Itinerary
Day 1
Meet at 12:00 p.m. at Kane Ranch. We will feed you lunch, set up camp, do a project orientation, and get started on our fence repair. Then enjoy a delicious dinner and a beautiful sunset over the Vermilion Cliffs from our porch at Kane Ranch.
Day 2
Wake up early. Coffee and breakfast served at 7:30 a.m. Travel to nearby project sites and work from 8:30 a.m. to approximately 5:00 p.m., with a midday lunch break. Return to camp for sunset, dinner, discussion, stargazing, and free time. Arizona Game and Fish staff and Cerissa Hoglander, our climate resilience director, will teach us about the vital link between habitat connectivity and climate adaptation, and how this is a key aspect of our broader conservation efforts.
Day 3
Wake up early. Coffee and breakfast served at 7:00 a.m. Finish up fieldwork if needed in the morning and maybe go for a short hike. We'll break camp, pack up, and head home, returning to Flagstaff by approximately 4:00 p.m.
---
Accommodations
We will stay at the historic Kane Ranch in House Rock Valley. There will be limited indoor sleeping spaces, so please plan to camp outside. We will have limited running water, a full kitchen, and a pit toilet.
The Trust provides: All meals, snacks, field equipment, tools, and risk management.
Participants provide: Personal transportation to Kane Ranch, individual camping gear, work clothes, wide-brimmed hat, sunglasses, rain gear, and clothes for warm-to-cool days. Please come prepared!
Our Gear Packing List will help you prepare. We can loan some camping gear items on a first-come, first-served basis — contact us for details.