Build and repair fences, and survey for beavers.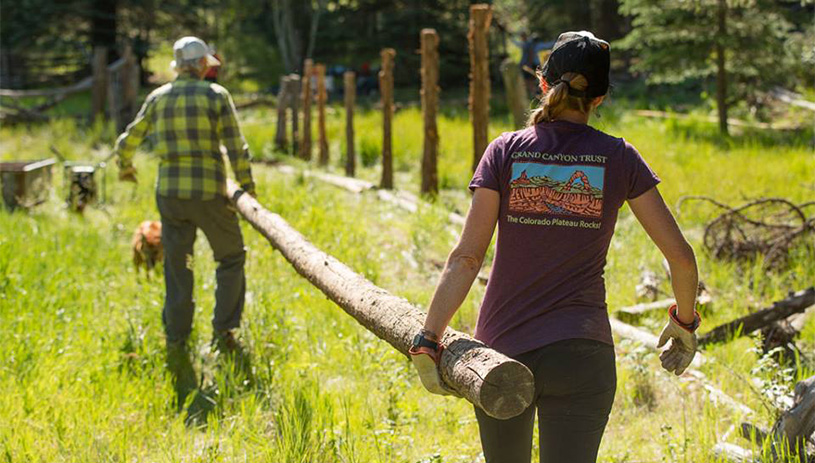 Volunteers build a log fence. BLAKE MCCORD
In the arid Southwest, wetlands are hotspots for wildlife, native plants, and people alike. Fences keep vehicles on designated routes and help safeguard these rare water sources. Protecting wetlands is important in supporting resilient forests and meadows that can adjust to climate change and shifts in weather and precipitation.
On this trip, we'll help the U.S. Forest Service build and repair fences on a high plateau in central Utah. These fences were built to shield delicate water sources from wandering recreational vehicles, but with time, the fences have fallen into disrepair. With a little bit of teamwork, we can help reduce recreation impact and keep sensitive wetlands healthy for years to come. While in the area, we will also take the opportunity to conduct beaver surveys of nearby streams.
Who can sign up?
Anyone! Membership is optional, but we ask that participants who are comfortable financially become members of the Grand Canyon Trust with a $25 donation. Members receive a subscription to our biannual print magazine, The Advocate. Please contact us if you have any questions. You'll also need to submit your volunteer application form to secure your spot on the trip.
---
What to expect
We'll fuel up with coffee and breakfast in the mornings and spend our days fixing fences, building new fences, and documenting signs of beavers in nearby streams. We'll return to camp in the evenings for free time, appetizers, dinner, and stargazing. We'll hear from a Forest Service partner and Grand Canyon Trust staff about conservation work and ways to stay involved after the trip. On the last morning, we'll break camp, pack up, and head home.
---
Accommodations
We will be based at a campground near Fish Lake, Utah. We will have pit toilets and a camp kitchen.
The Trust provides: All meals, water, snacks, field equipment, tools, and training.
Participants provide: Personal transportation to the site, individual camping gear, coffee mug, lunch container, work clothes, work gloves, wide-brimmed hat, sunglasses, rain gear, and clothes for warm days and cold nights. Please come prepared.