Fence precious water sources in the La Sal Mountains outside of Moab, Utah.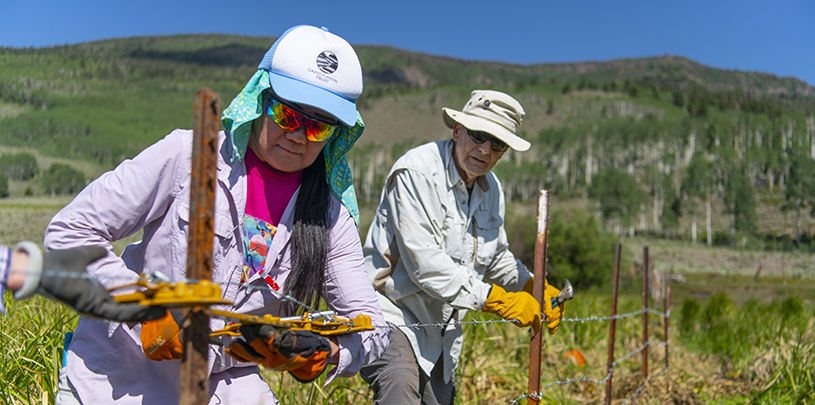 Volunteers assemble a wire fence. BLAKE MCCORD
The views around Moab, Utah are striking — snow-capped peaks tower over the red rock country below. Snow on the La Sal Mountains feeds alpine lakes, wetlands, and streams that support diverse communities of native plants and animals, from leopard frogs to black bears. However, the lush willows and grasses growing near these rare pockets of water are irresistible meals to heavy-hoofed animals, including cattle, which quickly trample fragile native plants and diminish water quality. A sturdy fence can keep cattle out, while allowing native plants to thrive. This stabilizes streambanks and provides essential habitat for wildlife.
On this trip, we will build a fence to protect a wetland in the La Sal Mountains. Volunteers will also build small erosion control structures in stream channels and create barriers that prevent vehicles from driving in the wetland. Come ready to pound fence posts, move rocks, and enjoy this beautiful mountain setting at 10,000 feet! After a few days of hard work, we'll celebrate our accomplishments with a scenic alpine hike.
Who can sign up?
Anyone! Membership is optional, but we ask that participants who are comfortable financially become members of the Grand Canyon Trust with a $25 donation. Members receive a subscription to our biannual print magazine, The Advocate. Please contact us if you have any questions. You'll also need to submit your volunteer application form to secure your spot on the trip.
NOTE: This trip is currently full. Sign up for a spot on the waiting list.
---
What to expect
We'll fuel up with coffee and breakfast in the mornings and spend our days building fences and protecting wetlands. We'll return to camp in the evenings for free time, appetizers, dinner, and stargazing. We'll hear from a U.S. Forest Service partner and Trust staff about conservation work and ways to stay involved after the trip. On the last day, we'll finish work if necessary, break camp, pack up, and head home.
---
Accommodations
We will be based at a campground near Moab, Utah. We will have a pit toilet and a camp kitchen.
The Trust provides: All meals, water, snacks, field equipment, tools, and training.
Participants provide: Personal transportation to the site, individual camping gear, coffee mug, lunch container, work clothes, work gloves, wide-brimmed hat, sunglasses, rain gear, and clothes for warm days and cold nights. Please come prepared.