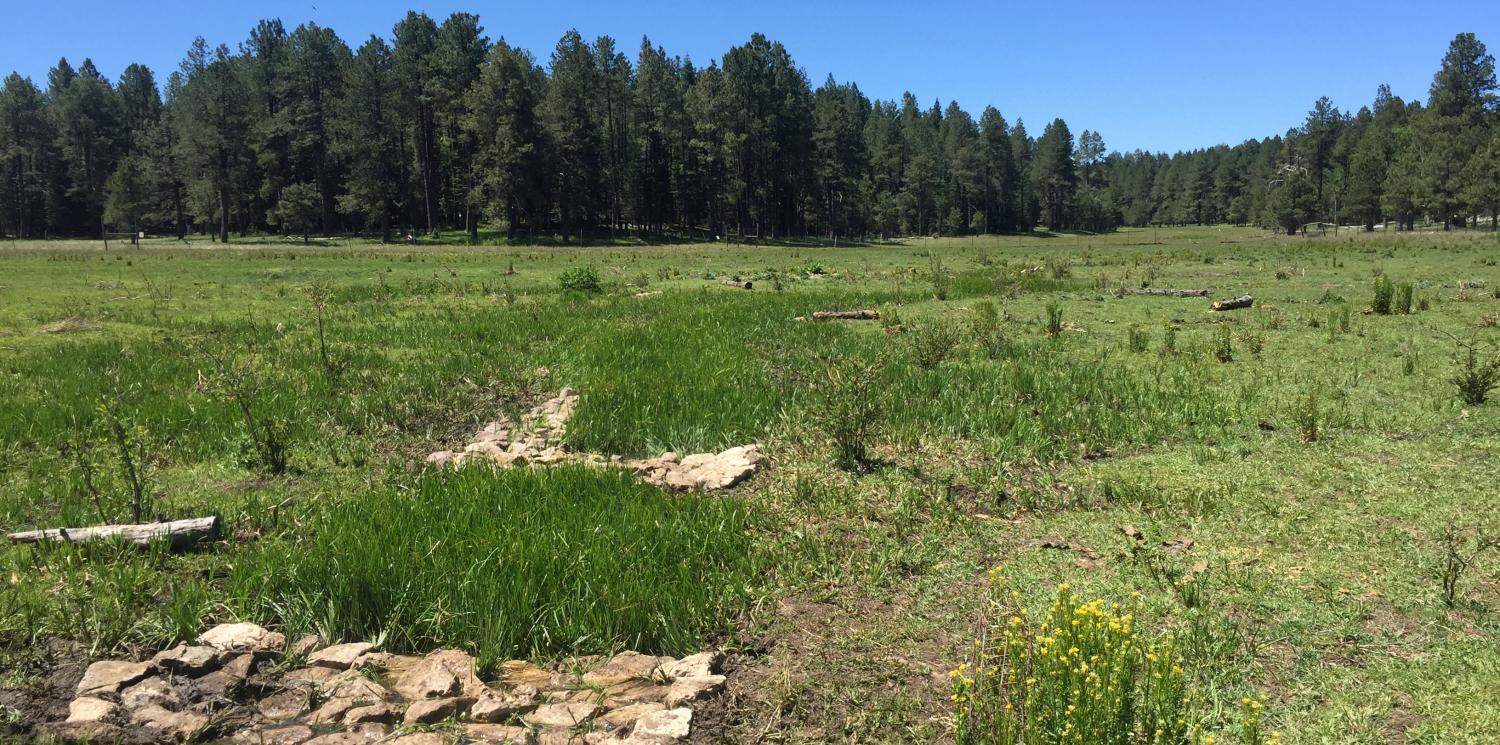 **This event is currently canceled. We are closely following CDC recommendations around community spread of COVID-19 and will work to reschedule as soon as we are able. If you have already signed up for this event please check your email for the most up-to-date information.
---
Northern Arizona forests have been heavily altered by human disturbances, fire suppression, and non-native wildlife. Join us as we work to re-establish and restore the health and function of ponderosa pine forests. Forest resiliency is important to bounce back from natural disturbances, such as wildfires and climate change. Restoring and maintaining the health of areas near rivers, streams, and springs is a key component. Springs and streams are small but important water sources in the Southwest.
We need volunteers to help with a stream restoration project along the Mogollon Rim. We'll be working on a stream section that shows impacts of heavy grazing: steep banks, erosion, and loss of vegetation. These heavily incised channels do not support the wildlife that they would if water was moving slowly. We will install loose rock structures in the streambed to help slow the speed of water, reduce erosion, provide an opportunity for native plants to re-establish, and repair the function of the stream. If there's time, we may also help repair and maintain fences, or help decommission social roads.
Who can sign up?
This trip is open to the public and recommended for those who like strenuous activity. We ask that you become a member of the Grand Canyon Trust with a $50 donation. Trips are free for current members. Start the application process below to secure your spot.
---
What to expect?
We will have a car-camping-style basecamp for two nights on the Mogollon Rim District of the Coconino National Forest. The Trust will provide the water, meals, kitchen facilities, a primitive campsite groover toilet, and necessary field tools. Participants should plan on providing their own transportation to and from Flagstaff, Arizona or the field site, and their own personal camping and day hiking gear. Please check our Frequently Asked Questions and gear packing list for more information. We are able to loan gear on a first-come, first-served basis. Contact us for details.
We plan to meet at 10:00 a.m. MST at the Mogollon Rim Blue Ridge Ranger District Office on Friday, June 5. Expect moderate to strenuous work from Friday afternoon through Sunday morning. A detailed itinerary will be supplied to participants.