Restore streams in northern Arizona during the day, sleep in your own bed at night.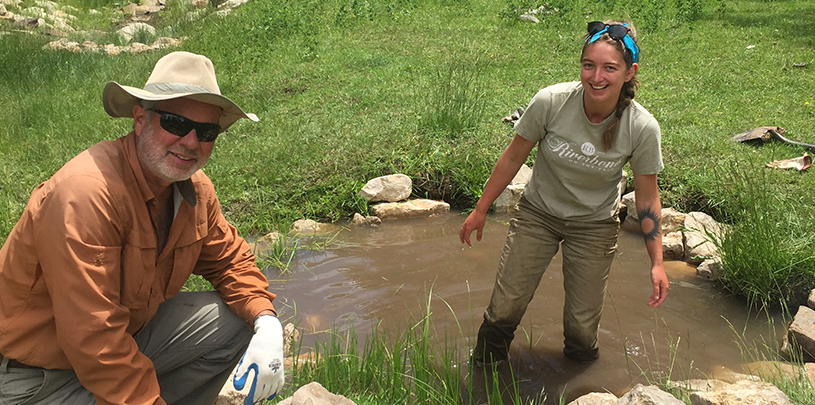 Volunteers arrange rocks for better stream flow on the Coconino National Forest. AUDREY KRUSE
Protecting water resources is a key step in supporting more resilient forests, especially as the climate warms. Join us to restore the health of wetlands and streams that flow through northern Arizona's ponderosa pine forests. These spring-fed streams are small but vital water sources that support plants and animals seldom found anywhere else in the forest.
We'll be working on a stream in Coconino National Forest near Flagstaff that has been impacted by drought, flash floods, and overgrazing, resulting in erosion, steep banks, vegetation loss, and less surface water. On these day trips (June 3, 4, 10, 11), we will install rock structures in eroded areas to help slow and spread out the water flow. This will help re-establish native plants, support downstream water availability, and improve forest health beyond the boundaries of our work.
Who can sign up?
Anyone! Membership is optional, but we ask that participants who are comfortable financially become members of the Grand Canyon Trust with a $25 donation. Members receive a subscription to our biannual print magazine, The Advocate. Please contact us if you have any questions. You'll also need to submit your volunteer application form to secure your spot on the trip.
---
What to expect
We'll meet in the morning at the work site (exact location will be specified in pre-trip emails) for a safety talk and project introduction. We'll spend the day lifting rocks, digging pools, and restoring stream habitats, breaking for a tasty lunch together around midday. We will wrap up work around 4 p.m.
We'd love your help at the other Stream Stewards work days too! Sign up for more stream restoration fun June 3, 4, and 10 ›
---
Accommodations
Vehicles will be nearby, but plan to be without cell service or formal amenities for the day.
The Trust provides: Lunch, water, snacks, field equipment, tools, and training. We will not be staying overnight at the site.
Participants provide: Personal transportation to the site, work clothes, work gloves, refillable water bottle, wide-brimmed hat, sunglasses, rain gear, and any other necessities for a day in the woods. Please come prepared.