Join us as we weed with a purpose!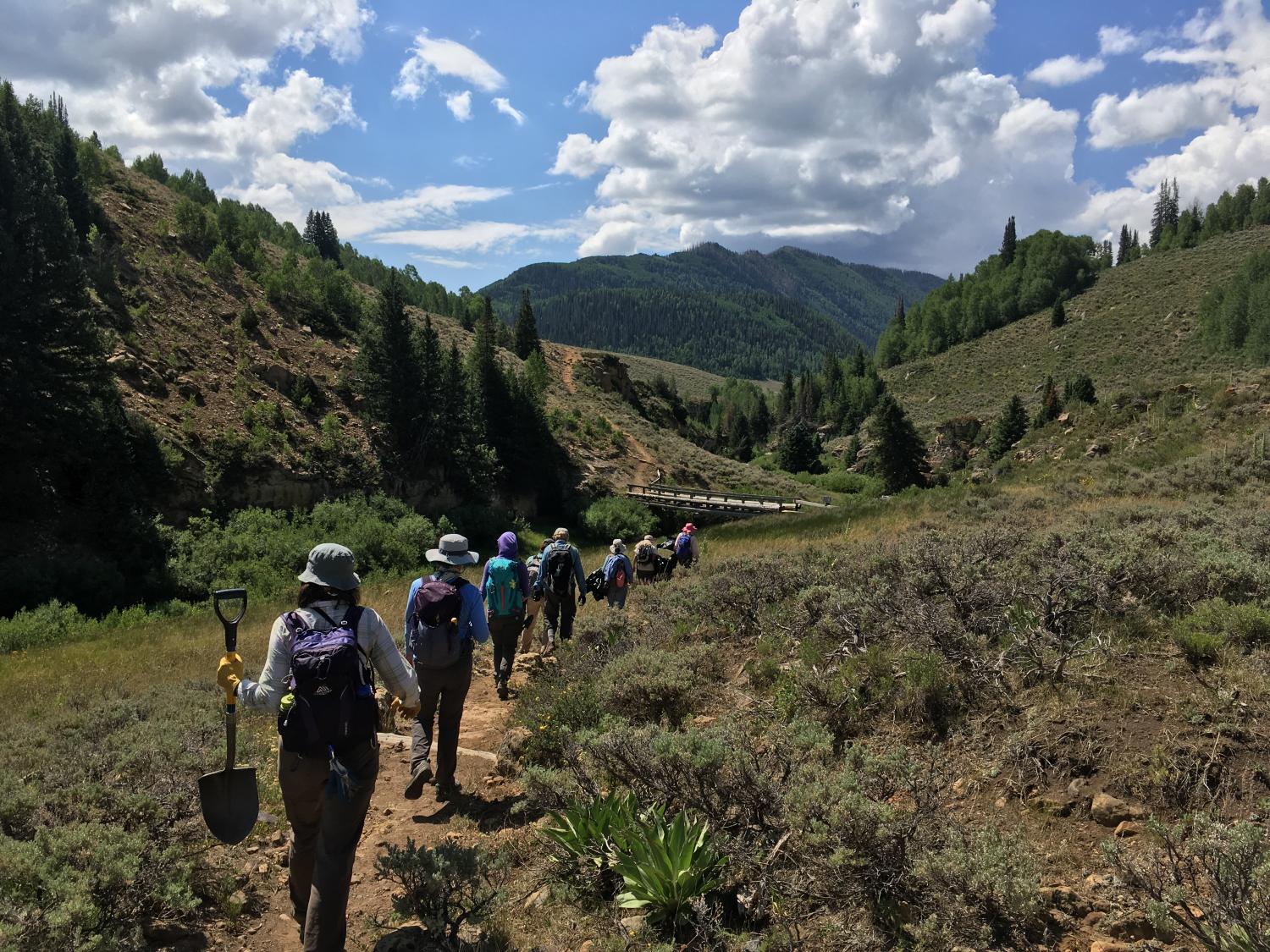 In 2010, the Manti-La Sal National Forest signed a memorandum of understanding with the Grand Canyon Trust to establish a reference area in a portion of Candland Mountain, which is used occasionally by sheep, as an area that would not be grazed for 10 years. Since 2014, the Trust has been removing musk thistle from this reference area. Every year we find a little less to remove — a great sign that our weeding is working! We undertake this stewardship to retain the area in ungrazed condition, because all of the Manti-La Sal National Forest is currently designated as an active grazing allotment.
There's plenty to see here at 10,000 feet elevation; we'll watch beavers build dams, hawks soar above us, deer in the meadows, and hopefully squeeze in a scenic hike through the canyon and along Huntington Creek on the second afternoon.
Who can sign up?
Anyone! This trip is perfect for all ages and skills, as no prior botany experience is necessary. Please contact us if you have any questions.
We ask that each participant become a member of the Grand Canyon Trust with a $50 donation. Trips are free for current members.
Be sure to submit a Volunteer Application Form to secure your spot on the trip.
---
Itinerary
Day 1
Meet at 9:00 a.m. MDT at the turnoff to the Miller Flat Recreation Area — it's a large dirt lot and restroom just east of Electric Lake. We will caravan to our camp. First, we will describe the trip goals and logistics before spending the day removing invasive species and documenting ecological conditions. We'll break at 4:30 p.m. to explore the area, go for a nearby swim, or relax. Hopefully the wildlife watching will be as good as last year! Then, we'll set up camp and enjoy a delicious dinner prepared by our staff and admire the brilliant Utah stars.
Day 2
Wake up early. Coffee and breakfast served by 7:00 a.m. We'll spend the day finishing what we started the day before — removing invasive thistles within the allotment. After lunch there will be the option of continuing along the trail for a guided nature hike through the canyon. Pack up and head off on your next adventure by 5:00 p.m. knowing how much has been done to protect the ecological integrity of the area.
---
Accommodations
We will have a car camping base camp for one night at the Miller Flat Recreation Area. We will have water and a full kitchen. Pit toilets will be available at the site.
The Trust provides: All meals, snacks, field equipment, and tools (in addition to what participants have and wish to bring).
Participants provide: Personal transportation, camping gear, hiking gear, work clothes, work gloves, rain gear, long-sleeved shirts, pants, wide-brimmed hat, and sunglasses.
Our gear packing list may help you prepare. We can provide limited transportation and loan gear on a first-come, first-served basis. Please contact us for details.