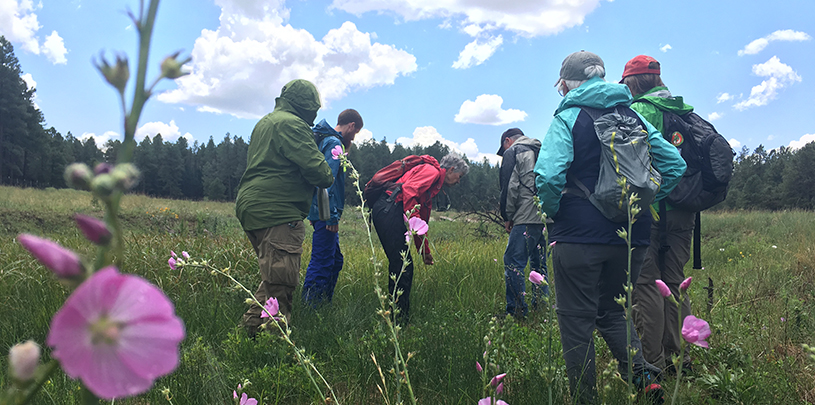 **This event is currently canceled. We are closely following CDC recommendations around community spread of COVID-19 and will work to reschedule as soon as we are able. If you have already signed up for this event please check your email for the most up-to-date information.
---
The Colorado Plateau is full of amazing landscapes: red rock buttes, sagebrush mesas, soaring mountains, lush meadows, and deep canyons. It's also one of the most heavily grazed regions in the West. The impacts of livestock grazing can be seen on nearly every habitat, plant community, food web, soil type, and species on the plateau. Current grazing practices often upset delicate balances of key natural areas. Colorado Plateau public lands that are free of livestock grazing offer particular insights into how biologically diverse and healthy our public lands could be.
The Grand Canyon Trust works with partners and land managers to study impacts, address problems, and advocate for better management of grazing across the Colorado Plateau. In 2018, the Trust launched a three-year project, called Where Cows Don't Graze, to document and map all areas officially closed to livestock grazing throughout the Colorado Plateau. We've also combed through all of the relevant scientific studies that have compared grazed and ungrazed conditions (e.g., wildlife, biocrusts, flowers) on the Colorado Plateau and are writing a paper about our literature survey. In the last two years, we've trained 40 volunteers to help us collect on-the-ground observations of livestock-grazed and livestock-free areas.
Who can sign up?
This year we are calling on our previously trained Where Cows Don't Graze volunteers to help us for a final round of data collection. If you have participated in a past Where Cows Don't Graze training, join us again for a one-day blitz across the plateau! Grand Canyon Trust staff are spreading out to different locations:
Each group will complete a thorough grazed and ungrazed survey. Join us at one of these locations to help document the impacts cattle have on our public lands. Each trip leader will contact participants about exact meeting location, logistics, etc.
* Please indicate in the "Notes" section of the online sign-up which location you'd like to visit.
---
What to expect?
The Trust will provide field equipment. Each participant is expected to make his or her own accomodations if traveling from afar. You'll also need your own personal transportation to the blitz location, lunch, snacks, and plenty of water. Hiking clothes and a day pack are strongly suggested.