Join the Grand Canyon Trust and the Great Old Broads for Wilderness as we learn to document the differences between grazed and ungrazed landscapes!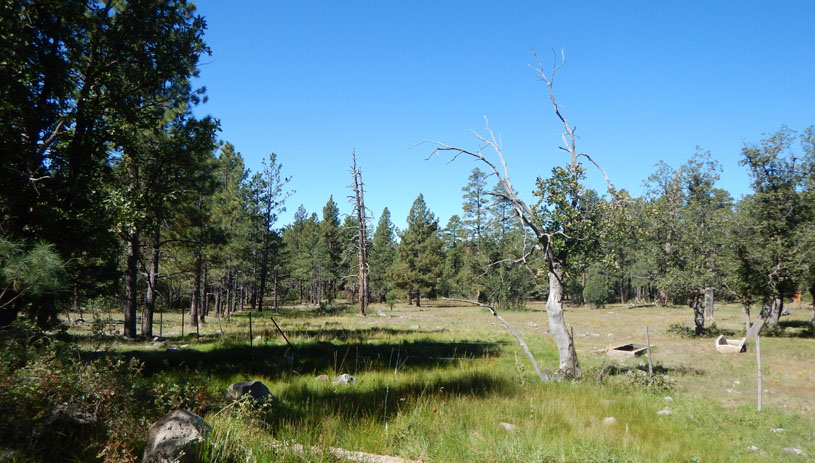 The Bureau of Land Management authorizes grazing on 7.8 million acres of public lands in Colorado. The impacts of grazing can be seen on nearly every habitat, plant community, food web, soil type, and species. Current grazing practices upset the delicate balance of key Colorado Plateau natural areas — and this is why we need your help! The Grand Canyon Trust is undertaking a three-year project called "Where Cows Don't Graze" to map all areas officially closed to livestock grazing throughout the Colorado Plateau, an area that includes northern Arizona, southern and central Utah, western Colorado, and northwestern New Mexico. We are also mapping all science studies that have compared conditions (e.g., wildlife, biocrusts, flowers) inside and outside of these closed areas.
Pictures tell a story of a landscape directly or indirectly affected by poorly managed livestock grazing. In the coming two years, we are hoping you, a field contributor, will visit as many areas closed to livestock grazing as possible. Field contributors will photograph conditions inside and outside of the closed area, and provide a basic report on its features (e.g., springs, types of vegetation, condition of fencing).
On this trip, we'll train you to be a field contributor and to critically observe the landscapes around us. We will learn how to describe and photograph the presence of different types of livestock impacts. We will also learn how to identify basic native and exotic grasses. The first full day will be spent exploring an allotment that has been fenced off from cattle for more than a decade, with the second day spent on the land outside the allotment. You'll learn the story of why this land was fenced as we practice our observation skills. On the third day we will pull together the data we collected to tell a story of this landscape, and be inspired to take action. Leave this training empowered to independently collect data on grazing practices, further contribute to "Where Cows Don't Graze", and work with our partners at the Great Old Broads for Wilderness to channel that newfound knowledge into activism.
Who can sign up?
Anyone interested in contributing at least one report during the next two years. Please contact Mary O'Brien if you have questions about "Where Cows Don't Graze," and Lisa Winters for any other questions about volunteer trips.
We ask that each participant become a member of the Grand Canyon Trust with a $50 donation. Trips are free for current members.
Be sure to submit your Volunteer Application Form to secure your spot on the trip.
---
Itinerary:
Day 1
Meet at 9:00 a.m. MDT at the McFee Campground (Group Site area) in Dolores, CO. We will caravan to our field site on the San Juan National Forest, set up camp, and learn about "Where Cows Don't Graze" and plans for the coming three days. We'll start right away with a tour of the area closed to grazing by examining conditions that indicate this area has been closed for more than 10 years. We'll take a break to feed you lunch, and finish the tour by 4:30 p.m. Enjoy a delicious dinner prepared by our staff, learn about our partner organization the Great Old Broads for Wilderness, and settle in as you enjoy a beautiful sunset from camp.
Day 2
Wake up early. Coffee and breakfast served at 7:00 a.m. Complete any last portions of the ungrazed land tour and move on to the grazed allotment that surrounds the area. We'll explore and learn how the conditions contrast until approximately 4:30 p.m., with a midday lunch break. Return to camp by 4:30 p.m., enjoy a delicious dinner, lively discussion by an invited speaker, and stargaze.
Day 3
Wake up early. Coffee and breakfast served at 7:00 a.m. Review photos of conditions observed this weekend and create a simple report of the area. The Grand Canyon Trust will provide an explanation of basic technologies that will help with future reporting, and ask you to sign up for additional sites to visit on your own. The Great Old Broads for Wilderness will give you the tools to channel your passion for public lands into action. We'll also find time to pack up, eat lunch, and wrap up by approximately 3:00 p.m.
---
Accommodations:
We will have a car camping style base camp for 2 nights. We will have water, a full kitchen, and a "groover" style toilet. Please plan to camp beneath the stars.
The Trust provides: All meals, snacks, and field equipment.
Participants provide: Personal transportation, camping gear, hiking clothes and day pack for the weekend, wide-brimmed hat, sunglasses, and a digital camera if you have one (smart phones also work). Please come prepared with rain gear and clothing for warm-to-cool days.
Our gear packing list will help you prepare. We can provide limited transportation and loan gear on a first-come, first-served basis — contact us for details.