by Audrey Kruse, Community Engagement Director
Are you ready to trade out your winter snow boots for summer work boots? Have you been hankering for French toast made by Grand Canyon Trust staff in a Dutch oven? Are you ready to wear work gloves, pull weeds, fix fences, and move rocks? Are you yearning to spot pinyon jays during your hikes through Grand Staircase-Escalante National Monument? Fear not friend – we've got a full suite of exciting trips planned for you this field season.
Volunteer trip registration is now open for 2022 ›
Revitalize a native plant garden
Help the Kane Ranch garden return to its former glory as a native plant haven. Whether you're a master gardener or novice, join us for the first volunteer trip of the season in House Rock Valley, Arizona. Check it out ›
Restore streams in Arizona
Join us on a five-day restoration trip in Coconino National Forest. You'll build rock structures to slow the flow of water and create pools essential for plant and animal life in dry northern Arizona forests. Lend a hand ›
Build a fence on the North Rim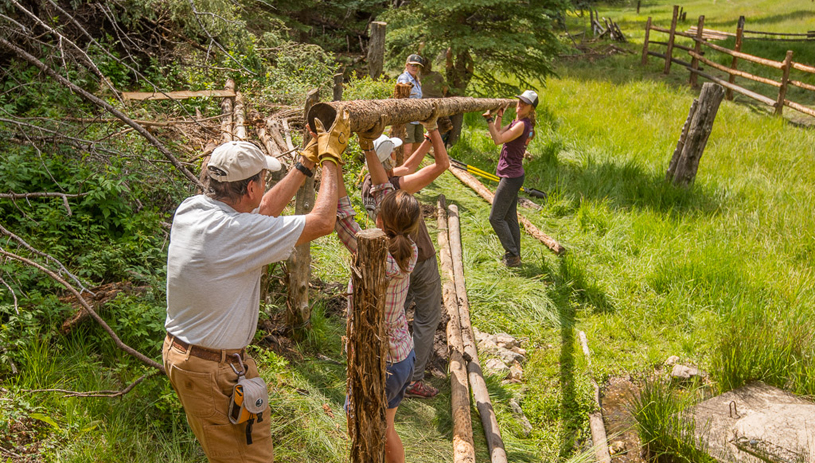 BLAKE MCCORD
Help protect precious surface water on the north rim of the Grand Canyon from cows and bison that roam high elevation meadows. Volunteers will build a giant fence around an important natural lake. Sound like the trip for you?
Protect pronghorn
Wondering how you can help the world's second fastest land mammal? Join us in House Rock Valley, Arizona for three days of fence modification. By replacing the bottom rung of barbed-wire fences with smooth wire, you'll enable pronghorns to move freely across the landscape. Sign up ›
Pull weeds at Johnson Lakes
We're headed to Johnson Lakes Canyon again in southern Utah to pull invasive plants, document the recovery of the landscape, and, of course, enjoy delicious meals and great conversations. Snag your spot ›
Repair fences in southern Utah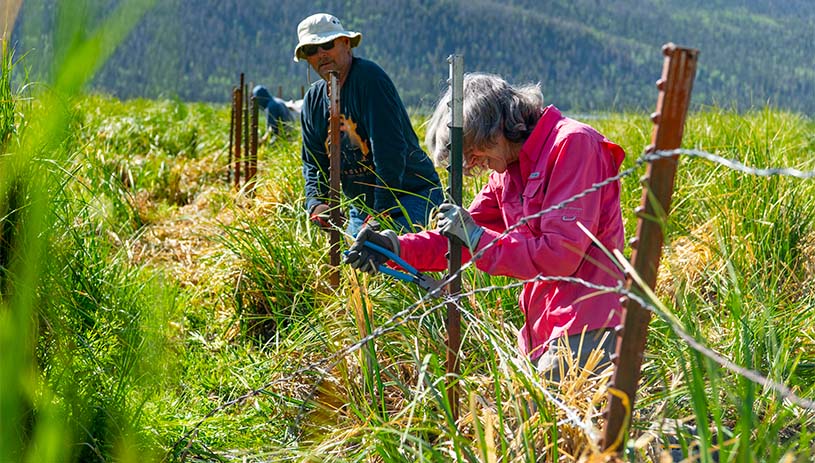 BLAKE MCCORD
Up in the cool forests above Grand Staircase-Escalante National Monument, native plants, cutthroat trout, and beavers live in beautiful alpine creeks. Help us repair and rebuild sections of fence that surround this important habitat to ensure native species thrive. Get the details ›
Restore habitat for beavers and toads
Join us outside of Bryce National Park to protect and restore beaver and boreal toad habitat. You'll repair fences to keep cattle from munching and trampling fragile streamside vegetation and plant willows, a favorite food of beavers. Yes, sign me up ›
Safeguard an Escalante spring
A spring outside of Escalante, Utah, has become a well-loved watering hole for cows. With your help, and alongside the Forest Service, we'll build a 500-foot fence to enclose this important water source for birds, beavers, frogs, and other wildlife. Apply for this trip ›
Survey springs in northern Arizona
Calling strong hikers! We need you to help document conditions of springs around Flagstaff, Arizona. On each of these day trips, you'll work with staff to identify the conditions of springs, document grazing pressures, and look for evidence of wildlife to determine restoration approaches in future years. Count me in ›
Birdwatch for conservation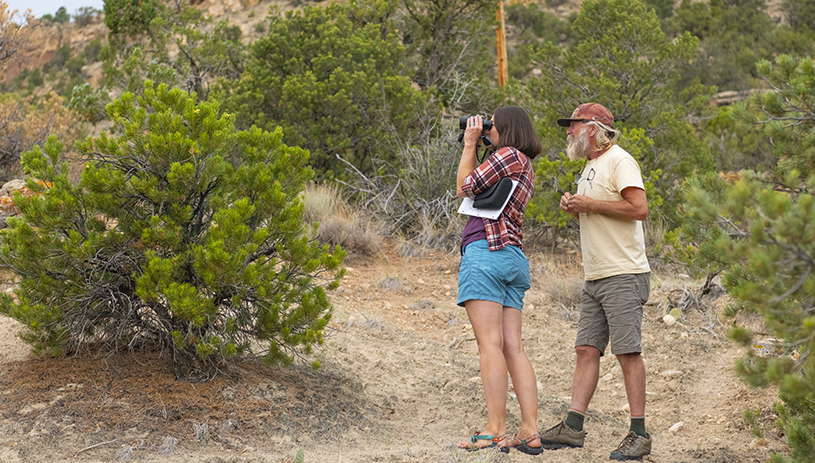 BLAKE MCCORD
Looking for a volunteer opportunity with more flexibility? Sign up for the pinyon jay project to become a citizen scientist birder. By monitoring pinyon jays across the Colorado Plateau, we can influence the preservation of pinyon and juniper forests for years to come. I'm interested ›
If in-person training is more your style, join us in Flagstaff for a pinyon jay workshop. Tell me more ›
What happens after I sign up?
You'll receive lots of information about the trip, logistics, and what to expect. Whether you're a new or returning volunteer, we're looking forward to working with you this summer!
Just like last year, we are asking folks to demonstrate proof of vaccination to participate on our overnight trips. We will keep a close eye on the developing pandemic and communicate early and often with our trip participants about safety protocols and steps we will take to keep everyone as healthy as possible.