by Montana Johnson, Citizen Science Volunteer Coordinator, Americorps
Sentiment without action is the ruin of the soul. – Edward Abbey
What propels us to take action for the things we love? For Edward Abbey, it was the encroachment of industry that sparked his fire and inspired his prose. While few of us will go on to write a direct action bible like the Monkey Wrench Gang, each of us—in our own way—can get off the sidelines and actively help protect the landscapes we love. Here at the Trust, we're getting our hands dirty — surveying streams and springs, planting native species, collecting botany specimens, restoring desert springs, supporting grazing reform, removing invasive weeds— and we'd like to invite you to come along!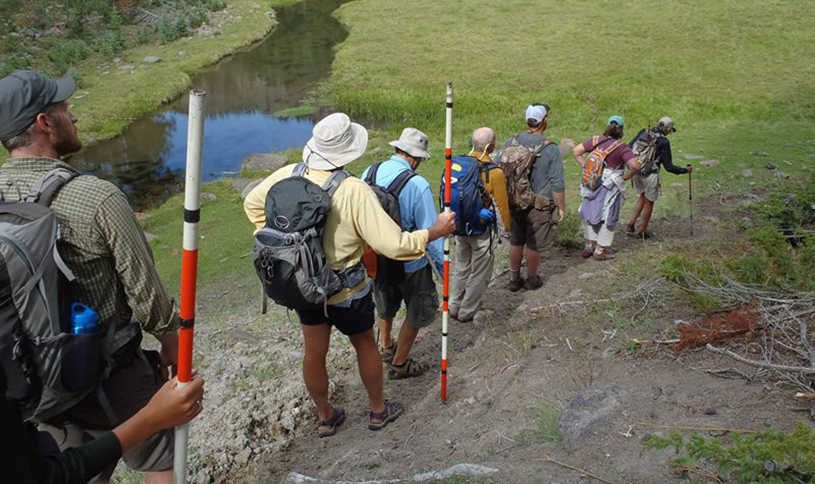 This year's field season is shaping up to be another great one. Do you want to become a Spring Steward and help support the largest ponderosa pine forest restoration project in the nation? Are you into botany and want to help us document plant diversity? Do you want to get involved in climate change research, help prevent the spread of invasive species, or learn about plants? Then we have a trip for you! To get involved in these projects (and more), check out our full trip schedule, and sign up today!
Showing up when it matters
As a college student tasked with organizing events for local and international environmental groups, I discovered that my biggest hurdle was getting people to attend. The epidemic of apathy and over-committed schedules meant that people theoretically cared but weren't connected enough to show up when it mattered.
Empty seats aside, I found the key to action in the few souls who bothered to come. They were the ones connected to the land—river guides, nature writers, backpackers, scientists—and they were the ones willing to fight for its protection.
Growing advocates
Now as an AmeriCorps member working with the Grand Canyon Trust's Volunteer Program, I get to take people into the backcountry and watch their connection to the plateau deepen with every passing minute
Together, we hike deep into the woods to build fences around research plots. We water and winterize baby Ponderosa Pine trees. We search for lichen on rocks. We get our hands dirty; we work intimately with the land, and, in the process, gain a deep appreciation for its ecological intricacies.
And when the time comes, we are the ones who will stand up for the places we love.
Sign up today!
Take Edward Abbey's words to heart, and join me in experiencing the Colorado Plateau and creating change on the ground. We're looking for students, engineers, professors, retired folks, and handymen alike!
Check out our full schedule, and choose your trip today!