by Lena Bain, Volunteer Associate
Are you ready to venture out into the forests and canyons of the Colorado Plateau and get your hands dirty? After a year of challenging circumstances, we are excited to announce that registration is open for 2021 volunteer trips!
Among our offerings this season, you'll recognize a few classics like keeping the Pando aspen grove healthy and fence modification for pronghorn at North Rim Ranches. If you want to branch out, try exploring our new, independent bird watching project to help protect pinyon juniper woodlands.

This year, you will notice that our trips take place a little later, from July through October, to allow more time for vaccine distribution and a decline in COVID-19 numbers. We are confident that our trips will be worth the wait. Grand Canyon Trust volunteer trips offer opportunities to connect with fellow lovers of the Colorado Plateau as you work together to make a difference. We have a project for you, whether it's your first time camping or you're a seasoned outdoor expert. Join us for the 2021 field season ›
Stream restoration
Help build rock structures that slow water flow and create pools essential for plant and animal life in dry northern Arizona forests. Join us for five-day trips in either the Coconino or Kaibab national forests. Lend a hand ›
Pronghorn protection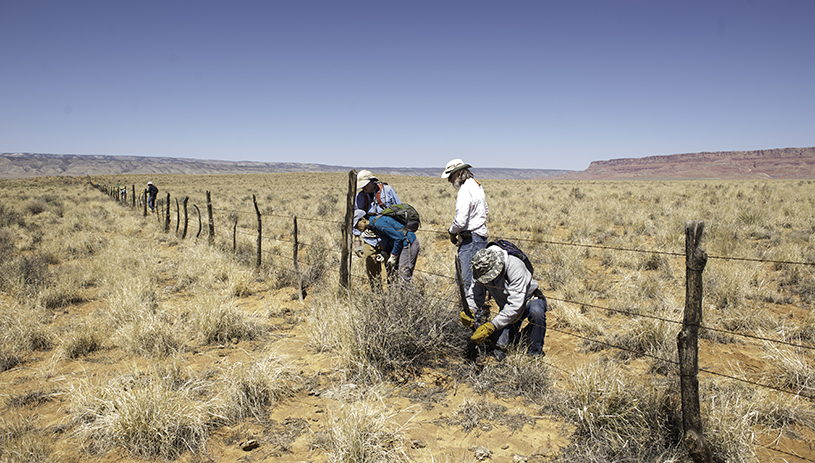 Volunteers modifiy barbed wire fences.
Wondering how you can help the world's second fastest land animal? Join us in House Rock Valley, Arizona for three days of fence modification. By replacing the bottom rung of barbed wire fences with smooth wire, you enable pronghorns to move freely across the landscape. Sign up ›
Weeding with a purpose
Don your work gloves and put invasive plants in their place (the trash) on this three-day trip to central Utah. Trust volunteers have been pulling weeds near the Left Fork of Huntington Creek since 2014, and each year we find fewer and fewer. Contribute to the project ›
Fencing frenzy
The Pando aspen grove in Utah is the largest organism in the world, but its young shoots are a favorite of hungry cattle, deer, and elk. The Trust helps maintain a fence around a portion of Pando to keep grazing animals out. Join us for three days of fence building and repair in the beautiful Fishlake National Forest. Sign up ›
Garden revitalization
Help the Kane Ranch garden return to its former glory as a native plant haven. Whether you're a master gardener or novice, join us for our final volunteer trip of the season in House Rock Valley, Arizona. Check it out ›
Bird buddies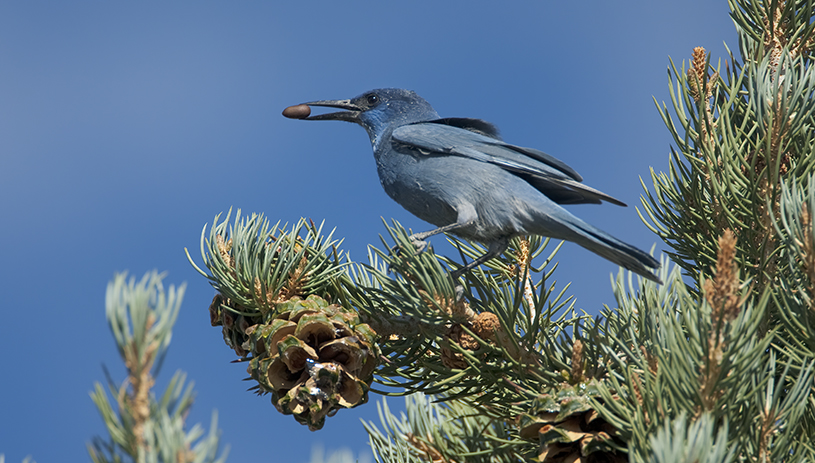 A pinyon jay carries a pinyon seed in its mouth. MARIE READ
Looking for a volunteer opportunity with more flexibility? Attend a pinyon jay training workshop to become a citizen scientist birder. By monitoring pinyon jays across the Colorado Plateau we can influence the preservation of pinyon juniper forests for years to come. Count me in ›
---
---
What happens after I sign up?
You'll receive lots of information about the trip, logistics, and what to expect. Whether you're a new or returning volunteer, we're looking forward to working with you this summer!