by Tim Peterson, Cultural Landscapes Director
---
UPDATE: On October 8, 2021, President Biden restored full protections to Bears Ears and Grand Staircase-Escalante national monuments. Send a personal note of thanks to President Biden ›
---
Faithful readers will no doubt recall that former President Trump gutted two Utah national monuments in 2017, slashing Bears Ears by 85 percent and Grand Staircase-Escalante by nearly half. On his first day in office, President Biden signed an order to "take immediate steps to reverse the Trump administration's assaults on America's natural treasures, including by reversing Trump's attacks on … Bears Ears and Grand Staircase-Escalante." The order called for a 60-day review "to determine whether restoration of the monument boundaries and conditions that existed as of January 20, 2017, would be appropriate."
A new secretary of the interior to lead the charge
The 60-day review period has now passed, but the recent appointment of a new secretary of the interior seems to have extended the report's timeline. In a historic first, Deb Haaland was confirmed as our newest interior secretary by the U.S. Senate on March 15, 2021. She is the first Native American to hold a cabinet-level position and to be interior secretary, and it's long overdue. She said of her nomination: "If an Indigenous woman from humble beginnings can be confirmed as Secretary of the Interior, our country and its promise still holds true for everyone."
Secretary Haaland knows Utah's national monuments. She introduced the ANTIQUITIES ACT of 2019 in Congress, a bill which would have restored Grand Staircase-Escalante and expanded Bears Ears, and she sponsored the BEARS Act, a bill that would have expanded Bears Ears. As a member of Pueblo of Laguna and with Jemez Pueblo heritage, she knows these ancestral lands on a much deeper level. At a 2019 hearing examining the monument cuts, Haaland said: "It's easy to get emotional about our natural resources and about traditional tribal land when you know that your ancestors have been there for generations, and that it's only because of them that you sit here today."
Secretary Haaland's appointment means so much to so many, and representation matters. What does Indigenous leadership at the Department of the Interior mean for Bears Ears and Grand Staircase? In the Salt Lake Tribune, former Ute Mountain Ute councilwoman and past Bear Ears Inter-Tribal Coalition co-chair Regina Lopez-Whiteskunk pointed out the importance of shared cultural understanding, saying "we need not spend so much time re-educating her about who we are as Indigenous people, what our beliefs are, and why, for our survival as a people, we need sacred landscapes like Bears Ears protected."
Secretary Haaland to visit Utah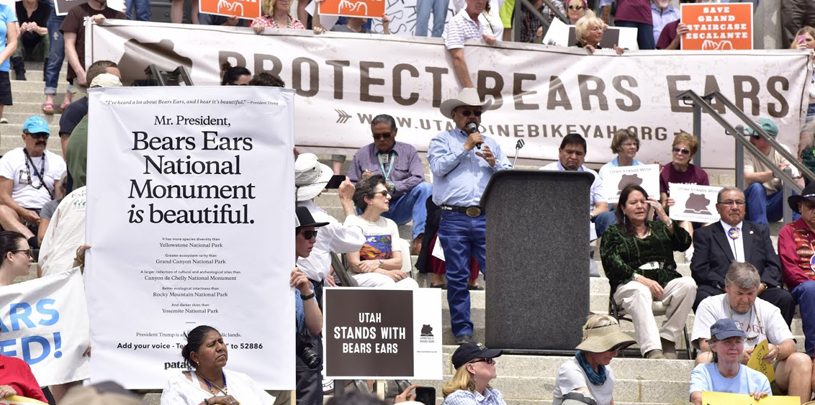 TIM PETERSON
Based on a promise she made to Sen. Mike Lee during her confirmation hearing, Secretary Haaland plans to visit Utah to meet with all sides of the national monument debate in April. She'll be the third interior secretary to visit Utah regarding monuments. In 2016, former Secretary of the Interior Sally Jewell met with tribal leaders, Utah elected officials, as well as monument advocates and opponents; all were heard. In 2017, former Secretary of the Interior Ryan Zinke's trip was tightly guided by monument opponents. He refused to meet with the Boulder-Escalante Chamber of Commerce, spent only about an hour with elected officials from Native nations, and testily shook his finger at an Indigenous advocate.
Haaland's visit will be much different than Jewell's or Zinke's due to the COVID-19 pandemic, but her commitment to listen already sets her apart from her most recent predecessor. In 2017, more than 99 percent of people who commented opposed alterations to national monuments, but Zinke recommended and Trump acted unlawfully to hack away at them anyway. Making Utah's national monuments whole again remains popular. The 2021 Conservation in the West poll found that 77 percent of Westerners and 74 percent of Utahns support restoring protections.
Utah politicians respond with same old tricks
Going against the wishes of the public and their constituents, Utah politicians who oppose the monuments have blown the dust off their old playbook, and though the cast of characters has changed, the script remains largely the same. In 2016, former Rep. Rob Bishop attempted to block the designation of Bears Ears with promises of passing legislation, but his bill was so full of poison pills that it could not pass.
Now, and again, Utah's new governor and congressional delegation are urging President Biden not to restore the monuments so they can craft legislation. This time though, the poison pill is in their press release, in which they demand "statutory protections to prevent abuses under the Antiquities Act for the State of Utah," i.e. barring Biden and future presidents from designating new national monuments. Such a wildly unpopular provision simply could not pass this Congress. Governor Spencer Cox went a step further, calling the law that allows presidents to create national monuments "un-American" and "unconstitutional" in a recent press conference.
These are strong signals that anti-monument Utah politicians aren't serious about finding solutions and that legislation shouldn't forestall reinstatement of protections. We hope that President Biden will act swiftly to restore protections for Grand Staircase-Escalante, and to restore and expand Bears Ears. As each day gets a little bit longer, we have a spring in our step for Utah's national monuments!