by Lisa Winters, Citizen Science Manager
Like many of you, I'm not quite sure what day of the week it is and my computer is my best companion. However, today, April 22, is a day to pause and acknowledge — it's Earth Day! For the last 50 years we have been formally appreciating the natural world around us.
These last few weeks have tested our courage, patience, strength, and resiliency, but the Earth has been a steadying presence throughout. Robins gather in my front yard to dig up juicy worms, daffodils show off their bright yellow blooms, and bright green buds burst forth on the trees in my neighborhood. There's still an occasional dusting of snow, intermixed with a blustery wind. Despite everything in our human world — spring has sprung across the West.
Today we celebrate a handful of quintessential Colorado Plateau species. These animals may be a constant in your backyard, or a special sighting. Regardless, I hope you soon have the chance to appreciate the wonders of the natural world and admire the resilience of these local critters in an ever-changing world.
Horned Lizard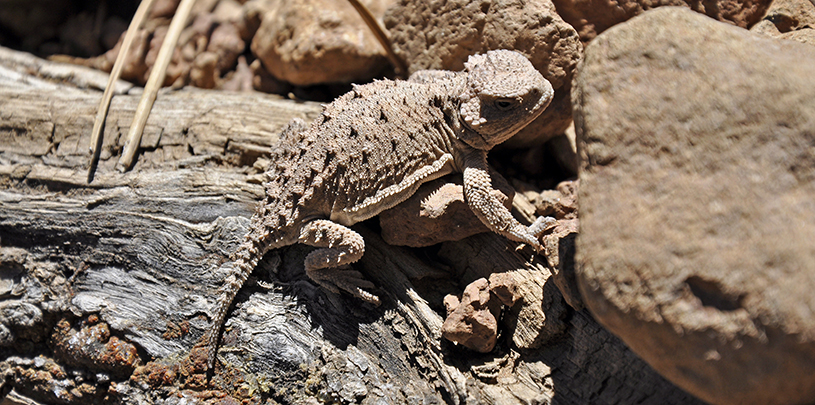 U.S. Forest Service, Coconino National Forest
Though often mistaken as a 'horny toad', the greater short-horned lizard is in fact, a lizard. Named for the characteristic pointed scales around the head and back, the short-horned lizard can be found in dry habitats from central Mexico to southern Canada. They rely extensively on camouflage to protect themselves, often blending into the rock with their rough, brown-and-orange-splotched skin. Spot them as they 'lie-and-wait' to slurp up a tasty ant meal.
Common Raven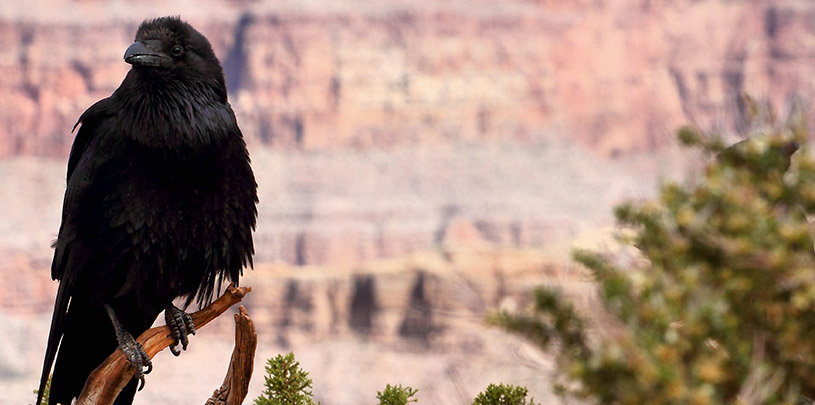 Wikimedia
The common raven is…common! Successful due to their omnivorous diet, these birds are extremely versatile and opportunistic no matter where they live. They are very intelligent as well. Studies show they can problem solve, imitate, and play. Don't be surprised if that 'crrrroak', raspy 'honk', or 'caalk' sound is coming from them — they've got over 30 known vocalizations. Tell them apart from the smaller crow by a more wedge-shaped tail, larger size, and rough feathers (hackles) at the throat.
North American Porcupine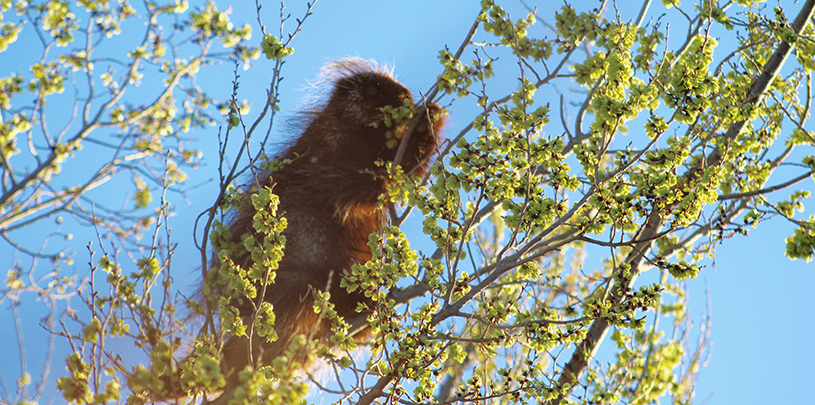 Kelly Steinberg
Did you know that the word porcupine comes from an old French term meaning 'thorn pig'? The description fits the stocky, large rodent well. Adults are covered in about 30,000 sharp quills, which serve as a primary defense against predators. So good is the defense that, despite being both slow-moving and nearsighted, they are usually solitary. They do however fall out of trees often while stretching for the tender shoots at the end of branches, but antibiotics found in their skin prevent infection when they impale themselves with their own quills.
Mule Deer
Michael Quinn, NPS
Mule deer live across the western United States. Spy their white rump and black tipped tail as they bound away on all four legs simultaneously like a pogo stick. Males grow antlers in order to impress and compete for females during the fall rut, or mating season. The antlers then drop off in winter. Mule deer are not picky eaters, but they do move or migrate for better eating throughout the year, following the availability of woody plants, flowers, and grasses.
Sphinx Moth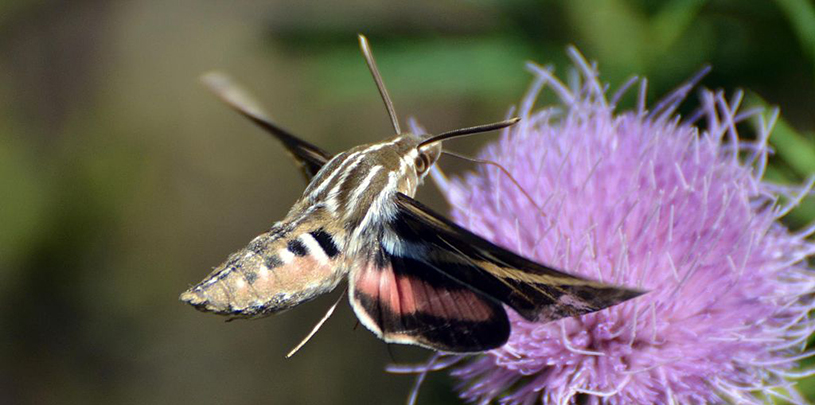 Andy Reago & Chrissy McClarren, Wikimedia
If you're surprised to see a hummingbird out late in the evening, flitting from flower to flower, you might be mistaking a white-lined sphinx moth! Sometimes called a hummingbird moth or hawk moth, the species darts around pollinating plants, sipping up sweet nectar with its extra-long tongue. Tell moths apart from butterflies by their outspread wings during rest, short-fuzzy antennae, and frenzied evening activities.
What are your favorite local species?