We're smitten with the Grand Canyon and the Colorado Plateau here at the Grand Canyon Trust. And we're not secret admirers! Recently, we asked our colleagues for their favorite places or best moments across this treasured landscape. Check out a few of these sweet stories:
Puppy love on the trails
"There's nothing better after a hard day of work than a stroll around Mt. Elden with our dogs, Tioga and Arlo! As good boys do, they love chasing sticks through the woods. They express their thanks by begging for dinner and covering me with slobbery kisses."
— Megan Kelly, energy manager
Hikes that take your breath away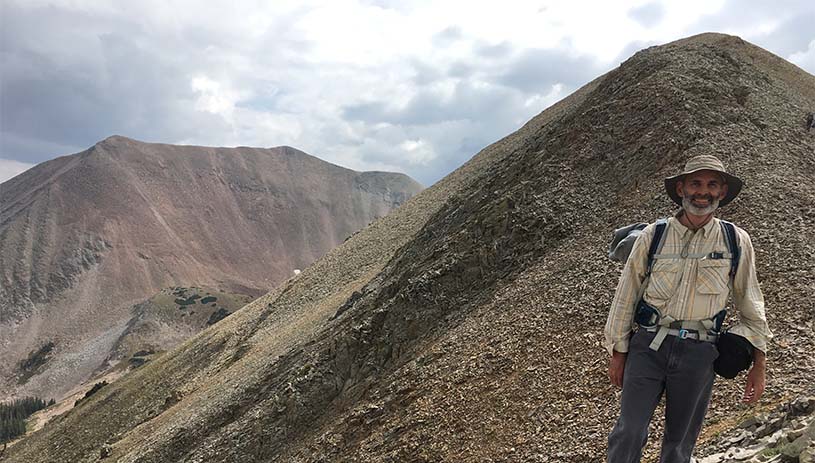 Marc on Mt. Peale in the La Sal Mountains. MARC COLES-RITCHIE
"Being on top of the La Sal Mountains is one place I love to be. The stunning beauty of the alpine vegetation, the spectacular views of the canyons below, and the thin air at 12,000 feet take my breath away."
— Marc Coles-Ritchie, Utah public lands manager
Memorable moment on the river
"Snow, high winds, and collapsing cottonwoods — not what we expected to find rafting through Dinosaur National Monument at the beginning of September. Maybe that low ebb of discomfort and fear heightened the awareness of my surroundings. Steamboat Rock, at the confluence of the Green and Yampa rivers, emerged from the fog as we drifted past. I'll never forget that hazy confluence."
— David Vines, GIS manager
Smitten with sunsets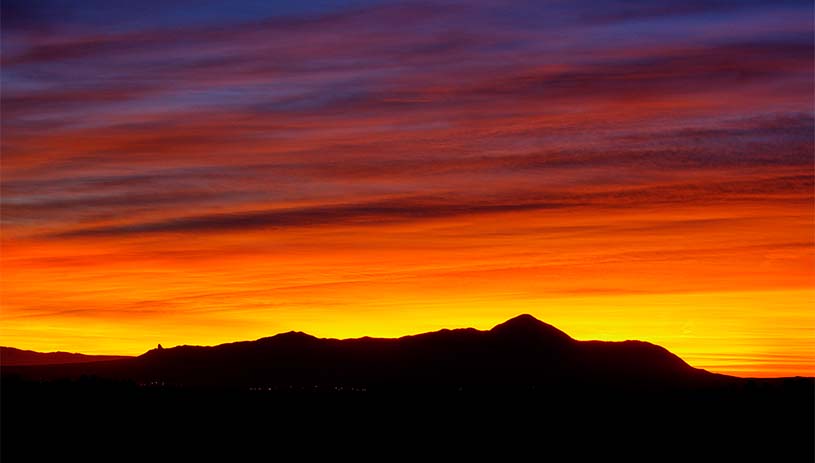 Sleeping Ute Mountain. TIM PETERSON
"My work often takes me on long drives far away from home and hearth. On my return from distant points, a familiar sentinel on the horizon, Sleeping Ute Mountain, always lets me know I'm drawing close to home. Whether viewed from the south on the way home from Bluff, from the north (up close) through McElmo Canyon, or from the northeast in my rear-view mirror from the high benches above Mancos, sunset behind Sleeping Ute Mountain is a reminder that after one last push, I'll soon be home with my love and a roaring fire."
—
Tim Peterson
, cultural landscapes director
Falling for autumn on the North Rim
"The hillsides shimmered with golden aspen leaves. Wooden rocking chairs on the porch of the North Rim Lodge beckoned to visitors. The sun set with a brilliant display of colors. And my partner and I stood on the rim of the Grand Canyon and said, "I do." Afterwards, we rubbed the bronzed nose of Brighty, the mule, for good luck."
— Lisa Winters, communications associate
A river engagement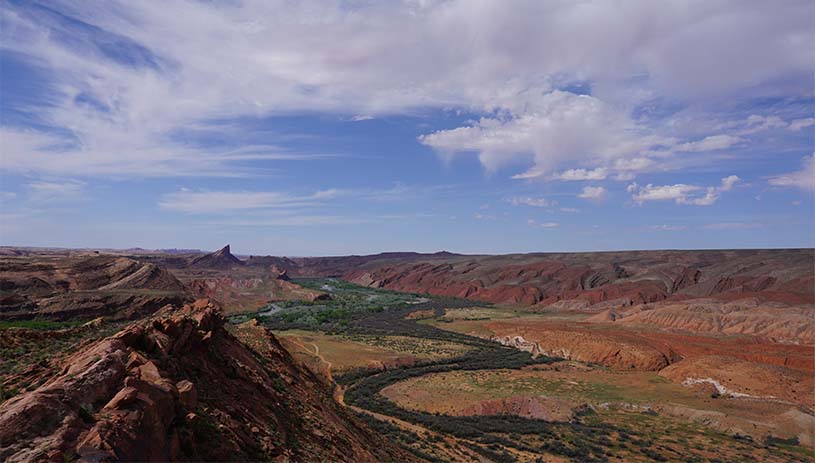 View of the San Juan River. AMANDA PODMORE
"Once upon a canoe trip, my partner, Zak, and I set off on a brisk spring morning to float the San Juan River. We stopped for a hike up San Juan Hill on Comb Ridge, and after huffing and puffing up the steep incline, Zak surprised me with an engagement ring! It was a perfect setting for him to pop the question."
A wedding on the San Juan River
"My parents started taking me rafting on the San Juan River when I was 9 months old. It has been my best classroom and teacher; it's where I learned about navigating rapids and life in the desert. I met my partner on the San Juan in 2011, and we got married high above its banks, at Horn Point in 2019. I hiked my dress up from our camp at the river, and we had a little ceremony with our family on the cliff edge. No matter how many times I run the San Juan, I never tire of it."
— Lena Bain, volunteer associate
Tying the knot on the South Rim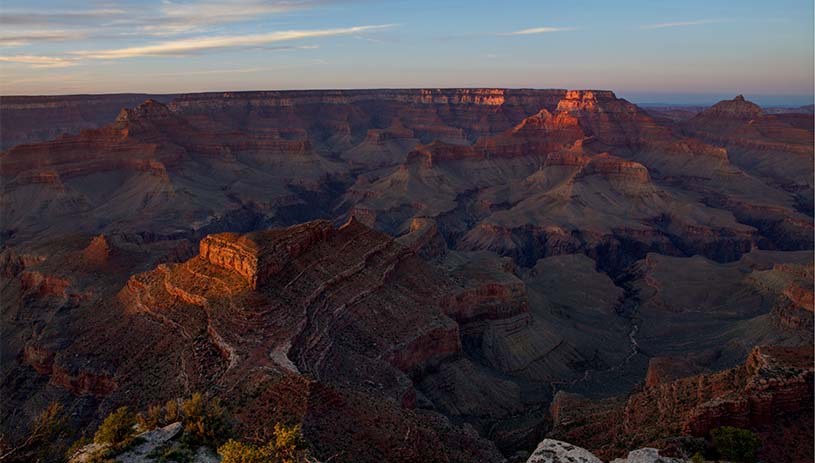 Shoshone Point. W. TYSON JOYE, NPS
"On a backpacking trip in the Grand Canyon, where we started as friends and ended as partners, Ashley and I went down the Tanner Trail, hiked across the Tonto Trail, swimming when we could, and then climbed out Red Canyon. It was beautiful, hot, and hard, and it made us cry and laugh in all the different ways. Exactly two years later, we cried and laughed again when we were married at Shoshone Point at sunset."
— Travis Bruner, conservation director
Where are your sweetest stories or favorite memories on the plateau?