Guest blog by Trust volunteer Liz Blair

While in college, I was fortunate to participate in a volunteer trip with the Grand Canyon Trust. We spent four days repairing fences and removing invasive tamarisk plants, all while enjoying the picturesque setting of Kane Ranch. Flash forward five years — I had graduated from college and was working in software development in Boston. I was ready for a change of pace that involved more time outdoors. After a family vacation to Guatemala, I was inspired to go on my own adventure — a cross-country road trip.
Flagstaff was on my list of places to visit, of course. After such an amazing experience in college, I decided to sign up for another Trust volunteer trip. I knew the landscape would be breathtaking, the work rewarding, and the people amazing. That said, I didn't expect to go on a date with one of them.
Love on the North Rim
Our trip started at Jacob Lake on the north rim of the Grand Canyon. From there, we drove down a dusty dirt road to Mangum Camp — an old U.S. Forest Service cabin from which the Trust bases some of its trips. Upon our arrival, a blonde, tan graduate student named Mike greeted us. We learned that we would be helping with his graduate project by planting native trees across different elevations on the North Rim. I know he told us the point of his project, but my attention was elsewhere.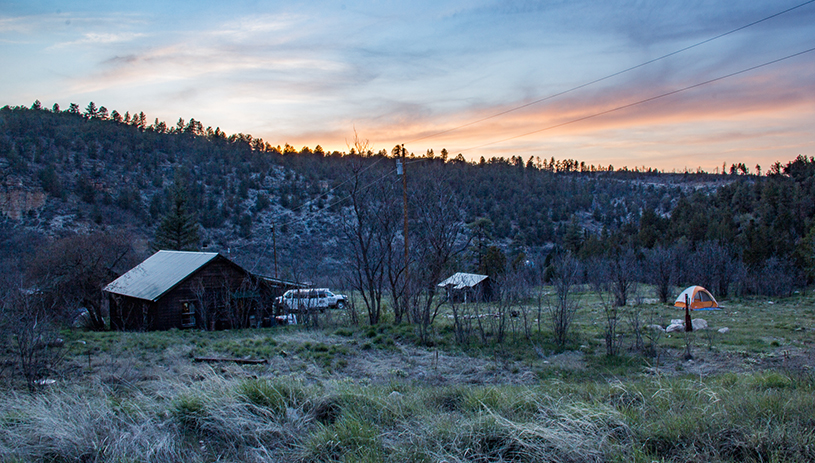 MICHAEL REMKE
(If you're curious, Mike's project utilizes the Southwestern Experimental Garden Array Project, which is a collection of instrumented field sites used for climate change research.)
When we set up our tents that evening, I noticed Mike camped away from everyone else. I walked over to his area and smiled as I began setting up my tent next to his. He didn't seem to mind.
Mike's experiment was an arduous science project. Our first day of work involved digging 3-foot-deep holes to plant ponderosa pines. It was tough work but also incredibly rewarding — especially with the north rim of the Grand Canyon as the backdrop.
I embraced the manual labor. Mike seemed both surprised and appreciative of my enthusiasm to work.
When we arrived back at camp, Mike offered me a drink. I happily accepted, and we began chatting and getting to know each other.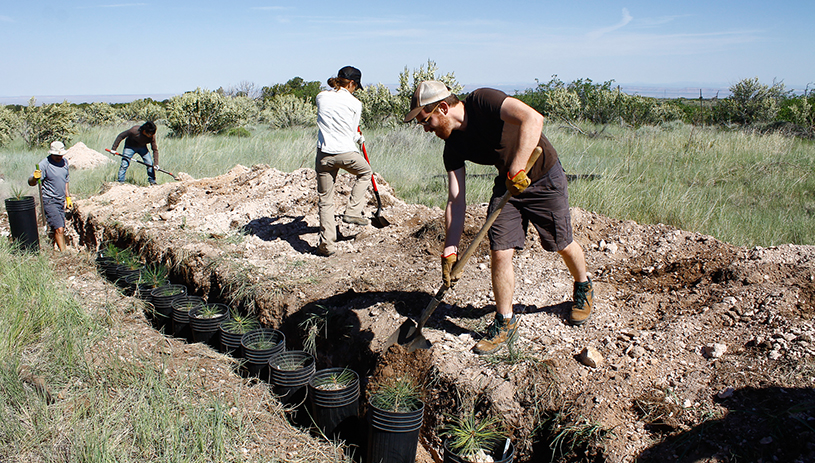 MICHAEL REMKE
Absence makes the heart grow fonder
Throughout the rest of my road trip, Mike would text me, asking how and where I was. Even though I was preoccupied with my travels, I was always glad to hear from him. At one point, I was camping in a precarious location. Not wanting to feel alone, I reached out to Mike and he kept me company until I fell asleep.
A couple months later, I heard about the Uplift Climate Conference the Trust was hosting in Durango, Colorado. On a whim, I decided to swing by on my way to Steamboat Springs, Colorado. I showed up thinking I might recognize some Trust employees, and then I saw Mike.
The following spring, Mike and I finally went on our first date, a backpacking trip in the Grand Canyon. Our trip started by descending the Tanner Trail to Tanner Beach, where we set up camp for a couple of nights. We explored other trails in the area, swam in the Colorado River (of course), and all the while we had the entire beach to ourselves. The final day, we hiked back out on the Tanner Trail. The way back was a long 9-mile slog, and even though we had an early start, the heat was nearly unbearable. Fortunately, not only did we survive our first date, but as soon as we reached the rim, we began planning our second date.
Nearly two years later, we're still together and now living in Durango, enjoying the other side of the Colorado Plateau. Whether planting trees on the North Rim or exploring its treasures on foot, the canyon has become an incredibly special place for both of us — for different reasons, and of course, one shared reason: each other.
Hoping to meet your own Grand Canyon soulmate? Try your luck in love while volunteering with the Trust in 2019. Join us ›