by Lisa Winters, Research and Stewardship Volunteer Coordinator
Oh, what a wonderful time of year! The air is crisp, it smells of snow, and I find myself immersed in a sense of calm and reflectiveness. I have a lot to be grateful for in 2018: thriving tomato plants in a new greenhouse, fostering four healthy kittens to adoption, great new friends, family visiting from Michigan, and lots of laughs. I also had the opportunity to work with some pretty amazing people.
I have immense gratitude for the 245 volunteers who donated their time and energy to citizen science and stewardship projects on the Colorado Plateau this year. Volunteers pulled weeds, built fences, collected water-quality data, and measured plant growth. Young people lobbied their representatives at the Arizona capitol, painted a beautiful mural depicting water issues across the plateau, and studied environmental issues through place-based learning. Combined, almost 10,000 hours of time were donated, equivalent to five full-time positions! We couldn't accomplish what we have without the support of volunteers.
This year we had the privilege of working with a few volunteers who went above and beyond. The following awards were announced at our volunteer appreciation party last week:
Rising star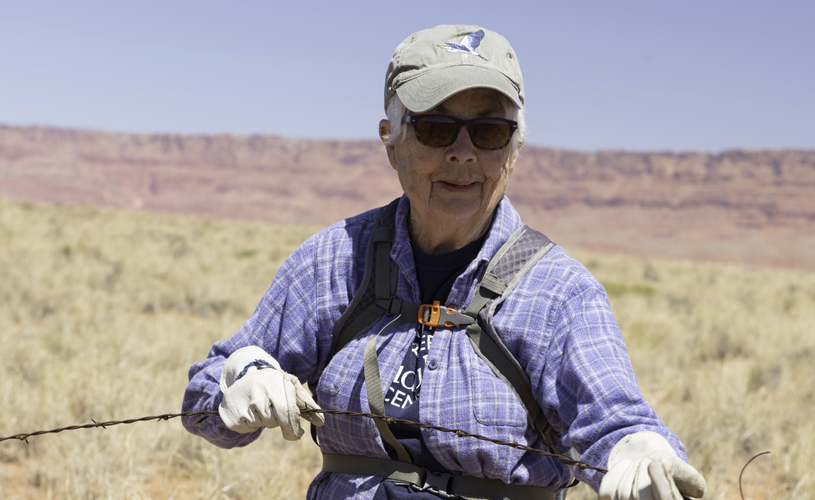 Marilaine Jones went on her first trip this year, repairing wire fencing in House Rock Valley so pronghorn can move across the landscape, and then jumped on two more after that! Her enthusiasm, patience, and infectious smile are unparalleled. We're looking forward to more trips in the field with her next year!
Rising star
Dave Blahnik found the Trust just in time for a last-minute volunteer trip repairing stream channels on the Mogollon Rim in July. He has since trained as a Where Cows Don't Graze project contributor, completed a survey on his own, and gone back to the field (unprompted) to repair an exclosure fence and restore its integrity for years to come. We greatly appreciate his initiative.
Uplifter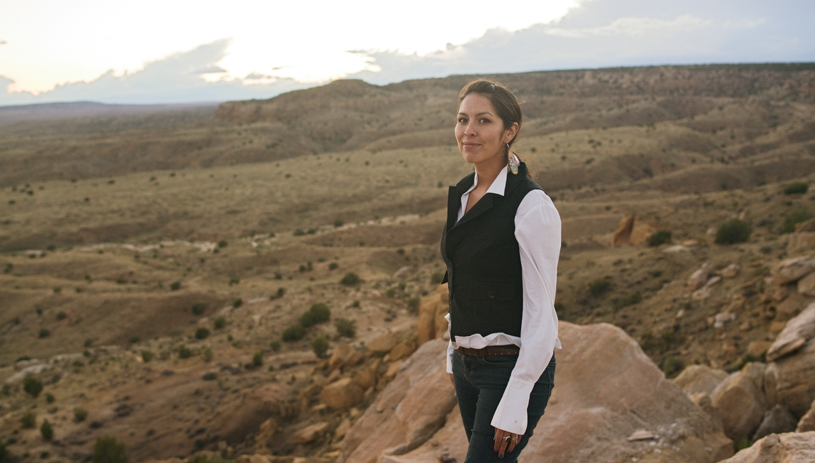 Georgie Pongyesva went above and beyond as part of the Uplift 2018 organizing team! She played a critical role in doing outreach for the conference, as well as facilitating an active art space throughout the weekend. Georgie is a dedicated young advocate who is starting her own business (with her brother, Jack, also amazing, see below) called RezCycling, encouraging sustainable waste management for the Hopi Tribe.
Secret star
Janet May diligently combed through thousands of pictures from wildlife camera-traps and carefully identified all the wildlife present. We have a better sense of how wildlife are using water on Vermilion Cliffs National Monument, and of how successful our spring-restoration projects are because of her.
Partner of the year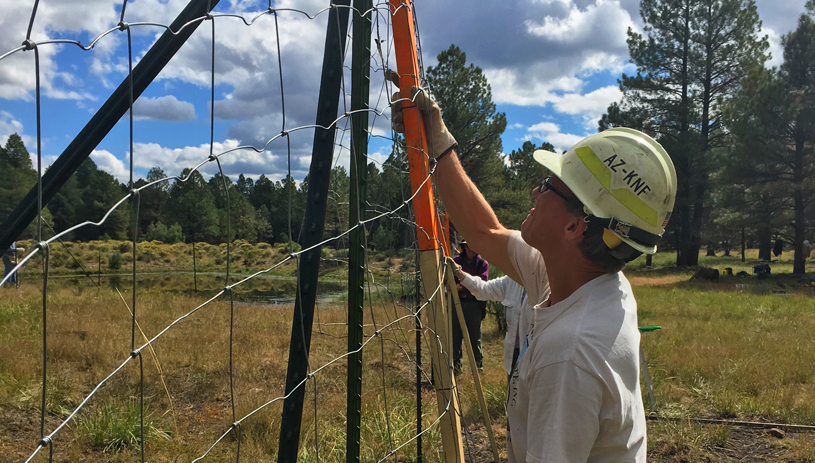 Kit MacDonald of the U.S. Forest Service has been a tireless and dedicated partner all year long. He always arrived before our volunteer group, stayed late, and took the time to connect with volunteers about the necessity of the work we were embarking on. This year we built four fences, stabilized stream banks, and planted native willows at four springs on the Kaibab National Forest, work that would not have been possible without Kit's organization, drive, and facilitation.
Young advocate of the year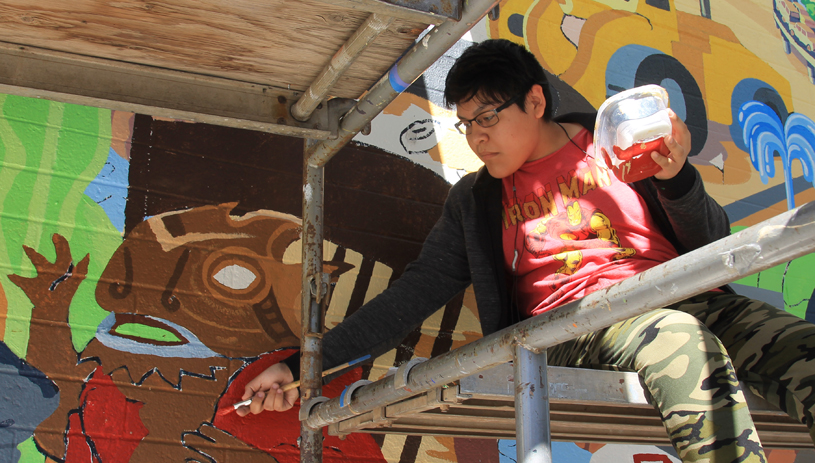 Sherrissa Brown was a natural leader throughout the mural-making process. A senior at Flagstaff High School, she listened to her classmates and helped bring the water-justice story to life. We are incredibly impressed and proud of the passion, integrity, and wit that she showed up with each and every day.
Grand Canyon Award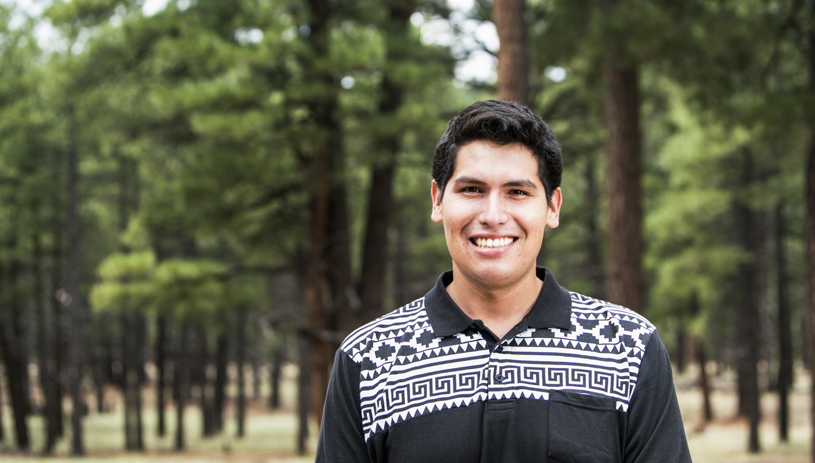 Jack Pongyesva, for outstanding contributions to the Grand Canyon National Park Centennial planning process. Not only does Jack bring his energy, humor, and personal stories to each and every conversation, but he also volunteered as scribe, taking notes and organizing thoughts cohesively for the rest of the team. A former Grand Canyon Trust intern, we are excited to keep his passion and dedication for environmental justice around. Jack is currently working with the Native American Business Incubator Network to start RezCycling with his sister, Georgie, on Hopi land.
Unsung hero
Meghan White is our database hero. We could not be more grateful that Meghan found us! Desperate for a guru who could help us clean up contacts, mailing addresses, emails, and more, Meghan diligently organizes our lives on a weekly basis. She has a background in environmental law, database savvy, and an unwaveringly positive attitude. We feel like we won the lottery with this volunteer!
All-star intern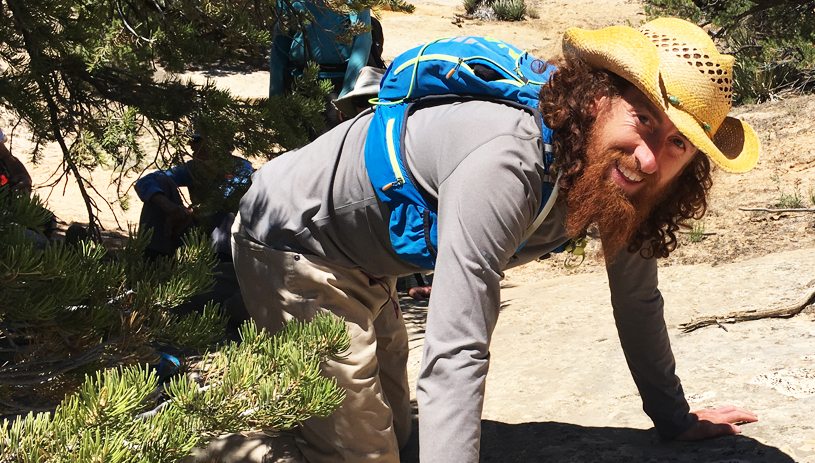 Mike Popejoy truly took his passion for protecting the Colorado Plateau to the next level. Starting off the year as a volunteer, he quickly jumped in to an unpaid internship with the Utah Forest Program helping to research grazing issues. He worked well over 40 hours a week, tirelessly advocating for the land. We're now extremely happy to see him settled in to a desk here at the Trust, continuing to research piñon-juniper treatments, grazing allotments, and keeping track of Mary O'Brien for us.
Words do not describe how genuinely appreciative we are of these, and all our volunteers.
As we remind ourselves this season of the year's positive moments and accomplishments, don't forget to rest up for next year's field work! We'll have our 2019 trip schedule online in February, and are excited to meet our next shining stars.