The Grand Canyon Trust begins the new year with a new executive director, Ethan Aumack. Ethan came to the Trust as a volunteer in 1998 and is a familiar face among many working to protect the land, air, and water of the Colorado Plateau. Get to know Ethan and his passions a little better, from conservation to concocting the perfect chocolate bar.
Q: What's your life story in 60 seconds?
Ethan: Growing up in Flagstaff, some of my best childhood memories are of exploring the Grand Canyon — testing my endurance, and leaning into the solitude of the canyon as a teenager, then falling head over heels in love with it as a young adult. The Colorado Plateau is my home and conservation has been my lifelong passion.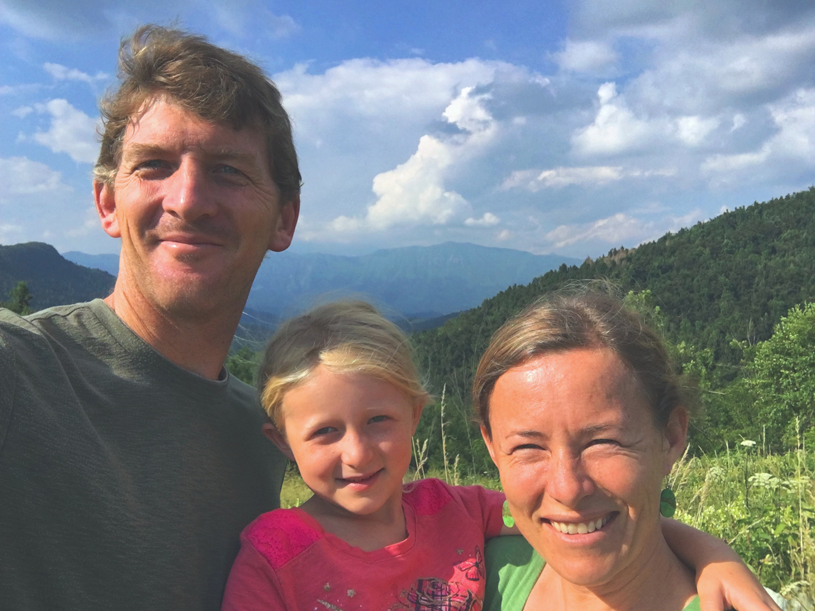 My wife, nine-year-old daughter, daughter on the way, dog, two goats, and a hamster live in an environmentally sustainable home we built several years ago. We count ourselves lucky to live on the plateau, one of the most incredibly beautiful and wild places on Earth.
Q: How did you get here?
Ethan: I took my walkabout after high school, landing at Swarthmore College in Pennsylvania, where I studied biology and religion. I ached for the far horizons of the West, so, after graduation, I overshot Arizona, and ended up working on nearly deserted Santa Cruz Island, off the coast of California, burning, spraying, and botanizing in the name of restoration for The Nature Conservancy. After my first stint at the Grand Canyon Trust (1998-2001), I found my way back to graduate school, where I helped to develop a GIS-based decision support system (yes, that's a mouthful) to guide forest restoration in Arizona. I ultimately earned my M.S. in environmental science and policy from Northern Arizona University.
Q: How did you originally come to the Trust?
Ethan: My parents raised me and my siblings with an expectation that we would work to make the world a better place. How we did that was up to us. In the spring of 1998, I noticed a copy of the Trust's Advocate magazine on my mom's kitchen table — she was a member. I read the Advocate from cover to cover and realized this was the place for me. I dropped by the Trust headquarters, introduced myself, and was amazed to be offered a job that same day. Some of the euphoria wore off, however, when I realized the position was unpaid. I began my work with the Trust as a volunteer, and really haven't looked back since.
Q: What makes the Trust unique?
Ethan: The list is long. We do whatever it takes, from on-the-ground restoration, to policy advocacy, to litigation. We bring a greater diversity of approaches to conservation than any other organization I know. Our staff are hardheaded dreamers and risk-takers. They truly believe that transformative change is possible, and put decades into making this change a reality. We do our darndest to elevate debates about conservation beyond the battle lines of yesterday. We are grounded in place. By that I mean we have to know what we're talking about in real terms, not sound-bites, and build authentic and respectful relationships with friends, colleagues, community members, and even opponents. Maybe most importantly, we love this place — the Colorado Plateau — as much as any community of advocates can.
Q: What are your top three conservation concerns on the plateau in the coming decade?
Climate change and its effects on the places, communities, and fellow creatures are at the top of the list. The Colorado Plateau is both the perpetrator — emitting carbon through coal and oil and gas extraction — and a victim of climate change. We must curb carbon emissions across the plateau, and adapt to weather the coming storm. Next, the effort to dismantle environmental protections for public lands — through state takeover efforts, attacks on monuments and other protected areas, and slashing funding for public land management — presents an existential challenge. Finally, the lack of respect for Native American nations and tribes across the plateau is a vital concern. We simply cannot envision or work towards a sustainable future without honoring the plateau's native people, communities, and sovereign nations.
Q: Proudest Trust moments?
Ethan: There are so many, it's honestly hard to choose. I'm proud of the long campaign we've led to protect the Grand Canyon's air, water, and land from threats that never let up, only intensify. Most recently, I'm proud of the Trust's sustained support for and work with the Bears Ears Inter-Tribal Coalition to see Bears Ears National Monument designated, and our work with the Bears Ears Commission of Tribes in the face of dismemberment by the Trump administration. I'm also incredibly proud of all of our work to find solutions in the face of dire threats — from our Native America sustainable economic development work, to our intertribal gatherings work, to our volunteer program, to our forest restoration efforts. I'm proud to work among incredible colleagues whose energy, creativity, and gumption transform the world for the better.
Q: Where do you see potential for growth?
Ethan: I'm a fan of continuous improvement, continuous evolution. We need to be addressing water issues across the Colorado Plateau more directly than we have in the past. We'll be confronting climate change threats and realities on more fronts. We'll be working creatively to seize conservation opportunities during the Grand Canyon's centennial year. We'll be continuing to build our youth organizing efforts through Uplift. We'll be working to grow our membership and philanthropic support base. And, we'll be doing everything we can to ensure that our operations are carbon neutral. Stay tuned!
Q: What's something people may not know about you?
Ethan: I'm working to master three obviously related and essential aspects of life — Brazilian jiu jitsu, bean to bar chocolate-making, and making the perfect loaf of sourdough bread.