by Lena Bain, Volunteer Associate
"If you sprinkle some pine needles down, your feet don't sink into the mud as much," says Jim Grajek, a seasoned Grand Canyon Trust volunteer with a depth of knowledge that comes from having 25 trips under his belt.
I toss some pine duff into the muddy hole, which I'm attempting to line with cantaloupe-sized stones. Jim's tip proves crucial as we build erosion control structures designed to slow the flow of water in Arizona forests.
"Well look at that!" I exclaim. Jim was right, I now have a cloud of pine needles keeping me on top of the squelching mud as I turn a rock over in my hands and try to solve the puzzle in front of me.
This summer, with Jim's guidance and the help of many volunteers, we built 35 rock structures in the Kaibab and Coconino national forests to help protect precious water sources.
The amazing thing is that Jim is just one among many incredible Trust volunteers. Some volunteers are academics, some are farmers, some bring strong backs and enthusiasm for the work. Whether it's a volunteer's first or 25th trip, each person contributes unique skills and insights. We gather in forest meadows and desert washes, armed with our talents and a few tools, eager to tackle the task at hand.
Take a look at what we accomplished together this year on the Colorado Plateau:
Circles on the map indicate where, and how much time, volunteers contributed. Click or tap the circles to explore.
---
2021 field season highlights
Over 190 volunteers donated more than 1,900 hours of service to the Trust.
We completed 20 restoration trips and citizen science projects, ranging from stream restoration, to pulling weeds, and more.
Protecting water sources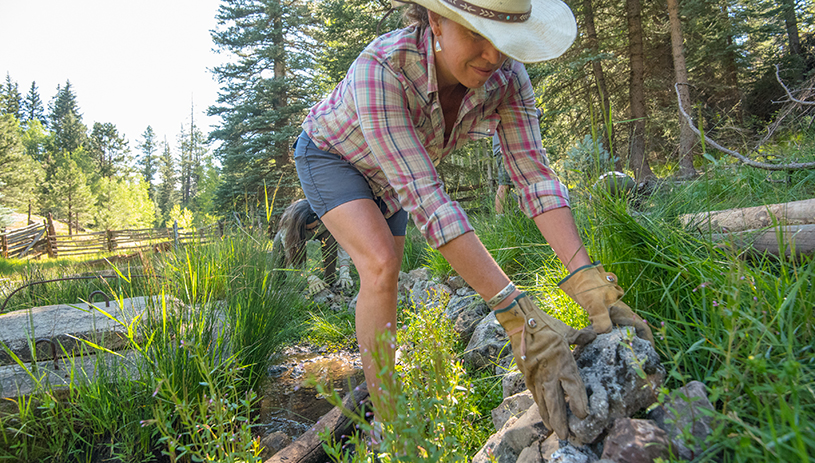 BLAKE MCCORD
We constructed a sturdy fence to protect a perennial lake on the north rim of the Grand Canyon.
We built dozens of rock structures to prevent stream erosion and promote the health of precious water sources in increasingly dry forests.
Expert volunteers identified plants at three springs in northern Arizona.
We surveyed the health of many springs in Grand Staircase-Escalante National Monument and identified critical water sources in need of restoration and protection.
Helping native plants thrive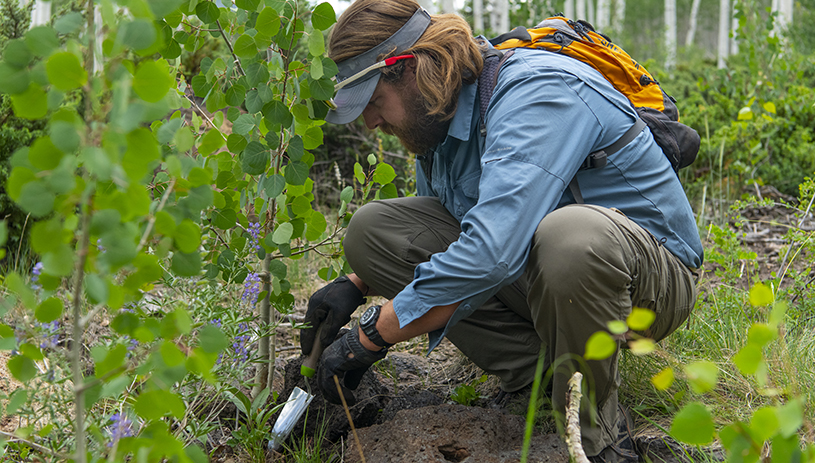 BLAKE MCCORD
We pulled thousands of invasive plants from ungrazed reference areas, giving native plants space to thrive.
Volunteers built fences around willows and aspen stands in the Fishlake National Forest, allowing new shoots the chance to grow without getting mowed down by cows, elk, and deer.
We cleared invasive Russian thistle and transplanted native plants at our Kane Ranch headquarters in House Rock Valley, Arizona.
Helping wildlife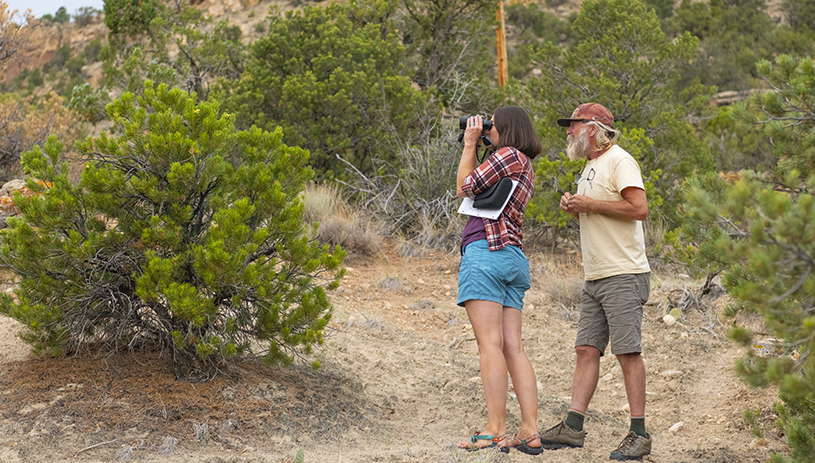 BLAKE MCCORD
We replaced over a mile of barbed wire fence with smooth wire to allow pronghorn to travel freely across House Rock Valley.
Volunteers recorded sightings of pinyon jays across the Colorado Plateau. This data will help inform sound management of pinyon and juniper forests and protect the species that depend on them.
Advocating for the plateau
ED MOSS
We held virtual trainings, with topics ranging from uranium mining to forest plans, to teach volunteers how to best advocate for the Colorado Plateau.
Volunteers made eight trips to Canyon uranium mine to check on conditions of the site. The Trust used their reports to file complaints with the regulatory agency that permits the mine's operation.
On each volunteer trip this season, I learned a new skill and taught a volunteer something new, even if it was just how to massage kale (yes, you read that correctly). With this collaborative approach, we accomplished meaningful conservation projects and, just as importantly, we connected with one another through the simple joy of learning something new while playing in the mud.
Please join us in celebrating our volunteers and rising leaders in Flagstaff, Arizona on Thursday, Nov. 11 from 4-6 p.m. Learn more and RSVP ›