by Julia Sullivan, AmeriCorps VISTA Youth Engagement Coordinator
This year, I saw students stand up in front of a packed meeting room and urge their city councilmembers to protect their community from the uranium haul route slated to pass through it. I saw students move more than 100 community members through powerful works of art inspired by our public and ancestral lands. And I saw students collect diverse perspectives and piece together a portrait of water in this high desert region.
The Grand Canyon Trust's Rising Leaders Program works with students in the realms of scientific research, art, and civic engagement. We recently caught up with some of our most engaged students to hear them reflect on their experiences.
Hitting the road to tell the story of water in the high desert
Each year, our volunteers put in serious hours in the field. They support traditional dry farmers on the Hopi reservation, record the growth of pine species on the north rim of the Grand Canyon, and survey springs on the Mogollon Rim. Young people constitute a vital part of this people-power force. This past fall, a group of Northern Arizona University students participating in the Community University Public Inquiry project set out to tell the story of water in this high desert region, a journey that took them from Glen Canyon Dam to Navajo Generating Station to the stone headquarters of Kane Ranch and into the living rooms of countless community members to try to capture the spiritual, recreational, and economic value of this precious resource.
---
Youth advocate: Jessica Archibald, scientific research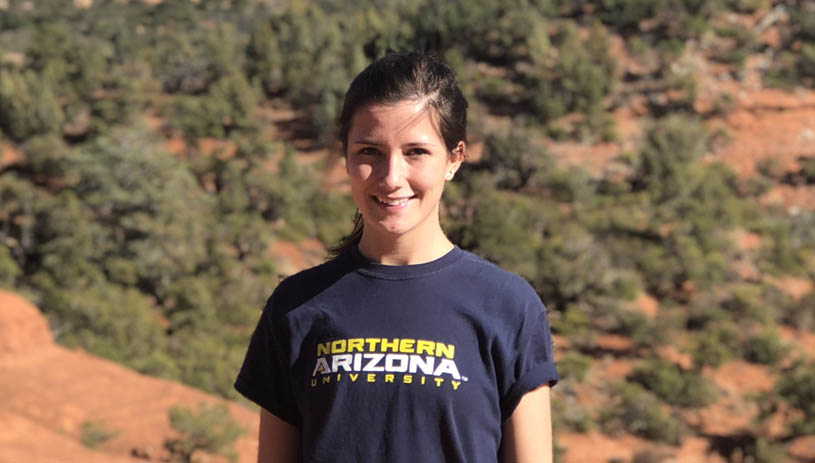 What was the scariest part of the project?
Jessica: The most intimidating part was the interview process. Most of us had little to no experience with interviewing. It was a great opportunity for us to learn a lot about ourselves and push ourselves in terms of our skills and professional development. It was really difficult to make those first few steps, but once we did, it was so rewarding.
Any aha moments?
Jessica: The most unifying moment of the whole process [was] when we actually got to sit down at Kane Ranch. Up until that point everything was very abstract. It was really hard to see any sort of final picture. There were so many tiny little pieces, and once we were able to sit down and get all on the same page and read each other's interviews and talk things out...after that, we knew we had a lot to do, but I think there was a renewed sense of hope in the group that we were going to be able to pull this off and do something really cool with it.
What will you carry with you going forward?
Jessica: I've worked with environmental nonprofits before, and I kind of knew that I was headed in that direction and that I loved it. The work that Grand Canyon Trust is doing and the work that I want to do in the future is so important. It's giving people a voice and enabling a community to get those values out [in a way] that will actually make differences in policy and the way that we treat water.
Check out the story map the group made ›
Jessica Archibald is a rising senior majoring in environmental studies and Spanish at Northern Arizona University and will spend the next two semesters studying abroad in Chile and Argentina.
---
Creating art that defends and inspires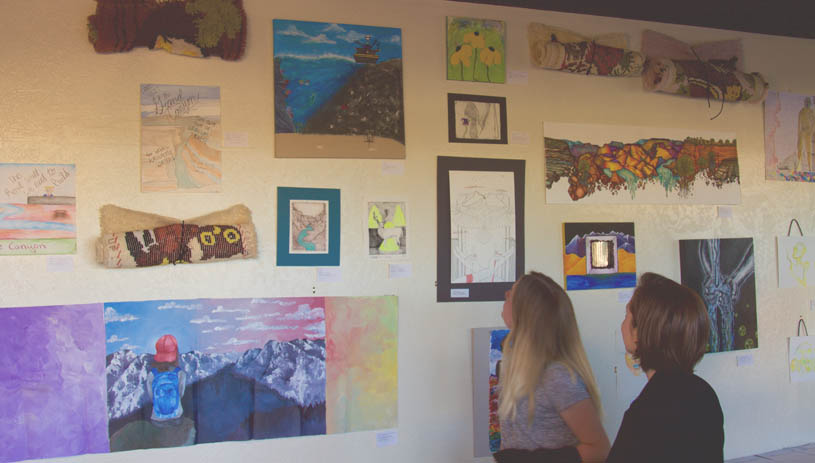 Flagstaff Arts and Leadership Academy students admiring the collection of visual art displayed at the event in February 2018.
---
Recognizing that science isn't for everyone, the Rising Leaders Program also taps into the deep well of creativity to be found within our local highschoolers.
Katie Giovale, a recent graduate of Flagstaff Arts and Leadership Academy (FALA) and former president of FALA's Environmental Coalition, spearheaded a project that culminated in an art auction and fundraiser that drew more than 100 community members. After participating in an educational workshop facilitated by the Trust, students devoted several weeks to planning the event and creating more than 20 works of visual and performing art that advocate for the protection of Bears Ears, the uranium withdrawal area around the Grand Canyon, and the San Francisco Peaks.
---
Youth advocate: Katie Giovale, art advocacy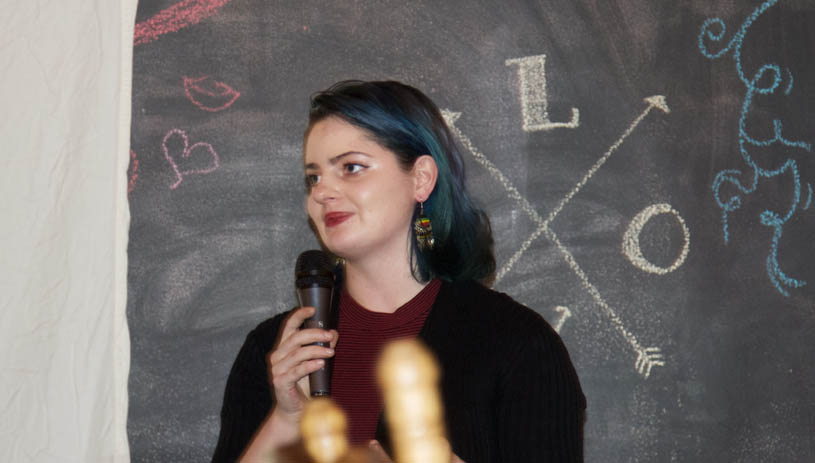 Katie Giovale speaking at the FALA Environmental Coalition's art auction and fundraiser.
---
What was the scariest part of the project?
Katie: Figuring out who actually was committed to creating art for the art show because it really relied upon students taking it upon themselves to educate themselves on these issues and then create something meaningful, and I didn't want people to just create random pieces of art that are vaguely about the environment.
Any aha moments?
Katie: It gave me hope because a ton of people showed up because they cared about the environment. Sometimes it feels like a few people fighting, but it's not. It helped me feel more encouraged about pursuing activism and just being more involved in political issues, so I'll say it inspired me to keep fighting the good fight.
What will you carry with you going forward?
Katie: I think it's particularly important for [young people] to organize because usually young people don't feel like they have the tools or the knowledge to be involved in their political system or social justice issues or environmental issues, but they do. And I think that they can really create powerful work, and I think people listen a little bit more to young people. And I think art is a really good way to evoke an emotion about an issue rather than just statistics that can be useful but aren't going to stick with [people] as long."
Katie Giovale is a recent graduate of Flagstaff Arts and Leadership Academy. She will be studying international relations and philosophy at The New School in New York this fall.
---
Taking political action in the Flagstaff community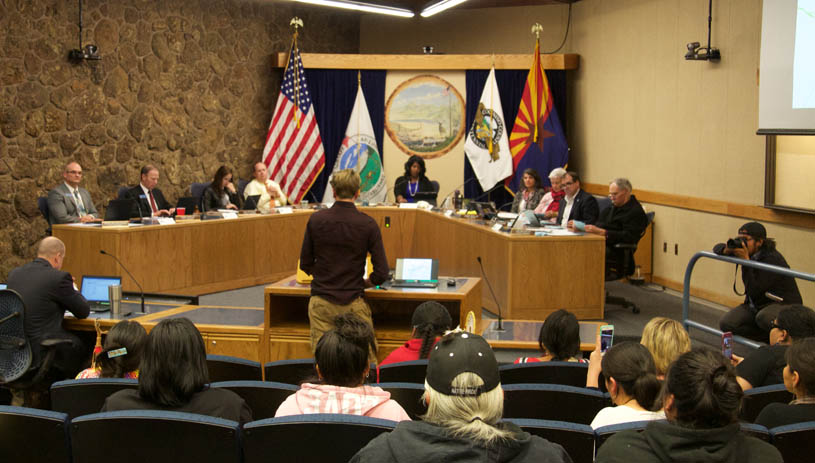 Etienne MacCormack, a member of FALA's Environmental Coalition, speaking at a Flagstaff City Council meeting on the uranium haul route through Flagstaff on October 10, 2017.
---
If neither science nor art are your thing, but you find politics fascinating, we've got that covered, too. This past fall, local students took to Flagstaff City Council meetings to make their voices heard on a proposed uranium haul route through Flagstaff, which would transport radioactive ore from Canyon Mine near the Grand Canyon through numerous communities en route to the White Mesa Mill in southern Utah. The Trust met with students prior to these meetings to offer trainings on how to make a public comment. Students then constructed their arguments, infused them with passion and personal experience, and shared their opinions from the podium.
Robin Bradley, an active member of the environmental club at Flagstaff High School, was one of the students who spoke on this issue last fall.
---
Youth advocate: Robin Bradley, civic engagement
Robin Bradley (far left), pictured here with classmates Cecily Shaddy and Devon Jecmen, on a volunteer trip in September 2017.
---
What was the scariest part of the project?
Robin: At the very beginning, I felt like I didn't know anything, and it was very intimidating...but I was able to educate myself, and the Trust really helped with that.
Any aha moments?
Robin: I think it was when me and [Cecily Shaddy] were editing each other's comments. When I was looking at hers and at mine, I realized that both of us had come so far — from not really knowing anything to being able to write this coherent comment that argued for a point and had these facts and showed a real understanding. And I think that just looking at those two comments at the end of all of our work was when I really felt like I got it.
What will you carry with you going forward?
Robin: It was really empowering. I felt like I was actually having my voice heard on a thing that was going to affect my city because this was a really big issue, and being able to make that comment and knowing that I had prepared well and that it was well done — it felt really, really good to actually make a difference.
Robin Bradley is a rising senior at Flagstaff High School, second-year member of its environmental club, and plans to attend the University of Arizona to study plant sciences next year.
---
Whether it's science, art, or civic engagement, we love supporting students as they explore creative ways to make their voices heard, connect with the greater Flagstaff community, and inspire change. If one of these three areas doesn't appeal to you, but you have an idea for a new type of collaboration with our Rising Leaders Program, we want to hear it! Give us a shout ›