by Jessica Stago, Change Labs Director
---
The Grand Canyon Trust is proud to partner with Change Labs to help entrepreneurs realize their dreams and build a strong, resilient, and culturally respectful economy across Native America.
---
Earlier this summer, we gathered at Change Labs headquarters in Tuba City to sift through dozens of applications for the summer 2019 Change Labs business incubator. On the table in front of us were ideas, early-phase start-ups, and businesses already in full swing — entrepreneurs setting out to peddle everything from beef jerky to solar panels to event-planning services. There was even a mobile hair salon that aims to roll up to community parking lots across the reservation to give kids haircuts the week school begins since everybody wants to start the year off looking his or her best. Spread out in front of our eyes, it was an inspiring vision of our Native economy in all of its resourceful, inventive, and entrepreneurial splendor, but it sure made for some tough decisions.
How do you choose when there are so many creative, hardworking people in our communities who see a gap in the market, a community need they are uniquely suited to meet, or a problem that they've made it their mission in life to solve? We spent days poring over the applications and conducting interviews, knowing there were many more deserving entrepreneurs than there were available slots in our intensive 12-18-month business incubator. In the end, we could only choose 11. Of course, for our tribal economies to be strong, resilient, and independent, this is just a tiny fraction of the number of small businesses we need to see flourish. But you have to start somewhere.
An inspiring cast of changemakers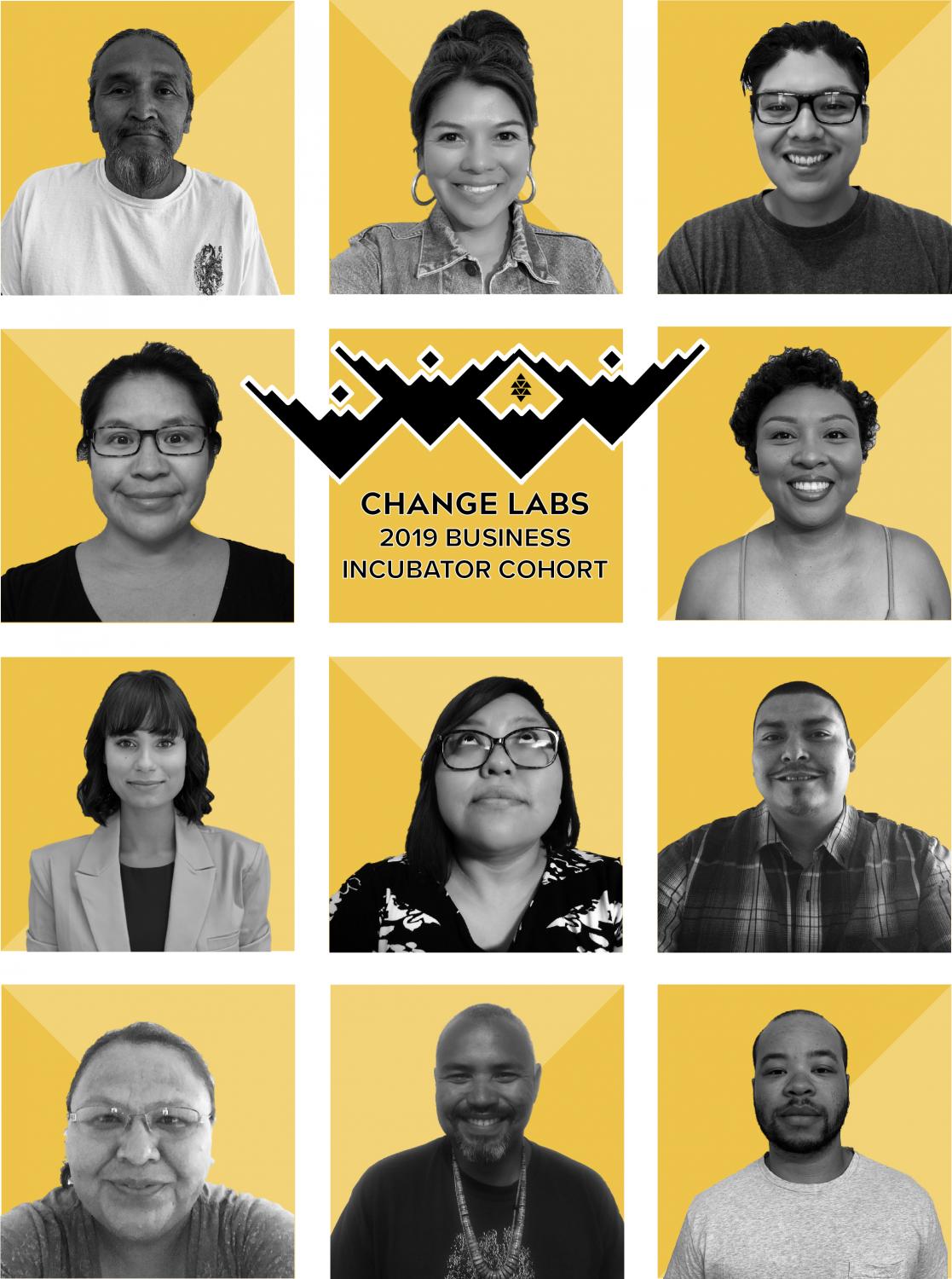 The 11 entrepreneurs who made the cut are an inspiring crew working across many sectors of the economy. They include artists and craftspeople like visual, digital, and installation artist Tom Greyeyes and jeweler Thomas Deel Jr. who is gearing up to produce custom Native-inspired class rings, with the option of trying on a version popped out by a 3D printer to make sure you like it before ordering it in silver. There's also leather artist Summer Brown of Lotus and Layne and designer Glenda Bennett, whose custom handbags feature prints and patterns inspired by Native culture.
In the social change department, there's Suzanne Singer, co-founder of Native Renewables, a Berkeley-educated mechanical engineer aiming to retail affordable off-the-shelf solar units to off-the-grid families, units that produce enough power to keep the lights on for Native American families, so that children can see to do their homework at night without breaking the bank.
Here at Change Labs, we recognize that in order to build a healthy economy on tribal lands, we must stop dollars from leaking out of our tribal economy to be spent off the reservation. We need people to spend their money here, and we need those dollars to circulate several times through the economy, one hallmark of a healthy economic system. But in order for people to buy local and buy Native, entrepreneurs have to offer the goods and services that consumers are looking for.
That's why Bennedict Keevama is out delivering beef and — during hunting season — elk and deer jerky to the Hopi Mesas while farmer Tyrone Thompson is marketing his expertise as a consultant helping schools plant and harvest gardens that produce fresh, sustainable crops to give families in rural reservation communities better access to fresh veggies as they work to put healthy meals on the table for their kids. Cheyenne Gordon is leaving behind a successful modeling career in Los Angeles to return home to the Hualapai Reservation to run her own farm.
In our rural communities, people can't always get to the salon to have their hair cut and styled, so beautician Kristen J. Kaye will bring her mobile beauty salon to them.
Candice Mendez of Salt.V.Mo Events is bringing a decade of event-planning experience to bear, offering a full suite of event management services for everything from meetings to conferences to cultural gatherings that draw hundreds of participants from across the country.
"In my family, growing up, we'd have gatherings where we would feed 200 people, and we didn't have electricity or running water," Candice recalls. It was an experience that set her up to be flexible, inventive, and successful as an event planner. And for customers looking for tents, tables, sound equipment, and other necessities for everything from community fairs to family celebrations, Claudia Brandow is setting out to deliver them.
12-18 intense months ahead
Hats off to these 11 entrepreneurs, whose ideas, drive, and passion kept their businesses on the table through many tough rounds of elimination. Much work lies ahead, from our kick-off bootcamp next week, to marketing and branding strategy, accounting and finance training, and intensive hands-on business counseling to help our summer 2019 changemakers set goals, meet them, and blow past them. We know they have the grit and determination to make it through and we couldn't be more excited to see what this group of inspiring small business people will achieve for themselves, their businesses, and their communities, as they go out and make change in the coming year.