by Jessica Stago, Native American Economic Initiatives Director
---
The Grand Canyon Trust is proud to partner with Change Labs to help entrepreneurs realize their dreams and build a strong, resilient, and culturally respectful economy across Native America.
---
When Thomas Deel Jr. made his first go of becoming a jeweler in the mid-1980s, the internet and online shopping had yet to become national pastimes. Getting his pieces out there involved a lot of travel and face time with customers, flying to art shows in faraway places like Dayton, Ohio, for the chance to make a sale.
Deel, a Navajo artist and first-generation jeweler, even got his work accepted into the internationally acclaimed Heard Museum. But needing to support his family, Deel set aside his jewelry aspirations in the 90s to pursue better-paying metal trades jobs in the Phoenix area and throughout the Southwest.
Now, decades later, Deel is back home in Tuba City, Arizona, at his jewelry bench once again crafting unique rings, necklaces, and bracelets — this time, with a business plan, marketing know-how, and support from the Change Labs business incubator program, which supports Native entrepreneurs.
"It falls down to being with family. I had been away from my family, back and forth for so long—a weekend dad. So the idea behind my business is that I'm going to stay here at home. And I'm going to use the internet to market myself."
Statement pieces made of silver, coral, turquoise, and gold
Tommy Greyeyes, Hundred Storms Creative
Deel took his first jewelry class in high school, and since then he has built on his soldering skills to include tufa casting, inlay, and fabrication out of sheet metal. His work takes on a life of its own, as he sits down with rough cut pieces of turquoise, coral, gold, and silver, and lets their shapes and textures guide his process.
"I can't push pieces out like hot cakes. I spend a lot of time on my jewelry, a lot of time thinking," Deal says. "I feel like something is leading me."
One of his recent pieces, for example, is called the "Rez Road Ring." It started as a bumpy piece of silver, which reminded Deel of driving down rough dirt roads on the Navajo reservation. So he cut out hearts to represent potholes. A turquoise stone looks like it's trying to pop out of its silver bezel. And a red piece of coral signifies love for the bumps.
"It's a statement piece. I'm just trying to say we have a lot of potholes on the reservation. Nobody can repair them. It's the norm now."
Deel says he likes silversmithing because he can make anything he wants. "I can do things like the Rez Road Ring, and it gives me a little voice to say something."
Teaching reignites creative drive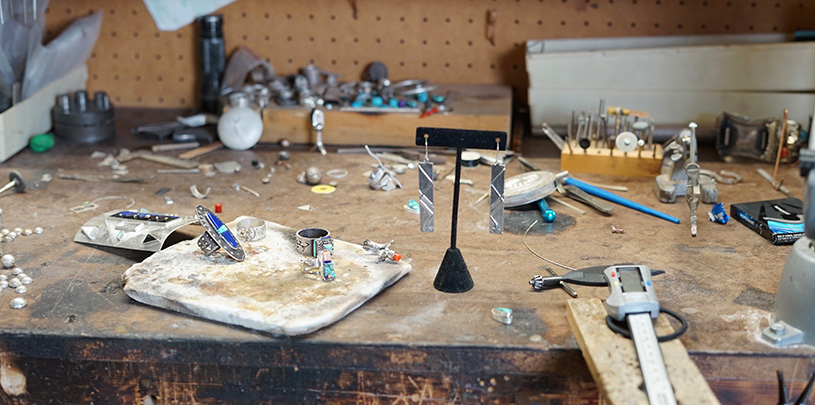 Tommy Greyeyes, Hundred Storms Creative
When Deel started making jewelry again after his extended break, he felt like his designs weren't flowing through him like they used. He struggled to make wedding rings for his niece, and again with another ring project a year later. But Deel credits his son with getting him back into the groove.
"Last March, I told my youngest son I'd teach him how to make jewelry. It was a turning point. I think I had to teach someone in order to get it back."
Beyond making beautiful, one-of-a-kind pieces, Deel aims to use his artistic ability to help other people. In the future, he would like to start teaching jewelry classes in the community.
"I know people want to learn. I can teach them the basics."
Deel's new approach to business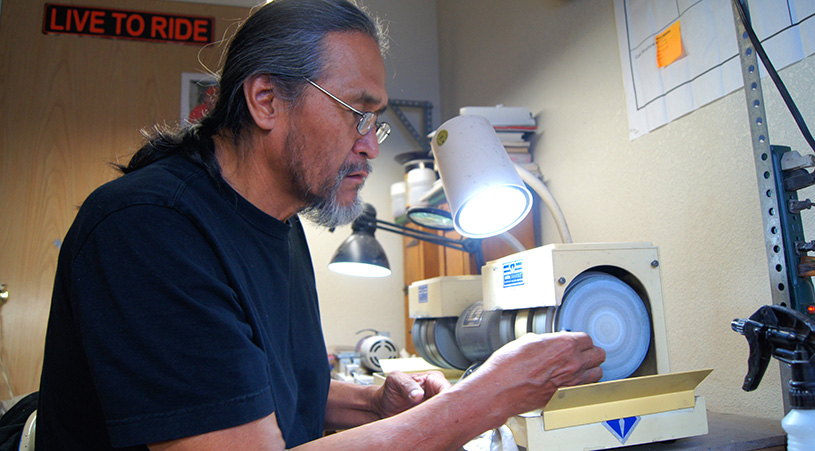 Tommy Greyeyes, Hundred Storms Creative
Starting a business on the reservation is full of challenges. Deel doesn't have internet at his shop, for example, and instead relies on hotspots and cellular data to check his email and update his Deel Jewelry Facebook page.
With encouragement from his family, Deel joined the Change Labs business incubator program in 2019, and has since learned valuable skills like marketing and bookkeeping.
"When I made jewelry in the 80s and 90s, I didn't have a plan. Branding wasn't in my vocabulary. Now with Change Labs, I'm looking at my business in a different way."
Soon, Deel will roll out a new logo and website. He hopes his online presence will broaden his customer base.
For the time being, things have slowed down for Deel as the coronavirus hits northern Arizona. But he says the skills he's been learning through Change Labs are starting to click — his gears are churning.
Looking ahead, Deel has big dreams for his business. After professionalizing his brand, Deel would like to get new tools to expand his business offerings, like a bench top laser welder that would allow him to do jewelry repairs and enable even more unique designs. He also wants to design class rings for the two Tuba City high schools, eventually branching out to Native schools in other states and possibly the country. Follow Deel Jewelry on Facebook and Instagram to see his latest designs.