by Jillian Topsky, Change Labs Fellow
---
The Grand Canyon Trust is proud to partner with Change Labs to help entrepreneurs realize their dreams and build a strong, resilient, and culturally respectful economy across Native America.
---
In traditional designs of the Diné people, each mark and symbol carry a meaning and history. Marisa Mike, a Diné fashion designer from the community of Tonalea, Arizona, combines traditional styles with contemporary twists in her line of special-occasion wear. Working from her home, she stitches Pendleton blankets into sculpted bodices, gathers chiffon into flowing skirts, and creates one-of-a-kind, handcrafted gowns. Each dress tells a story, ranging from harmonious times with animals, to raging flood waters, to emergence into the glittering world and what we know now as Mother Earth.
Here, we talk with the Marisa about the fashion industry, where she finds inspiration, and her plans to bring Marisa Mike Designs to department stores across the country.
What inspired you to enter the fashion world?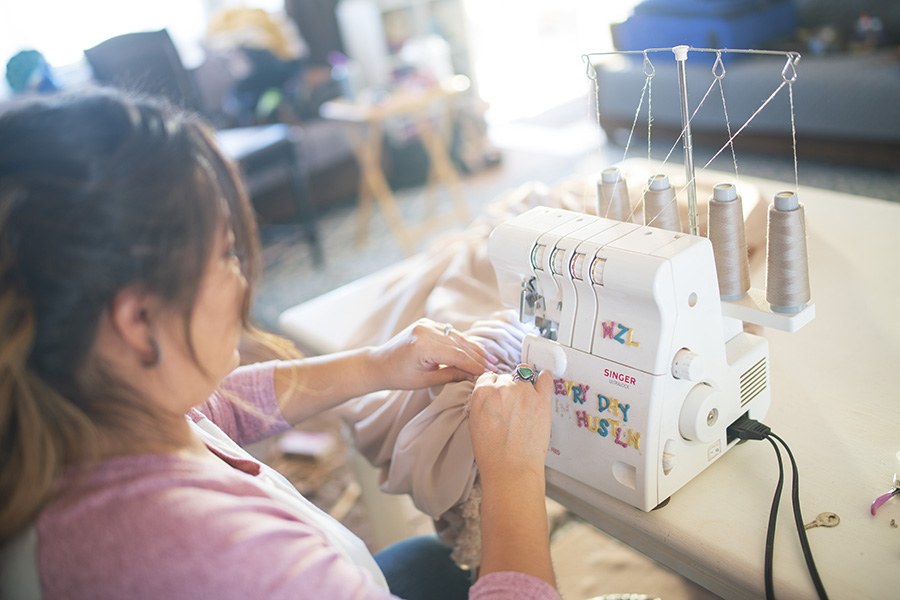 JAKE HOYUNGOWA
In high fashion, there is a considerable amount of cultural appropriation of Indigenous cultures. Non-Native designers that commit cultural appropriation use the term "exotic" to describe Native Americans that influence their work, as if to say that we are the ones foreign to our own country. In part, this misuse and appropriation of Native cultures is due to the lack of representation in the fashion industry. I was inspired to enter the fashion world to offer an accurate representation of what Diné culture is and to say that Native American cultures are not homogenous. I want to educate non-Native people through my designs.
Why is it important to have Native women model your designs?
When I was a fashion marketing student, I learned that the face of your brand will attract your target market. There were studies that have shown fairer skin is more marketable. I chose not to believe that. I grew up reading fashion magazines. In each magazine, I did not see any girls who looked like me. As a designer, I have the opportunity to represent authentic Native Americans, so young girls can see themselves in my models and my designs. Through branding and my designs with Native fashion models, I am educating the outside world by saying, "We are still here, and we are still thriving with our strong traditional values."
Who influenced you to go into fashion design?
Creativity runs in my family. My mother and father are both artists that use many different mediums, from beading to elaborate ribbon work. Growing up, I learned how to sew by helping my father put together prayer robes and helping him with the ribbon work. Once I had children, my mother taught me how to sew simple things like pajamas and such. My parents helped foster my creativity and gave me the tools to express myself through design. Although, Marisa Mike was inspired by my nieces. They approached me and asked me if I could make their graduation gowns. They wanted the traditional style that was form-fitting and had a contemporary twist. They wanted a dress that wasn't made by grandma. I began creating special occasion gowns from there, and I have built up a reputation for my work that goes beyond my own community.
What milestones do you hope to reach in the next few years?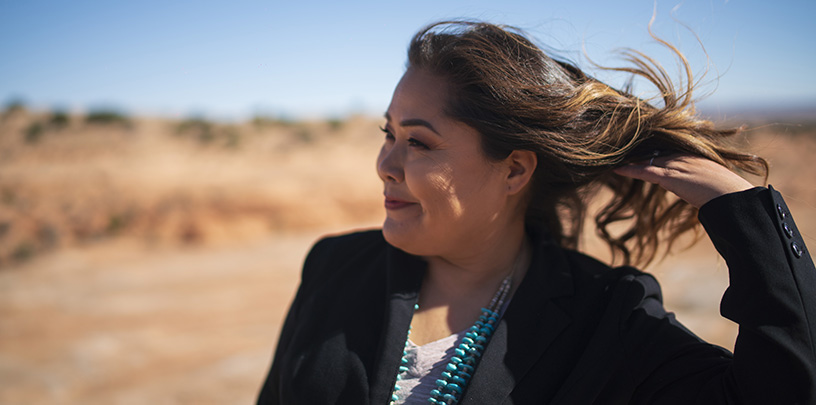 JAKE HOYUNGOWA
My dream is to have a ready-to-wear line in department stores across the country, and eventually I hope to have my designs available across the globe. I am passionate about creating special-occasion gowns, especially when my designs reflect the land and the people of the Navajo Nation. While I have a long journey ahead of me, I am making progress. I have created gowns for people across the Navajo Nation, and I even sent out my first international order to Canada!
As Marisa Mike Designs spreads to a larger population, I am educating the outside world about Diné people. I am showing them that we are here and thriving!