Guest post by Stacy Thacker
---
The Grand Canyon Trust is proud to partner with Change Labs to help entrepreneurs realize their dreams and build a strong, resilient, and culturally respectful economy across Native America.
---
Among the red rocks and sage fields of the Navajo Nation are scattered homes and very few neighborhoods. Along the rural landscape are homes that have hidden dangers that aren't seen until up close.
Carmirae Holquin wants to help change those dangerous living conditions. She is the founder of the nonprofit Nááts'íilid Initiative, a startup focused on building sweat equity homes for Navajo families in need. Sweat equity requires families to put in 60 percent of the work to help build their home with 40 percent coming from professionals and volunteers. Homes are built using as many natural resources as possible.
Holquin is Diné from Dennehotso, Arizona, and she has experience in leading these types of builds. She worked with Dennehotso Chapter House and the University of Utah to build a sweat equity home for an elderly couple living in a dilapidated house.
That's Nááts'íilid Initiative's goal, to build homes for low income Navajo families living in poor conditions. The organization will also help homeless families and those recently displaced due to the pandemic. By helping people in need build their homes, Holquin hopes to give them more than just a new house but a new outlook.
"It's to help them build their confidence, to help them become a better family through communication and teamwork," Holquin said.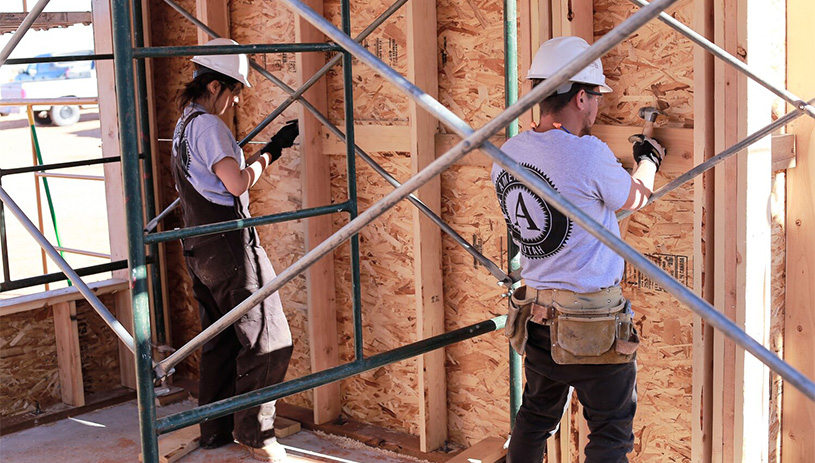 DESIGN BUILD BLUFF
Participating family members undertake CPR training as well as safety training on how to run power tools and use basic hand tools. The families are always under professional supervision during the build, which can take about three months to complete.
"If you are given something without working for it, you wouldn't appreciate it," says Holquin. "But if a family works on this home together, they would learn to communicate, they would have better building skills."
Those building skills extend beyond physical labor. She wants families to learn together and from each other. It's a chance to try something new and find hidden talents along the way.
Labor skills are only a piece of the puzzle, the program aims to teach people basic home skills such as cooking, cleaning and financially literacy.
"We want to educate our home owners," she said. "Just basic things for them to take care of their home in the future."
The housing crisis on the Navajo Nation is a longstanding issue but some people don't realize they're living in poor conditions, Holquin said.
"They have a different concept of what their home is supposed to be," she said.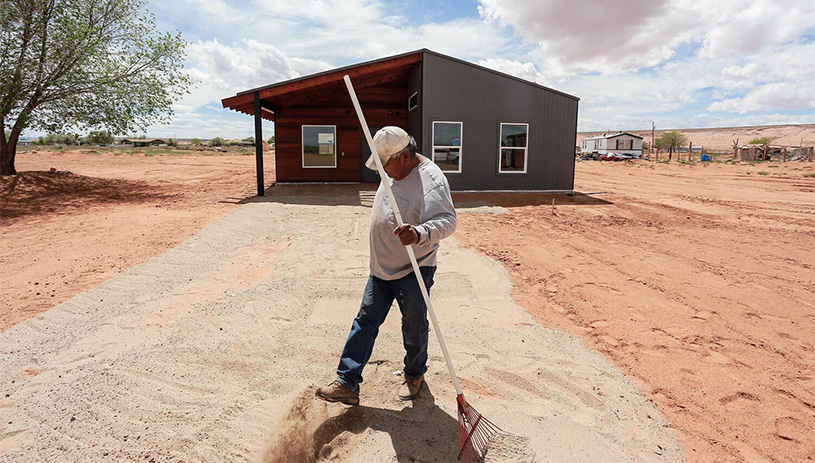 DESIGN BUILD BLUFF
According to a 2010 report from the Navajo Housing Authority about 59 percent of the population reported living in dilapidated homes or homes in need of major repairs.
"There's multigenerational families that live in a single home," she said, stating over crowding is a big issue with smaller homes housing up to 10 people and going beyond a comfortable limit.
There are also people living in abandoned vehicles, caves, and in houses with no roof or insulation, Holquin said.
"These are some of the serious situations that we've come across in some of our housing research," she said.
But despite their living conditions, Holquin said people are humble and happy. Even with so little, they feel like they have enough.
Along with dilapidated homes, the Nááts'íilid Initiative plans to work with families living in traditional dwellings, such as a Navajo hogan. Many of these homes the initiative will work with are lacking basic necessities like water.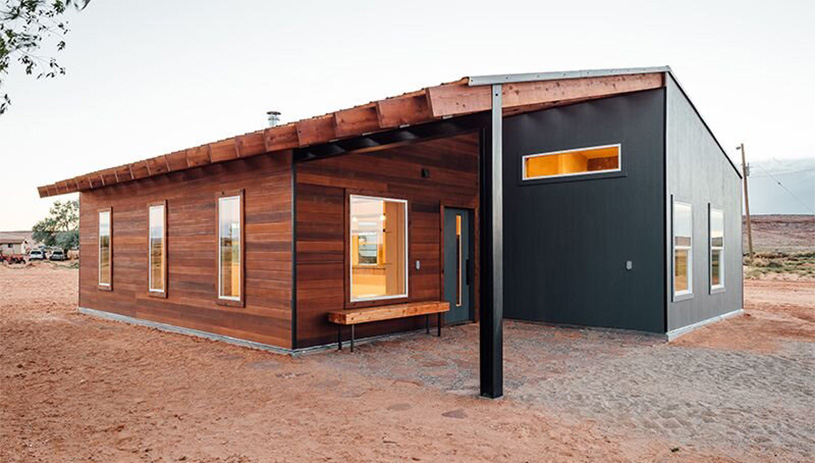 DESIGN BUILD BLUFF
According to last years estimates from the Environmental Protection Agency, 15 percent of Navajo residents lack access to piped water to their homes. Water has to be hauled from clean and safe access points such as local chapter houses. The need for water on the Navajo Nation has plagued the reservation for years, but the issue recently took center stage during the pandemic.
"Some of these families don't have other places to go and they have serious medical needs and they need something a little bit more sanitary and a little bit more equipped for them to live in," Holquin said.
Focusing on health and safety is only part of the organization's mission. The other component is cultural.
"Everything in Navajo has a life to it, it has a culture, it has feeling. It breathes," she said. "The way that the home is built, it goes through different phases just as a human being would."
Holquin said Change Labs business incubator has helped her build her confidence and made it possible to get her organization off the ground.
"I was given the opportunity to open this business off the reservation," she said, but she wanted to keep it local.
Holquin kept Nááts'íilid Initiative on the Navajo Nation to be closer to the Diné people and their needs. She also wanted to follow in the foot steps of Change Lab entrepreneurs before her that proved it's possible to run a successful business on the reservation.
Follow Nááts'íilid Initiative at their website naatsiilid.org and through social media on Facebook and Instagram.
---
This blog is reprinted with permission from Change Labs. Read the original post and learn more ›