by Jessica Stago, Change Labs Program Director
---
The Grand Canyon Trust is proud to partner with Change Labs to help entrepreneurs realize their dreams and build a strong, resilient, and culturally respectful economy across Native America.
---
Samuel Shingoitewa first tried cycling to lose a few pounds. Before long, he was hooked. When Samuel moved back home to the village of Moenkopi, on the Hopi reservation, he brought his newfound passion with him. Soon, he was leading indoor cycling classes at the tribal wellness center on his lunch break.
"When the bikes would break down, I would let the facility know, but there was nobody to fix them. The bikes would just sit there," Samuel says. "That just kind of irked me."
The indoor cycling bikes were similar to Samuel's own road bike, so, with the facility's permission, he started fixing and maintaining the machines himself.
An electronics engineer by training, Samuel has always been a little bit of a tinkerer. "I guess it started when I was probably around seven," admits Samuel. "I was always taking things apart to see how they worked."
He started repairing car stereos in high school, then moved on to circuit-board assembly and eventually to a career with a medical device company. He was happy to put his skills to work repairing the broken cycling machines.
With the indoor bikes in working order, Samuel noticed other broken machines.
What do you do when your treadmill breaks down?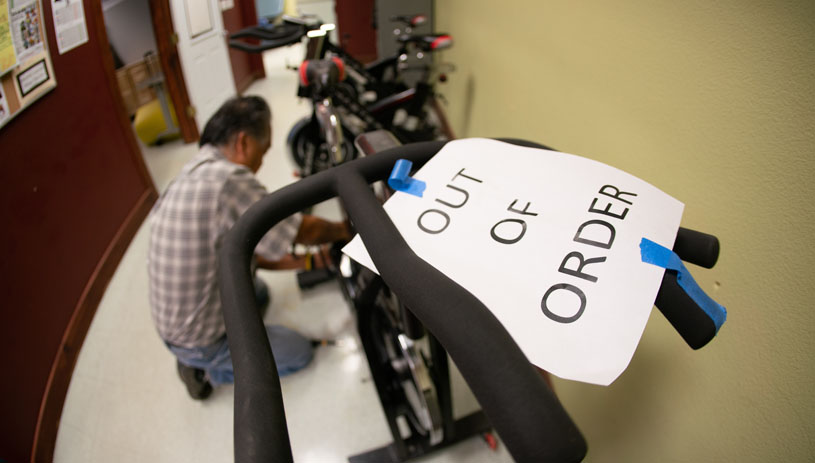 JAKE HOYUNGOWA
"At the wellness center, when people would come in and see a treadmill or some kind of machine down, they would just turn around and walk right back out," Samuel says.
The observation troubled him. Physical exercise has had a huge impact on Samuel's own health and quality of life, and given the health challenges — including high rate of diabetes — in his and other nearby tribal communities, he knew how important access to working fitness equipment could be.
If your treadmill breaks down in the Four Corners area, it might be a long time before you see a repairman, especially if you live on the reservation. In northern Arizona, the closest service provider is often in Phoenix, as much as half a day's drive from some reservation communities. At the wellness center, it would sometimes take several months for a technician to show up.
A personal passion for fitness takes a professional turn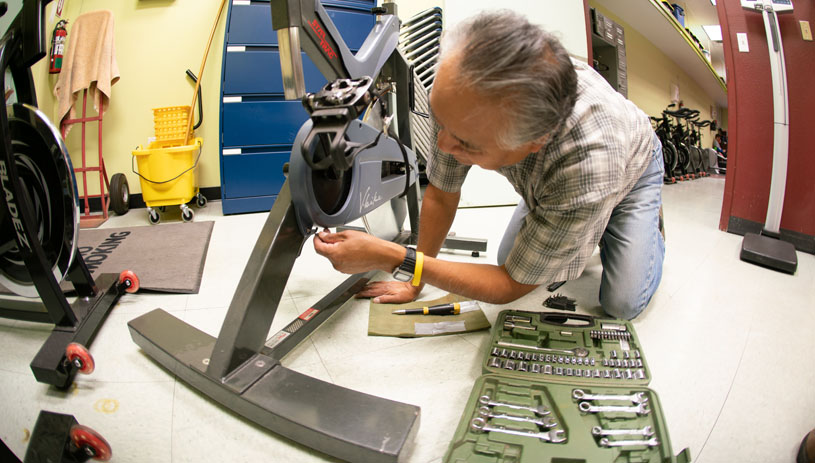 JAKE HOYUNGOWA
Samuel set out to solve the missing technician problem, marrying two life passions — tinkering and indoor cycling. He traveled to Irvine, California to be certified as a service technician by Star Trac, the same company that manufactures Schwinn, Nautilus, and Stairmaster equipment.
"We started on treadmills and elliptical and weight machines, everything that the company manufactured," Samuel explains.
He found the work interesting, and it came easy to him, given his background in electronics. Last March, he became an authorized service provider for True Fitness as well, and two weeks later he was fixing a broken True Fitness treadmill for a doctor living on the Hopi reservation.
Certifications in hand, Samuel also founded Sunbear Fitness and Repair Services. Change Labs' business incubator helped him with marketing materials and a free accounting system. Now he's setting out to maintain and repair fitness equipment in tribal wellness centers, casinos, hotels, and other businesses and private homes across the region, from the Hopi and Navajo reservations as far north as the Ute Mountain Ute reservation in Colorado and Utah and south to the White Mountain Apache Tribe.
Building the Sunbear Fitness and Repair Services brand
JAKE HOYUNGOWA
"When your machine breaks and you call up the manufacturer and give them your zip code, they don't always know the geography of the area," Samuel explains. "They don't realize that Phoenix is like three hours away from Tuba City."
To spread the word about his services, Samuel is hitting the road, shaking hands and handing out business cards to fitness facilities across the Four Corners region.
"I'm not just looking at the Indian Health Service facilities or the Navajo Nation, I'm also looking at the high schools. There are four hotels in Window Rock and I've contacted all four," Samuel explains. "I've made contact with the casinos in White Mountain, on the Apache reservation, and Ute Mountain in Towaoc [Colorado]. I haven't even gotten to the New Mexico side yet."
Still a fitness nut at heart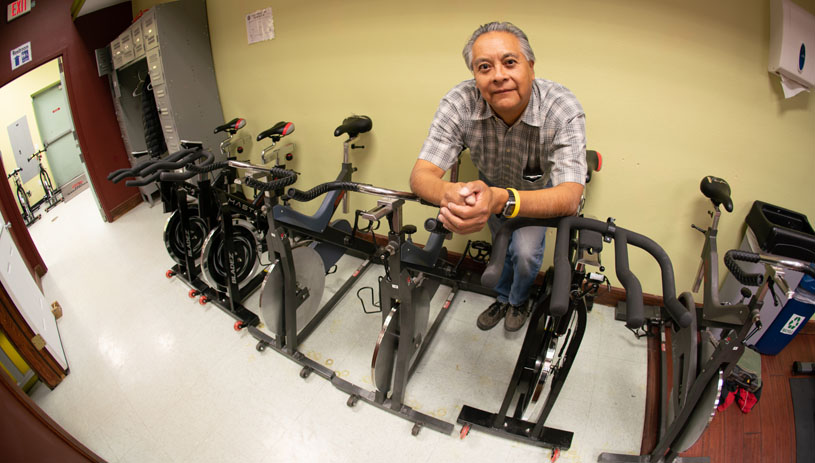 JAKE HOYUNGOWA
Samuel is especially passionate about keeping fitness equipment in good working order in tribal communities.
"People come to these facilities and utilize the equipment there," Samuel says. "Not just the Hopi, not just Navajo or the Paiutes, but everyone. Diabetes doesn't discriminate. I don't like to see machines down, because that discourages people when they walk in. Then they say 'well, I don't want to go there because their machines are always broken.'"
Still an avid cycler and cycling instructor, in the long-term Samuel hopes to open his own gym where he can offer classes, to introduce others to his passion for cycling.
"We've got people here in this community who like to lift weights, who like to do high-intensity training. My facility would also incorporate things like that," Samuel muses.
Amid the day-to-day labor of replacing belts and overlays and promoting his business, Samuel is keeping his eyes on that end goal.
"That's why it's called Sunbear Fitness and Repair Services," Samuel says.
Have a piece of fitness equipment in need of repair or maintenance? Email Samuel ›