Guest post by Stacy Thacker
---
The Grand Canyon Trust is proud to partner with Change Labs to help entrepreneurs realize their dreams and build a strong, resilient, and culturally respectful economy across Native America.
---
A missed opportunity led a Navajo artist to find his passion and his career.
Jaymus Perry's story begins about 25 years ago when he attempted to buy an Indian Motorcycle but the iconic warbonnet was missing. He passed on the purchase but then realized he could create his own warbonnet. Inspired by Hopi artisans carving Kachina dolls out of cottonwood branches, Jaymus knew he could do something similar. But, when he inquired about the motorcycle, it was sold. However, the idea for crafting warbonnets in his own style was seeded and Jaymus was on a mission.
"Right from there it's always been dancing in the back of my head. Finally, just a couple of years ago, I had enough money to do a proper investment into my idea, my dream, and I got it copyrighted," he said of his "ArtBonnet" design.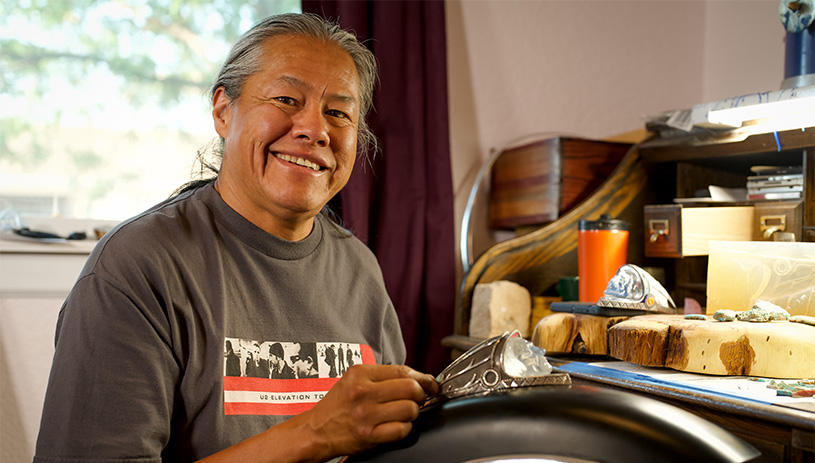 ALEXANDER SIMPSON
Jaymus Perry, Navajo, is the owner and founder of JP Designs, which specializes in custom designed motorcycle ornaments. Perry designed and created the ArtBonnet, inspired by the warbonnet design originally found on the Indian Motorcycle, a brand of motorcycles originally produced from 1901 to 1953. Today his work can be found around the world on the motorcycles of bike aficionados.
But creating the art is more than just business for Perry. He appreciates people are willing to pay for his art but he likes to use the warbonnet design as an educational tool as well. He teaches customers about the Native American headdresses and how it's earned. He uses knowledge from the Plains Tribes when teaching customers about the significance of the symbol they are buying.
"I can plant a little seed right there of teaching what we are as a community," he said, adding that by educating the public, maybe hate will go away and understanding will replace it.
By using Instagram and the internet, Perry has grown his customer base from the United States to Taiwan, Australia and beyond.
"I just like being creative," says the self-taught artist. "I just really wanted to see my art all over the world."
Exploring new art forms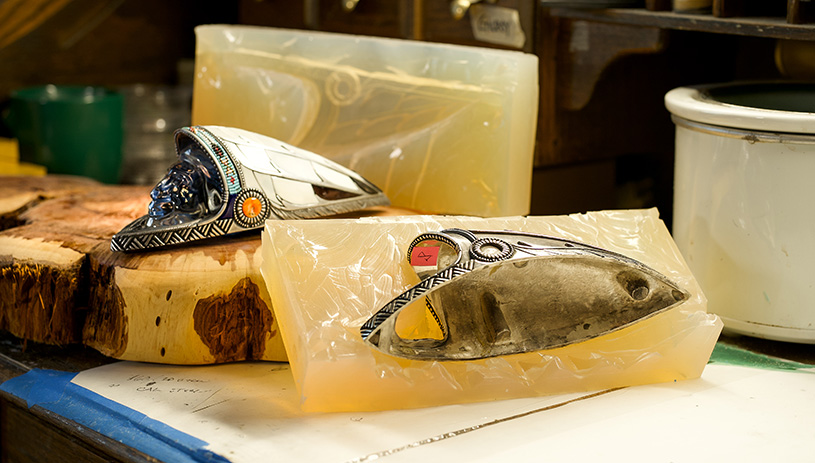 ALEXANDER SIMPSON
Perry casts his designs one by one which can be a tedious process, but that's what makes his work special. Every design he makes is one of a kind. He works in a medium known as lost wax casting, an art form from the Babylonian era. Back then, they would cast by carving out designs in honeycomb wax, Perry said. He picked up the medium after taking casting class and from there his passion for the process grew and inspired his artwork.
"I love contemporary style work. The weird stuff, the stuff that's organic," he said. "I do like the way our people make jewelry, but I want to incorporate different types of designs into it."
Perry can do live castings of plants. He can take leaves from a tree, or an acorn and he can bring it to life in a new way.
"The dynamic of taking a live object, putting it in plaster and then doing a burnout and casting it in silver or bronze and seeing the final product is very interesting. It's really, really cool," he said.
For Perry, the allure of lost wax is that there are no boundaries and no limitations.
"You can take any type of object and make an exact replication of it," he said. "You can always take that exact replication and put your own design to it."
A new journey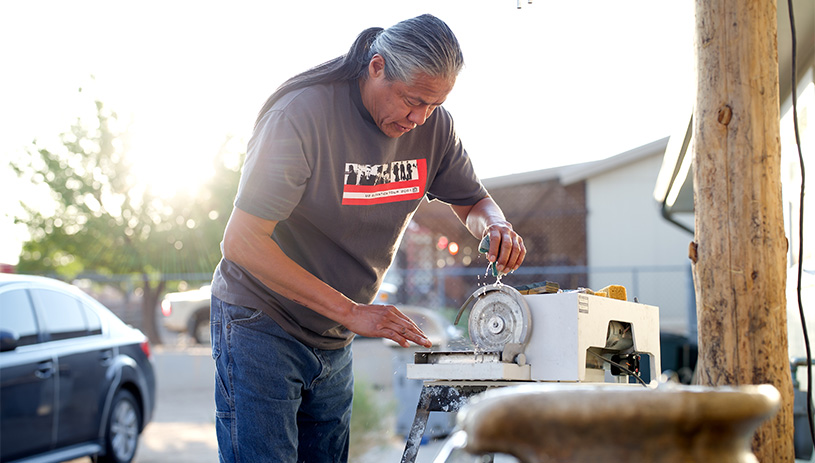 ALEXANDER SIMPSON
Exploring different works of art has lead Perry on many adventures. He's seen priceless pieces by famous artists, and he's seen local pieces by unknown artists, but each experience has contributed to his perspective. And now, Perry is on a new adventure. In May 2021 he was accepted into the Change Labs Business Incubator, and will spend the next twelve months refining his business model, developing new product lines, and building his brand from his workshop in Shiprock, New Mexico and Durango, Colorado.
"You can't limit yourself," he said.
---
This blog is reprinted with permission from Change Labs. Read the original post and learn more ›