by Jack Pongyesva, Grand Canyon Manager-Intertribal Centennial Conversations Group
Tucked in the pines between Sedona and Flagstaff, the switchbacks of Arizona Highway 89A bring thousands of vehicles each day twisting through Oak Creek Canyon. With an endless supply of red rock views and tourists stopping by, the overlook at the top is a prime location for Native artisans looking to sell their handmade wares.
The Native American Crafts Market, open daily from 8 a.m. to 5 p.m., is a partnership between Native Americans for Community Action, Inc. (NACA) and the U.S. Forest Service. It's illegal to vend on federal lands, but a special use permit allows 16 vendors at a time to sell jewelry, ornaments, pottery, sculptures, and other arts and crafts at Coconino National Forest's Oak Creek Vista.
Dorothy Denetsosie Gishie, who oversees NACA's vending program, says prior to the partnership, there were lots of arts and crafts people selling there illegally. When a ranger pulled up, a watchperson would signal the others to pack up and run off. One artist lost his whole inventory when it was confiscated.
Making space for Native vendors to sell their art
"The police were tired of sending officers out to our site to arrest people. The Forest Service was tired of chasing our vendors off. They came to NACA to come up with a win-win solution," says Denetsosie Gishie.
Navigating permits, leases, partnerships, and bureaucratic processes to secure vending spaces is a full-time job, and it's Denetsosie Gishie's goal to make vending accessible to as many Native Americans as possible.
"I'm always looking for secure spaces to give our people opportunity for economic development," she says. "It's always been in my mind, and in my prayers, to somehow get my foot into the Grand Canyon."
New ideas for Grand Canyon National Park
Dorothy Denetsosie Gishie speaks at the Emergence Intertribal Economic Summit. JAMIE ARVISO
Grand Canyon National Park is an economic engine for northern Arizona, pumping hundreds of millions of dollars into local economies. It should be for tribes too, but few of those tourism dollars reach neighboring tribal communities. The people that hold the Grand Canyon sacred and have stewarded the protection of this place for centuries are excluded from the park's economic benefits.
Native entrepreneurs, community leaders, National Park Service staff, and many more are looking at Native representation in the park and re-envisioning an inclusive Grand Canyon economy. In August 2022, the inaugural Emergence Intertribal Economic Summit brought creative minds together to discuss vending opportunities, tourism infrastructure needs, national park hiring reform, cultural demonstration programs, and more.
Denetsosie Gishie, who attended the Emergence summit, emphasizes the value of partnerships.
"The vending space we have at Oak Creek Vista is one of the most visited rest areas in the Coconino National Forest, and we want the same consideration here in the park service."
Pilot project: Native American artist market
This year, Denetsosie Gishie finally got her foot in the door at Grand Canyon National Park. She helped develop a pilot program to establish a weekend Native American artist market at the Tusayan archaeological site and museum near the east entrance of the park.
From Memorial Day to Labor Day, six vendors set up tables at the museum and sold their art directly to park tourists. At first, Denetsosie Gishie says it was a hard sell to NACA's 250 vendors to fill the available slots. It was a new location and not well-visited in the vendors' minds.
"By the third week, vendors were eager to get into the six spots. Selling opportunities have gone very well."
Denetsosie Gishie hopes to expand the pilot program throughout Grand Canyon National Park.
More selling locations needed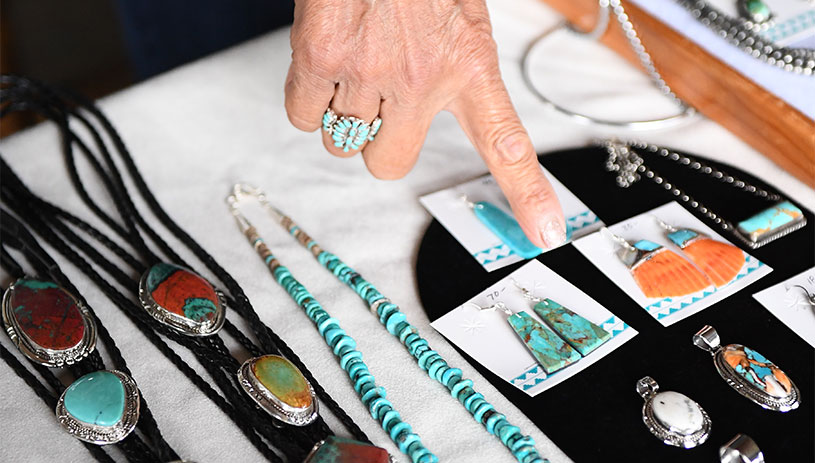 Native jewelry for sale at the Grand Canyon. JAMIE ARVISO
"If the park service is able to give us more selling locations, I think that would really benefit the economic resiliency and survival of our people. The majority of my vendors are single parents. They always say being able to sell is the only way to keep off the welfare rolls."
As conversations sparked at Emergence continue, Denetsosie Gishie and other Native changemakers are envisioning what partnerships, representation, and education can look like at Grand Canyon National Park.
"My vision is to have retail stores, where our people can set up and rotate out on a consistent basis, and to include our elders and our youth," she says. "The idea of being given an opportunity to have selling spaces is music to our ears. As Indigenous peoples, we don't want to be pushed to the back. We want to be pushed to the front, to be visible in the canyon again."
---
The Emergence Intertribal Economic Summit looks at new ways of doing business at Grand Canyon National Park, with the goal of building a regional economy guided by Indigenous cultural values.