by Jack Pongyesva, Grand Canyon Manager-Intertribal Centennial Conversations Group
As the executive director of the Hopi Foundation, Monica Nuvamsa's day job keeps her busy in service to her community. But in her free time, she's looking to invest in her art. Working in pen, ink, paints, and textiles, and inspired by her culture and heritage, Nuvamsa prints her designs on chiffon scarves, jigsaw puzzles, and more.
"It's an expensive side hobby," she says. "I wasn't willing to take the risk to invest in my art when I went to college. But now that I have some foundation for myself, I can afford to grow."
Nuvamsa's dream is to sell her products in every national and state park across her ancestral homelands — places like Grand Canyon National Park, Chaco Canyon, Mesa Verde National Park, Wupatki National Monument, Tuzigoot National Monument, and Montezuma Castle.
"Those places are really important connections to my heritage, and I want my cultures to be represented in those spaces."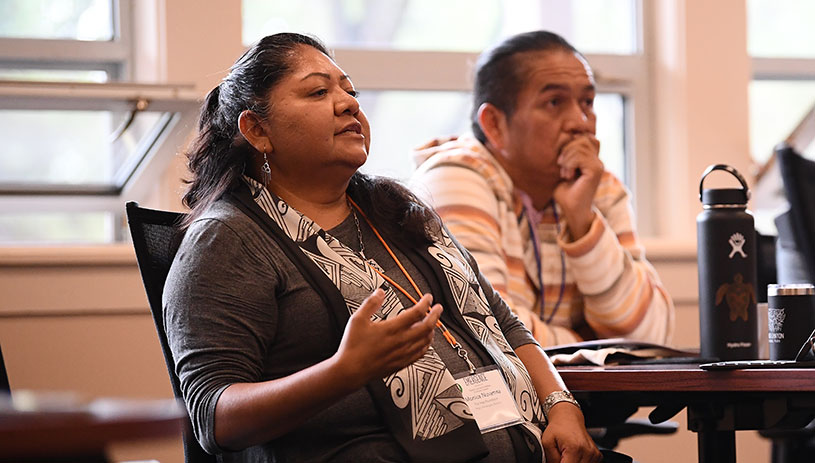 Monica contributes to the discussion at the first-ever intertribal economic summit at Grand Canyon National Park in 2022. JAMIE ARVISO
Nuvamsa, a member of the Hopi Tribe, also traces her lineage to the Tewa people of the Rio Grande basin, the Acoma Pueblo, and the Havasupai Tribe within the Grand Canyon.
"I'm literally a swath of the Colorado Plateau. This is my homeland. This is who I am. Every space has a meaning for me and for my people."
Nuvamsa is on her way toward realizing her dream. The Grand Canyon was the first park to come to her door, well, booth technically, at an art show in Flagstaff, Arizona. Nuvamsa started selling her puzzles to the Hopi House gift shop on the South Rim shortly thereafter.
Selling through middlemen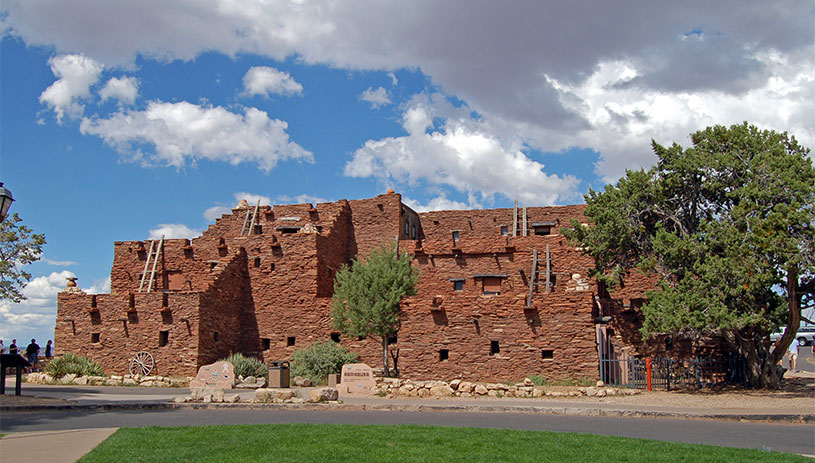 Hopi House at Grand Canyon National Park. MICHAEL QUINN, NATIONAL PARK SERVICE
The park service relies on concessionaires — companies with long-term contracts — to run gift shops, hotels, restaurants, buses, and more. For artists like Nuvamsa, concessionaires are middlemen between them and their customers. But being a vendor selling wares to a concessionaire is limiting, she says. Xanterra, the company that buys Nuvamsa's puzzles, purchases small quantities from her and caps the price it pays per item.
"They wanted to buy my scarves, but they don't fit into their cost structure. I don't want to eat into my value to do that, so I told them no until I am able to find a way to make it work more sustainably for me," she says. "The cultural value and the significance that an artist adds, that's really hard to put a number to. And it's also hard for people to quantify who don't have the same appreciation of what you structure into your value."
Often, a lack of transparency exists around concessionaires' pricing and markups.
"Before I sold to [Xanterra], I asked how much they'd sell it for, and they said, 'we can't really share that.'"
Nuvamsa found out by visiting the Hopi House gift shop to look at the pricing and was glad to learn the company stayed within the retail range they had discussed. Not every retailer will provide artists with retail ranges for their work. Some artists have a hard time negotiating these ranges because they don't know how to value their work to include time and talent, in addition to the raw materials.
Overall, she says her relationship with Xanterra is going well. She's happy with the display and presentation of her work at the Hopi House and feels her buyer is respectful of her and the other Hopi artists she knows.
Seeking change at Grand Canyon National Park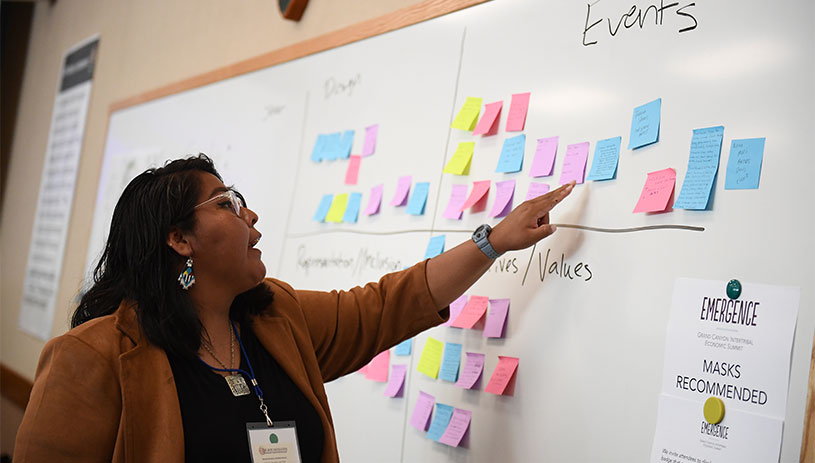 Amber Benally leads a brainstorm session at Emergence 2022. JAMIE ARVISO
The challenges Nuvamsa describes are common for Native artists trying to sell their work in national parks and monuments. In August 2022, a group of Native entrepreneurs, tourism professionals, park service staff, concessionaires, and many others came together for the Emergence Intertribal Economic Summit to brainstorm new ways to do business at Grand Canyon National Park. Ideas flowed like the Colorado River in a flash flood.
To strengthen the arts and crafts market in Grand Canyon National Park, Native entrepreneurs want to see increased transparency, artist education (like how to price your products, business 101, marketing, etc.), trade shows, fair and equitable contracts, and more selling locations in the park, among other ideas.
Building a more inclusive Grand Canyon economy
Improving concessionaire support for Native artists is a good start toward building a sustainable and inclusive Grand Canyon economy. But to truly address economic barriers, challenges, and inequities, we need to think bigger.
To build a regional economy around the Grand Canyon, Nuvamsa says we should start by looking at the environments, geographies, challenges, and barriers tribes face in their own backyards.
"There's a lot of equity building that's needed," she says. "I think it becomes a game changer when we ask for what we want, and most importantly, what we need. Because we've always given over to somebody else's power, and that's not gotten us anywhere."
An Indigenized Grand Canyon, according to Nuvamsa, would be run by tribes.
"If the parks and the nation want to see this place sustainable, they should invest in tribes to do that. The Grand Canyon is a spiritual place for us, and the people that practice spirituality give it meaning. When we're absent from that picture, it's just a very big hole in the ground or simply a playground for recreationists."
---
The Emergence Intertribal Economic Summit looks at new ways of doing business at Grand Canyon National Park, with the goal of building a regional economy guided by Indigenous cultural values.