by Jessica Stago, Change Labs Director
---
The Grand Canyon Trust is proud to partner with Change Labs to help entrepreneurs realize their dreams and build a strong, resilient, and culturally respectful economy across Native America.
---
A year ago, what is now the thriving Rocky Ridge Gas + Market was easy to miss. A casual visitor might have driven right past the small cluster of buildings and single gas pump at a dirt crossroads in Hardrock, on the western Navajo Nation. But when Navajo entrepreneur Germaine Simonson looked at the former trading post, she saw opportunity, not just for herself and her family, but for her entire community.
"I want to provide a hub for the community to shop, say yá'át'ééh, and enjoy a cup of hot coffee," says Germaine, who, with the help of the Change Labs Business Incubator, has transformed the once-limited market into a thriving convenience store.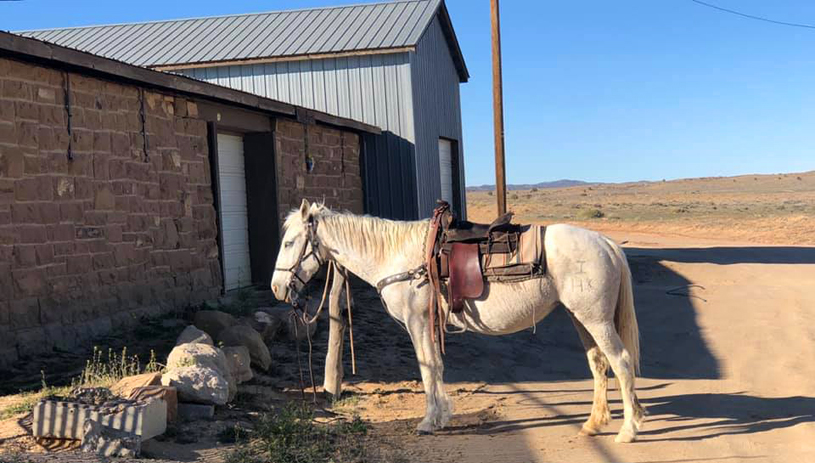 The store now offers fresh produce like tomatoes and lettuce alongside "rez" staples, including fry-bread ingredients like flour and shortening. Germaine also stocks matches and toilet paper, items that are hard to come by in this rural community, where many residents are older and don't drive. There's a hitching post out front for customers who arrive on horseback.
Many young people have left the area to get an education or find work, returning on weekends and holidays, as their schedules allow. But instead of decrying the brain drain or fretting about her customer base, Germaine set to work.
---
Ready to start your own business? The Change Labs Business Incubator is accepting applications for Spring 2020 from now until February 19, 2020. Find more information and apply ›
---
Introducing "grandma baskets"
With help from Change Labs, Germaine launched a website for the market, rolling out her signature "grandma baskets," themed selections of popular foods and staples that customers can purchase for relatives.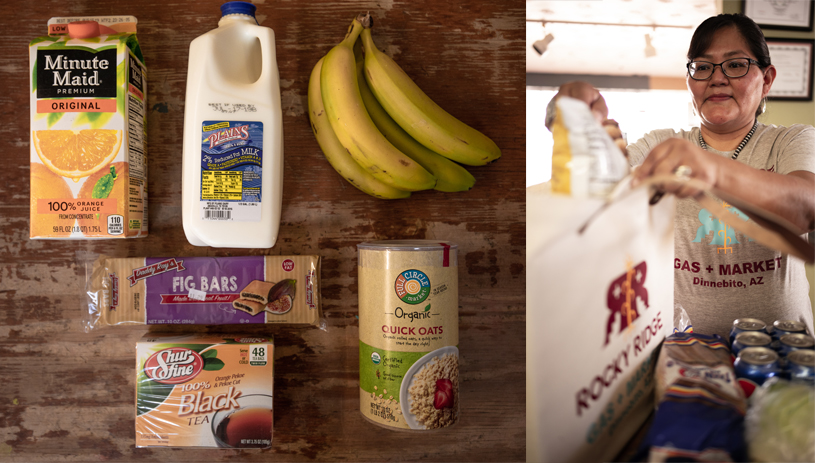 RAYMOND CHEE
There's "The Hungry Sheepherder," which includes a loaf of bread, a head of lettuce, two packs of bologna, 12 slices of American cheese, potato chips, and a six-pack of soda, to hit the spot after a long morning of herding.
There's also "The Clean Hogan," which includes detergent, toilet tissue, Clorox bleach, Pine Sol, a dish scrubber, a heavy-duty sponge, and matches — everything Grandma needs to keep the hogan spick-and-span.
Friends and family members can order the baskets online, and Germaine has the goods ready and waiting for Grandma to pick up when she walks into the market. There's even a "give a basket" option, where you can donate a basket to the community. Elders submit their names and phone numbers and get entered into a raffle for any baskets donated that month.
See all the baskets on offer at Rocky Ridge Gas + Market ›
A one-stop shop
But Germaine, isn't stopping there. She aims to turn Rocky Ridge Gas + Market into a meeting and learning place that strengthens the social fabric of this rural part of the Navajo Nation's sacred "Dzil Yijiin" ("female mountain") region.
Hardrock is remote, starkly beautiful country where many herd sheep and live in traditional hogans without electricity or running water. Families travel long distances — often over 50 miles to the reservation towns of Tuba City or Chinle — for food, hay, gasoline, laundry, propane, and other necessities. Those trips can be time-consuming, and dangerous in winter weather conditions, and take people away from important matters at home. The Rocky Ridge Gas + Market is the only local place to pick up forgotten essentials.
Sit in the parking lot for an hour, and you'll see just how many people stop by the market to pick up a stray item.
A family business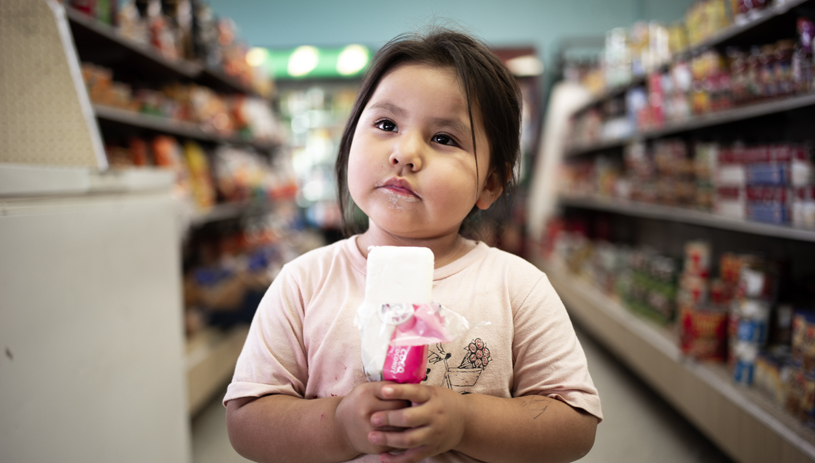 RAYMOND CHEE
The market's former owner, a Navajo woman, kept it running 20 years, stocked mainly with generic products. When the owner retired, Germaine, with help from Change Labs, took over. Change Labs connected her with a Navajo graphic designer, Randy Barton, to create a logo and rebrand the market, and helped her through bigger questions too, including reviewing the books and zeroing in on who her customers are. Germaine painted the building and working on diversifying the stock.
You can find Germaine, her husband, Marvin, and the family at the shop, when time permits. They work together with one full-time and one part-time employee to keep the lights on. The main building includes nearly 5,000-square-feet of retail space, but currently it's partitioned off so that only a small section is used, and a stone outbuilding and a tin shed are unrestored and unusable. But Germaine has big plans.
"I'd like to branch out from generic items and introduce some brand-name products. The gas dispenser is this ET-looking thing, and you wonder, does this thing work? But there's a lot of potential. I'd like to install dual tanks to be able to offer unleaded and diesel," Germaine confides. "There's a school near the store and the school bus has to get gas somewhere."
Beyond building a profitable gas station and market, Germaine hopes to turn the property into a one-stop shop, with a laundromat, deli, postal service, tire repair, hay and feed, wifi, fax, copying and other business services, and meeting space.
"This should be a place where you could stop in, chat, do your laundry, catch up on community news, have a cup of coffee while your clothes are in the washer," says Germaine. Despite the rural location, she hopes to attract other visitors too. "Life is beautiful in Hardrock. We'd love a visit from those driving through. Take a detour and come visit our quaint gem of a location."
"We don't have a lot of paved roads. It can be daunting to get supplies," Germaine says, explaining that many residents will travel as far away as off-reservation towns like Flagstaff and Gallup to shop, where their spending doesn't benefit the Navajo Nation economy.
Big opportunity, big challenges
Alongside the big opportunity come big challenges, from analyzing the profitability of the venture to navigating the bureaucratic red tape of ensuring the aging building escapes being condemned, to exploring options to purchase or lease commercial washers and dryers and choosing the appropriate repair and maintenance package for the machines. But Germaine is forging ahead.
Serving Grandma Faye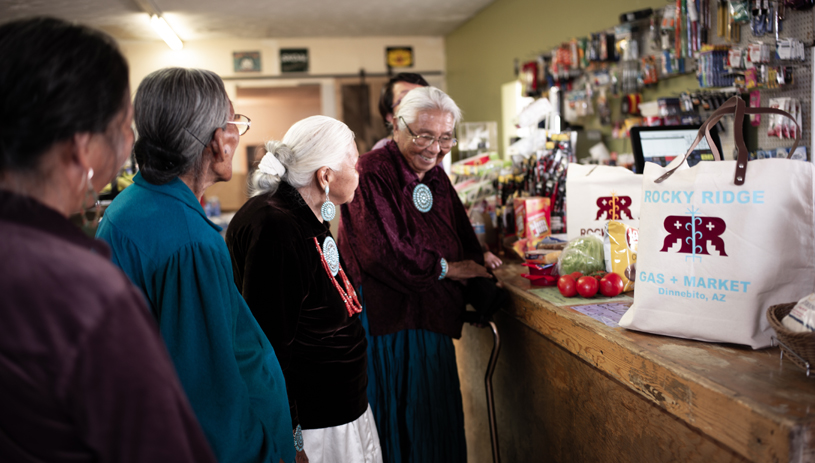 RAYMOND CHEE
"We have a lot of intergenerational families," Germaine explains. "Day-to-day living still includes herding sheep, tending cattle, and riding horses. Our ideal customer is Grandma Faye who lives on her monthly social security and loves her peach orchard. She weaves beautiful rugs, enjoys her home and does not like to be away for too long," Germaine muses. "She loves going to the local market to pick up necessities, refill her five-gallon propane bottle, check her mail, and cool off with a nice ice-cold cherry slushie and a bag of freshly popped popcorn. She comes to the market, and stays for a bit to shake hands, receive hugs, laugh, and trade news. While talking about lambing season, she remembers that she needs a few bales of hay for her sheep," Germaine says, smiling, as though watching the imagined scene unfold before her eyes.
While the winter is slower, summers are busy in Hardrock, with people back at home on the reservation. Germaine counts on her team and her family to keep up with the demands.
"Beyond it being a store, I'd like it to be a lifeline for the community, a place to update each other, a place of business, really a hub to bring people together," Germaine says. That makes it exactly the type of community-based endeavor that Change Labs believes will change the meaning of "business" on the Navajo Nation.
---
Have a great idea? The Change Labs Business Incubator is accepting applications for Spring 2020 from now until February 19, 2020. Find more information and apply ›