Guest post by Stacy Thacker
---
The Grand Canyon Trust is proud to partner with Change Labs to help entrepreneurs realize their dreams and build a strong, resilient, and culturally respectful economy across Native America.
---
The bumpy dirt road beneath her tires always seems to stretch for miles but she doesn't mind because every road leads her to a new community, a new land scape and offers her an opportunity to explore the place she calls home.
Endless dirt roads and a bike. It's all Claudia Jackson needs to bring adventure to her family and now her community. Jackson owns Audical Cycles, a company dedicated to meeting the needs of cyclists of all ages and levels on the Navajo Nation. A business that stands out because bike shops on the reservation are rare.
When Jackson started cycling in 2012, she didn't know it would lead to a business and a new lifestyle. She was riding with a group of six people over 100 miles from Leupp, Arizona to Window Rock, Arizona to spread awareness about suicide prevention. At the time, the area was suffering from a surge of suicides and the group wanted to bring education to the small rural communities along the way, Jackson said.
But her relationship with cycling grew stronger in 2017 when she used it to help rehab after a torn meniscus required surgery. Before the surgery, Jackson was an avid runner but after the surgery she became an avid cyclist.
"A lot of cyclists told me they got into cycling the same way and that I'd never go back to running and I kept saying 'yeah, I will, once I get done with rehabbing,'" Jackson said, but she never did.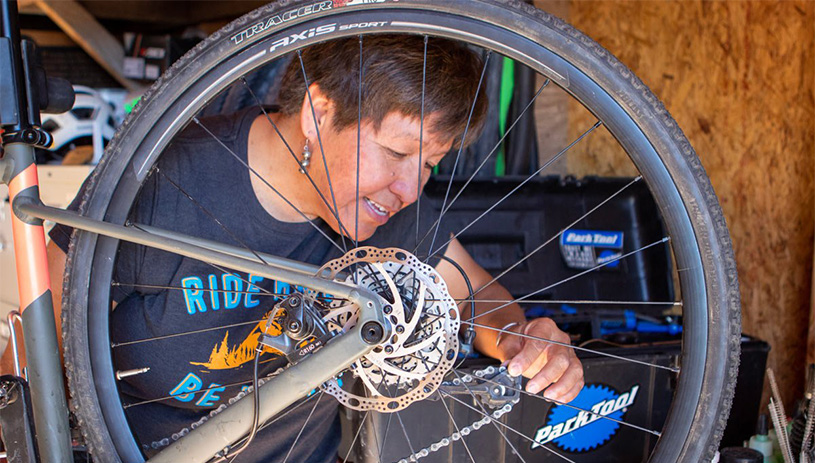 JODY MARCON
Cycling has been opening a lot of doors for Jackson. One of those doors was Audical Cycles, located in Indian Wells, Arizona, near the Hopi reservation. She slowly built her customer base by volunteering her bike repair service before eventually becoming a business. It's word-of-mouth for now but when she starts to advertise, she expects to get the tourist business of those traveling to the Hopi reservation or Canyon De Chelly.
Along with Audical Cycles is the cycling clubs at the schools and in the community. They go on scheduled rides and Jackson has seen the participants multiply as families started riding together. Cycling has also changed her view.
"There's so many roads on the rez that you could just ride on," she said. "I went through several different communities that I never really knew, and I was just so amazed with what was there. We always talk about having a beautiful homeland, but you don't really know until you get out there."
For Jackson, Audical Cycles is her focus. She is 100 percent involved in the company and takes phone calls and inquires almost 24 hours a day, seven days a week. She never misses an opportunity to help. She's had to study and work hard to get to where she is now. She went from being ignored at border town bike shops to being the owner and expert of one.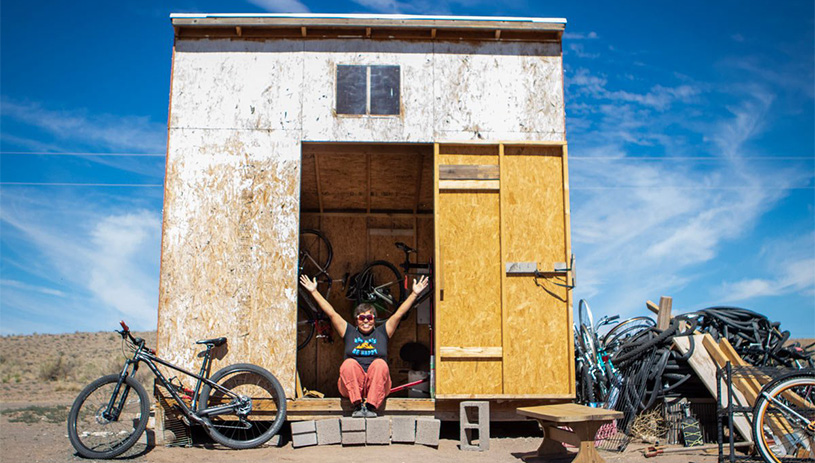 JODY MARCON
"One of the big challenges I faced was becoming a vendor for bike products and starting my inventory. The biggest challenge that came out of that was my rural address. UPS couldn't come to my house to deliver products," she said, "It took me at least two months for them to understand my location."
It's a common struggle for many residents on the Navajo Nation who must use PO Boxes because their rural address isn't the easiest to find. Especially for Jackson, who is working out of a shed on her family's land. She eventually wants to get a mobile shop running so they can provide much-needed services to the Navajo Nation. But it's only one of many obstacles she's faced and she doesn't let it slow her down. Jackson stays patient with her business. Even when things feel impossible, she stays the course because she knows the results are coming and she's learning a little bit more about her business every day.
"No matter how many hills you climb or how many miles you go, there's always that end result of accomplishment and success when you put your mind to it and just be patient," she said.
---
This blog is reprinted with permission from Change Labs. Read the original post and learn more ›