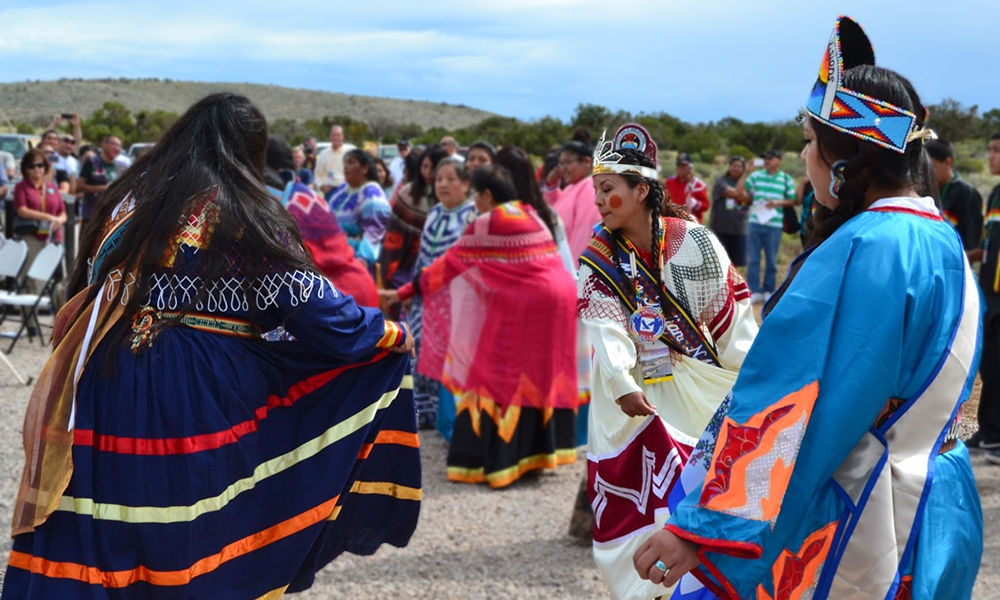 Photo by: USDA
Hualapai (pronounced Wal-lah-pie) means "People of the Tall Pines." The Hualapai reservation stretches for 108 miles along the southern edge of the Grand Canyon and the Colorado River, with elevations ranging from 1,500 feet at the Colorado River to 7,300 feet on the top of the Aubrey Cliffs. There are about 2,300 tribal members, many of whom live at Peach Springs, where the tribal headquarters are located. The tribe sells big-game hunting permits and operates Grand Canyon West, home of the Skywalk.
---
Description 
The Hualapai people live in the western Grand Canyon region and in the foothills of the Hualapai Mountains near Kingman, Arizona. Their modern-day reservation is small compared to their traditional homeland, much of which is now in state, federal, and private ownership.
Historically, the Hualapai had a kinship system based on regional bands. Each band was associated with a geological region, and they became known as the "People of the Tall Pines." After the reservation was established, a majority of tribal members moved to Kingman or relocated to the tribal headquarters at Peach Springs.
Much of the colorful culture of the Hualapai Tribe can be seen along Route 66 near Peach Springs. The tribe is involved in several tourism oriented ventures, including Grand Canyon West, located at the western end of the Grand Canyon. Tours originating in Las Vegas and California provide ample opportunities for travelers to experience Grand Canyon West and the Hualapai culture.
The Hualapai Tribe also operates commercial river trips on the Colorado River in the Grand Canyon, accessed through their sacred lands of Diamond Creek and Diamond Head point. The tribe has made tremendous strides in the last few decades, moving their nation forward both economically and culturally. Today, Hualapai tribal members continue to speak their language and follow ancestral practices of basket weaving, cattle ranching, and ceremonies. In Peach Springs, it is not uncommon to see women dressed in their colorful silk dresses and beaded capes dancing to handheld rattles.
More Information: Hualapai Tribe Website | Hualapai Tourism Website
Getting there
The Hualapai Nation reservation (730,000 acres) is located 110 miles west of Flagstaff, Arizona. Tribal headquarters are at Peach Springs. From Kingman, travel east on historic Route 66 for 50 miles. From Flagstaff, travel 75 miles west on Interstate 40 to exit #121 at the western edge of Seligman and take Route 66 west for 37 miles to Peach Springs.