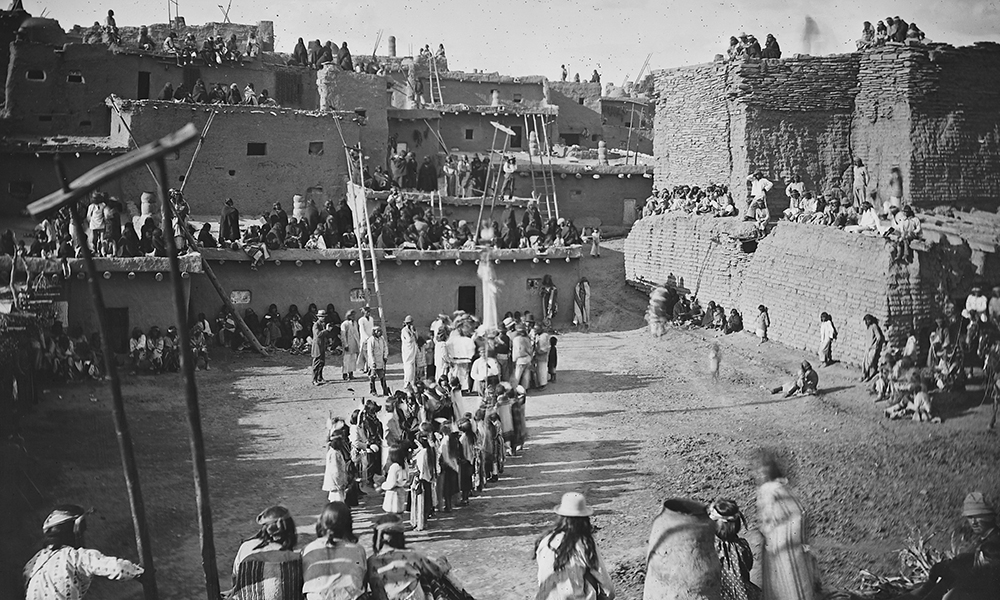 Photo by: John K. Hillers
Zuni Pueblo (Halona Idiwan'a) is nestled in a scenic valley near the New Mexico-Arizona border. Elevations on the Zuni reservation range from 6,000 to 8,000 feet. With a population of more than 10,000, Zuni Pueblo is the largest of the nineteen New Mexican pueblos. Their religion, language, agriculture, and customs continue to be essential parts of Zuni life. The Zuni people are well known for their inlay silver work, stone fetish carvings, pottery and other arts. Fishing and hunting are allowed with permits.
---
Description
The Zuni Pueblo, located in western New Mexico, sits at the headwaters of the Little Colorado River, which joins the Colorado River in the Grand Canyon. This geographic connection links the Zuni directly to the Grand Canyon, which they consider their place of emergence. Tribal members make annual pilgrimages to the Grand Canyon to pray for the continuance of the Zuni people.
The Zunis' intricate culture highlights coexistence with mother earth and father sky and all the natural elements of this world. For the Zuni people, the earth is a system they are a part of, not a system they are foreign to. The tribe holds seasonal ceremonies and dances to continue the balanced relationship they have with the natural world.
Residents of the Pueblo of Zuni are renowned farmers noted for their ancient waffle gardening technique, which involves planting seeds in small depressions surrounded by low earthen walls. This technique works especially well in the desert because it preserves moisture in the soil. Today, tribal members still practice waffle gardening and enjoy a large harvest of heirloom corn, squash, and watermelon, which they provide to neighboring tribes.
Neighboring tribes recognize and respect the Pueblo of Zuni as a highly religious culture. Today, it is very common for younger Zunis to participate in ceremonial dances and for them to speak the Zuni language fluently. As with other pueblo tribes, the Zuni Tribe has banned video recording and photography in their village, especially during ceremonies.
The tribe is also well known for outdoor recreation activities in the Zuni Mountains. Hunting permits are awarded through a lottery, and the tribe also issues fishing and camping licenses. The Zuni Tribe is regionally known for hospitality and respectful personalities. The A:shiwi A:wan Museum and Heritage Center at Zuni Pueblo, which has played a major role in reviving traditional cultural and agricultural practices, is a good place to become more familiar with the Zuni and their culture. Tours of Zuni Peblo artist's workshops and archaeological sites are also offered.
More Information: Zuni Pueblo Website | A:shiwi A:wan Museum and Heritage Center | Zuni Tribal Government Website
---
Getting there
The Zuni reservation (450,000 acres) is located 150 miles west of Albuquerque, New Mexico. Tribal headquarters are located at the Zuni Pueblo. To get there from Gallup, New Mexico, travel south 30 miles on NM Highway 602 to the junction with NBM Highway 53, turn left and drive 9 miles.