by Jessica Stago, Native American Business Incubator Network Program Manager
The Grand Canyon Trust's Native American Business Incubator Network invests in Native entrepreneurs, creating real change in Native communities.
For now, the only way down into Mystical Antelope Canyon, a sinuous slot canyon of sculpted sandstone every bit as enchanting as world-renowned Antelope Canyon just a few miles away, is a ladder installed by Lester Littleman. Few people besides Lester, his wife Roseann Littleman, and their family have seen the canyon, located on the Littlemans' homestead on Navajo Nation land near Page, Arizona. But that's about to change. Lester is bringing in a welder to build sturdier metal stairs that will be safer and more durable given the increase in foot traffic the Littlemans hope the canyon is about to receive.
A peaceful slot canyon experience, without the crowds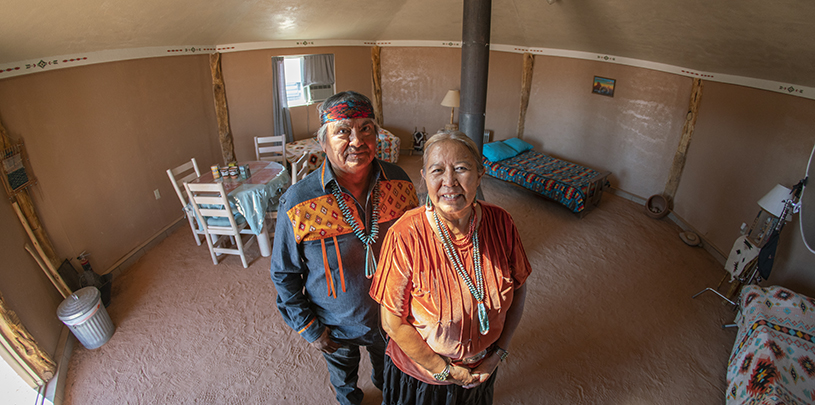 Lester spent 30 years as a coal miner at the Kayenta Mine on Black Mesa, which supplies coal to Navajo Generating Station. Roseann worked for the National Park Service and for Navajo Nation Parks and Recreation. Now retired, the couple are launching a new venture: the Mystical Antelope Canyon Tours and Arrowhead Campground, and they hope the private slot canyon on their land will be the prime attraction.
"The campgrounds at Wahweap and Page, near Lake Powell, are always full. Antelope Canyon is overcrowded," Roseann says.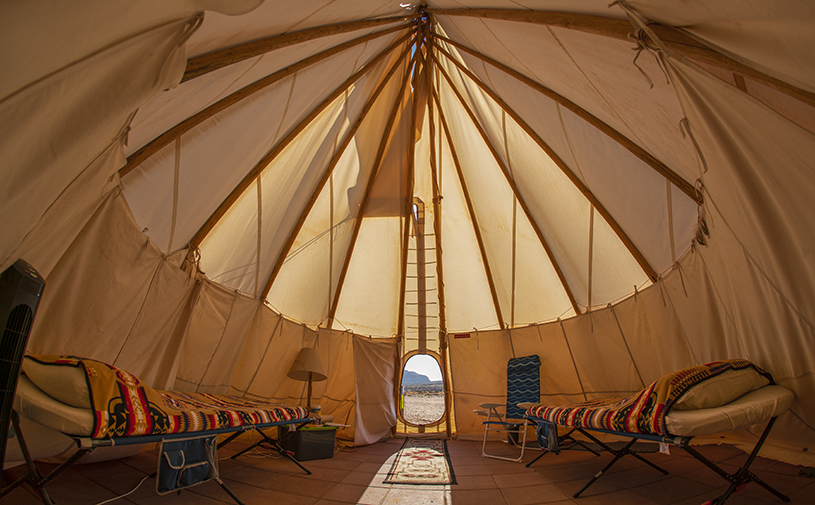 The couple already have one luxury hogan and two glamping-style tipis available and are welcoming a trickle of visitors who make reservations on Airbnb. They've installed a septic tank and hope to accommodate up to 10 RVs on another parcel of their land, with yet another reserved for tent campers. They haul water to the site and have run electric lines out to the tipi so that guests can charge their phones. Now they're branching out and offering overnight guests and day-trippers a wagon tour of their land, including a ride to the slot canyon entrance about two miles from the campground.
"We want to share our canyon with people"
As one of 10 businesses selected for Native American Business Incubator Network (NABIN) support in 2018, the couple have been paired with a graphic designer and a web developer to help design a logo, brand advertising materials, and launch a presence online so that visitors to the Page area can find them.
"We want to share the canyon with people," says Lester. "You come down into it. It's quiet. It's mystical. You walk about 400 yards, about the same length as Lower Antelope Canyon, and there's an island at the end of it, where you come around back up the top."
"There are stories to every landscape," says Roseann. "We love our land. We grew up out here without any electricity or running water. It's quiet, peaceful. We want to preserve our land and educate our guests about our lifestyle. Already, we're getting to know people from all over the world," Roseann smiles, an experience she remembers and enjoys from her time working for the park service.
"We'd like our campground to help create jobs for the community and hire more local Navajos," Roseann says. "And we can offer guests a more personal and peaceful experience and help with some of the infrastructure struggles Page is having."
Ready to go? Reserve your spot today ›