by Jessica Stago, Native American Economic Initiatives Director
In December 2020, Navajo Generating Station's three coal stacks crumbled to the ground. The demolition of the largest coal-fired power plant in the West was a historic moment, marking the end of coal's dominance on Native lands. For over 50 years, the power plant burned coal to deliver cheap electricity and pump water to southern Arizona. While tribal governments received royalties and workers steady paychecks, the broader community experienced ecological degradation, loss of culture, and limited economic opportunity for generations.
Now, Navajo and Hopi communities have the opportunity to build their own livable economies with equitable access to land, resources, capital, and more. This "just transition" involves shifting power to local communities as they invest in housing, food systems, and local businesses to create economies that honor Indigenous knowledge, reflect community values, forge equitable partnerships, and restore the land.
What the extractive economy has been
When the Navajo Generating Station and Peabody coal mines came to the Navajo and Hopi reservations in the 1960s and 1970s, they brought high-paying jobs to many families. The income stability led to opportunities in higher education and created business opportunities for the next generation. Those families, whose bread and butter came from the mines and power plant, thrived. For a period of time, having the coal industry in the region was a positive thing.
But the coal industry failed to create long-lasting local economies in Indigenous communities. The shift to a wage economy created a reliance on border towns and businesses for goods and services. A 2012 survey by the Navajo Nation estimated that over 60 percent of Navajo consumers shopped only at grocery stores located off reservation, in border towns like Farmington and Gallup, New Mexico. During the pandemic, these towns closed their borders to reservation communities, leaving many families without basic supplies.
And now the coal jobs are gone. Tribal governments can't provide a safety net, because they were just as reliant on coal for royalties. In a normal economy, if your wage stops in one place, you should have another opportunity to earn wages. That's not the case with coal-based economies.
A just transition starts with food and water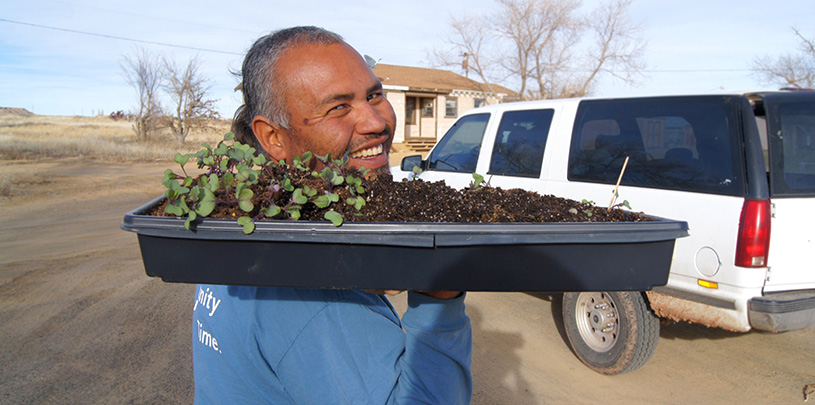 WILLIE GREYEYES
To work toward a just transition, we need to build baseline economies that provide for our people and are not dependent on forces outside of our control. It starts with equitable access to food and water.
If families can put food on the table, they can survive the week and build on those assets. They can invest in their children's education. They can invest in a skill and figure out how to make it into a business. Eventually they can hire employees to grow the business. They pay taxes to the local economy, which benefits the local community. That's how there is exponential growth.
We're not starting from scratch either. It's 2021, and we have a wealth of individuals with the knowledge and experience needed to effectively use resources and deliver products or services to the market. Our charge is to see how we can expand our local economies by utilizing our skilled workers, technology, and innovation.
Powering up of businesses on Native lands
There's not one approach that's going to succeed in creating a just transition. There has to be lots of different moving parts — policy, power shifts, funding mechanisms, etc. — all moving in the right direction.
One challenge is getting Native people to understand that they have an opportunity to do something they've been told they don't have the capacity to do:
"You don't have the skills."
"It takes money to make money."
"The tribe has too much red tape."
"It's impossible to start a business."
Yet momentum for business is building. With Change Labs, a Native-led organization, we are working to break down barriers and grow the next generation of Native American entrepreneurs. In the past three years, Change Labs has supported dozens of small businesses, from farmers, to jewelers, to massage therapists, to fashion designers, and more. The culture around business is changing on Navajo and Hopi lands. And once the economy starts growing, you're going to see a big extension of Native entrepreneurship throughout the region.
Envisioning a just transition at the community level
Up until this point, extractive industries have mainly controlled the narrative around tribal economic development. In the wake of the COVID-19 pandemic recovery, communities are now focused on building a just and equitable transition. Indigenous economies have always been based on the principle of balance and the notion of conservation for future generations — a circular model of engagement with our natural world. If we listen to Indigenous people while they tell their stories and envision their own economies, we can achieve a just transition.