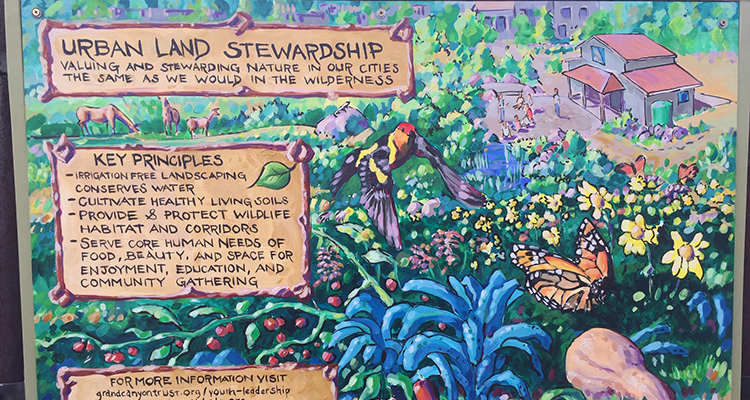 **This event is currently canceled. We are closely following CDC recommendations around community spread of COVID-19 and will work to reschedule as soon as we are able. If you have already signed up for this event please check your email for the most up-to-date information.
---
Homesteaded in 1884, the Grand Canyon Trust headquarters is one of the oldest homesteads in Flagstaff. The Trust has partnered with the local nonprofit, TerraBirds, since 2015 to create an outdoor space at our office that honors our shared conservation values. By continuing to cultivate our low-water vegetable and native plant garden, we hope to intentionally connect people to a little piece of the Colorado Plateau right here in Flagstaff, while simultaneously addressing climate resiliency and giving local pollinators and wildlife a place to prosper.
We are looking for volunteers who are passionate about native plants and gardening to work with us and with TerraBirds (typically on the last Thursday of each month, but this time rescheduled) to keep our garden healthy and thriving. Each monthly garden stewardship evening will go from 4 to 5:30 p.m., at the Trust Homestead in Flagstaff.
Who can sign up?
All from the local community are welcome! We ask that you please RSVP for the event so we can make sure our group size doesn't exceed 10 people.
What to expect?
Potential activities include weeding, planting, watering, or building gardening spaces. Because of the ongoing pandemic, we ask that all volunteers adhere to our COVID-19 policies (see below) to mitigate risk and protect each other as much as possible.
Participants will each provide their own work gloves, face-mask, sun hat, sunglasses, water bottle, and appropriate gardening clothing. Please note that there will be no bathroom facilities available during this 1.5 hour gardening event.
COVID-19 Policies
Volunteers will:
Not attend if they are feeling ill, especially if they have signs and symptoms of COVID-19.
Not attend if they have been exposed within the last 14 days to someone who is ill with COVID-19.
Provide their own face mask and wear it whenever tasks may require working closer than six feet from another person. We recommend wearing a face mask at all times.
Bring and wear their own work gloves.
Not carpool with other volunteers to the event, unless those persons are already living together.
Bring all food, beverages, personal hygiene, and toiletry items needed to take care of themselves for the duration of the volunteer activity.
Sign the Trust's waiver and COVID-19 Addendum forms.
The Trust will:
Make sure all shared tools and equipment are sprayed with disinfectant (Trust will provide) before and after each use.
Provide soap and water for the hand washing station available throughout the duration of the activity.
Provide water for filling up personal water bottles.
Ensure a participant cap, including Trust staff and agency or partner staff, in accordance with the Center for Disease Control guidelines (currently groups of 10 or less).
The safety of our volunteers is the absolute highest priority. If anyone shows signs and symptoms of COVID-19, or are feeling ill, they will be asked to leave immediately.