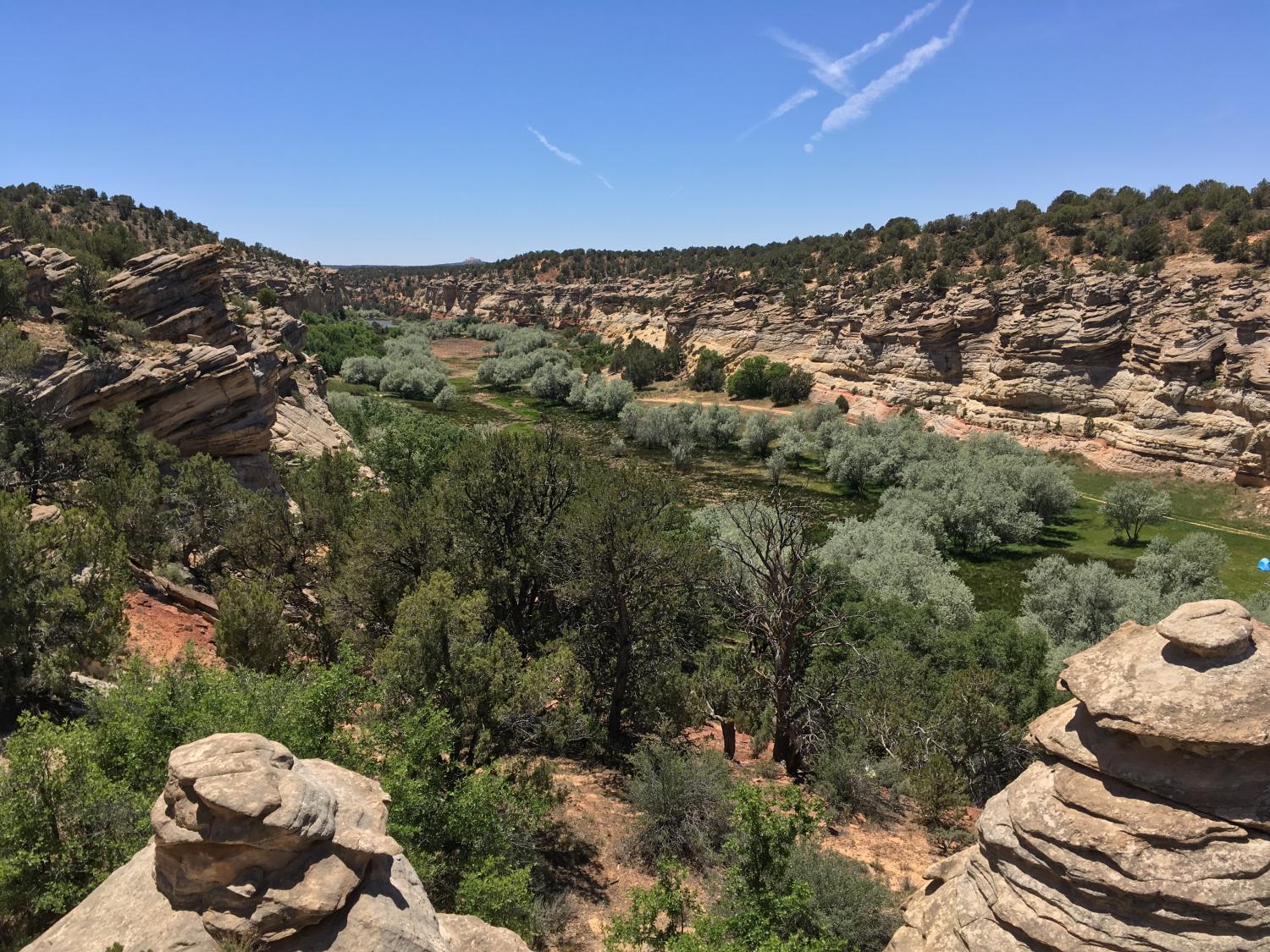 Johnson Lakes Canyon is a beautiful 800-acre, cattle-free private inholding surrounded by the heavily grazed Grand Staircase-Escalante National Monument. Landowners Susie and Rick Knezevich have placed Johnson Lakes Canyon in a conservation easement with the Trust and for 10 years have been undertaking numerous passive and active restoration projects throughout Johnson Lakes Canyon. For the fifth year in a row, this popular volunteer trip will involve both restoration work (e.g., Russian thistle and dead sagebrush removal) and documentation of recovery on restoration sites.
We need three volunteers who are familiar with identification of southern Utah plants to read existing vegetation transects, and 10 volunteers to help with the restoration work.
There will be time to visit some of the many stunning vistas and features of Johnson Lakes Canyon and to spend time with the wonderful and gracious Knezeviches, as well as teaming up with them for long-term restoration.
Johnson Lakes Canyon is an extremely important reference area to compare with the heavily grazed Grand Staircase-Escalante National Monument, the Trump-shrunken boundaries of which are now being disputed in court. More than 96 percent of the monument is grazed by cattle. The restoration we accomplish in the adjacent Johnson Lakes Canyon, and the information we gather on its cattle-free land, forms an important contrast with how grazing management and protection of public lands can and should be handled in Grand Staircase-Escalante. In December 2017, President Trump took unilateral action to reduce the 1.9 million acres of sculpted red sandstone, ancient cultural sites, and treasure troves of dinosaur bones. He signed a proclamation cutting the monument almost in half. Come join us out in the field, and see for yourself how worthy this landscape is of protection.
For those of you who have not been to Johnson Lakes Canyon before, read this great blog by Ellen Morris Bishop, and watch this super video by Marra Clay featuring Susie and Rick Knezevich. For the past three years, the Knezeviches and the Trust have sponsored an annual bioblitz to learn more about the diversity of species that call Johnson Lakes Canyon home. Read the 2017 Johnson Lakes Canyon Bioblitz Report to learn about some of the plants, birds, pollinators, and insects at Johnson Lakes Canyon.
Who can sign up?
All are welcome for restoration work, but we need at least three people with plant identification skills for data collection. Please let us know if you are familiar with field identification of plants, have botany knowledge, or have previously participated as a Budding or Badass Botanist with the Trust!
We ask that each participant become a member of the Grand Canyon Trust with a $50 donation. Trips are free for current members. Be sure to submit a Volunteer Application Form to secure your spot on the trip.
---
Itinerary:
Day 1
Meet at 3:00 p.m. MDT at the BLM Kanab Visitor Center at 745 E. Highway 89, Kanab, Utah. From there, we will move some cars to a nearby parking lot and carpool into Johnson Lakes Canyon with high-clearance vehicles. We will set up camp and gather for a supper prepared by our staff. Then we will introduce the Trust's relationship with Johnson Lakes Canyon and the goals of the Knezeviches for long-term protection and restoration of the area. If we have time, we will take a walk around the lake and see if the red-tailed hawk nest is active again this year!
Days 2-5
Wake up early. Coffee and breakfast served at 7:00 a.m. Gather at 8:00 a.m. to plan the day's restoration and survey work. Work until 4:30 p.m., with a lunch break in the field. Return to camp to press and identify plants, label photos, plan the next day's activities, relax, and enjoy a great dinner prepared by our staff.
Day 6
Wake up early for coffee. Pack up personal gear before breakfast at 8 a.m. Pack up group camp and head home — or off to your next adventure — knowing how much has been accomplished and how grateful the Trust and the Knezeviches are for your hard work.
---
Accommodations:
We will have a car camping base camp for five nights on the property, tucked into the canyon. Water and kitchen facilities will be provided, along with a primitive campsite groover toilet (river-trip style).
The Trust provides: All meals, snacks, field equipment, and tools (in addition to what participants have and wish to bring).
Participants provide: Personal transportation to Kanab, camping and day-hiking gear for the week, work clothes, work gloves, rain gear, long-sleeved shirts and pants, wide-brimmed hat, sunglasses, and shoes that can get wet.
Please let us know if you have a four-wheel-drive, high-clearance vehicle. We will carpool to the site in vehicles capable of negotiating the very deep sand along the road in.
Johnson Lakes Canyon is at 5,400 feet elevation. It may be hot in the day, but it could be cold at night and in the morning. It might even rain. Please bring any binoculars, relevant bird or wildlife books, plant identification materials, magnifying lenses or loupes, and a good camera (if you're a photographer) you have on hand.
Our gear packing list will help you prepare. We can provide limited transportation and loan gear on a first-come, first-served basis — contact us for details.