Pull weeds and plant trees in a beautiful canyon outside Grand Staircase-Escalante National Monument.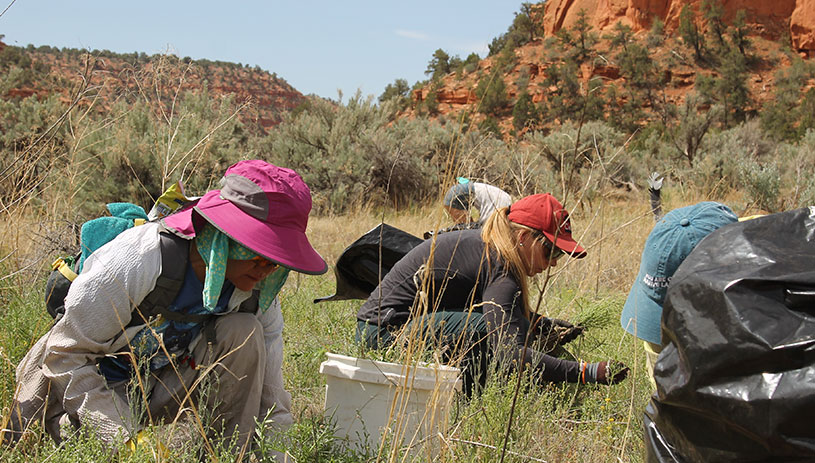 Volunteers pull weeds in Johnson Lakes Canyon. LENA BAIN
Johnson Lakes Canyon is a beautiful 800-acre cattle-free private inholding surrounded by Grand Staircase-Escalante National Monument. Landowners Susie and Rick Knezevich have placed Johnson Lakes Canyon in a conservation easement with the Grand Canyon Trust. For 12 years they have been bringing Johnson Lakes Canyon back to health through restoration projects like: removing invasive bull thistle and Russian thistle; planting oak, cottonwood, and native grasses; and raising streambeds by adding woody debris to catch sediment.
Johnson Lakes Canyon is an important landscape to compare with the heavily-grazed Grand Staircase-Escalante National Monument, where more than 96 percent of the monument is open to livestock grazing. The restoration work we accomplish in Johnson Lakes Canyon forms an important contrast to how grazing management and protection of public lands can and should be handled in the monument.
This year, our restoration work will primarily be weeding non-native plants and planting native cottonwoods. Join us in the field to see for yourself how worthy this landscape is of protection.
Who can sign up?
Anyone! Membership is optional, but we ask that participants who are comfortable financially become members of the Grand Canyon Trust with a $25 donation. Members receive a subscription to our biannual print magazine, The Advocate. Please contact us if you have any questions. You'll also need to submit your volunteer application form to secure your spot on the trip.
NOTE: The trip is currently full. Sign up for a spot on the waiting list.
---
What to expect
We'll fuel up with coffee and breakfast in the mornings, spend our days weeding plants, clearing non-native vegetation around a spring, and planting cottonwood seedlings at Johnson Lakes Canyon. We'll return to camp in the evenings for free time, appetizers, dinner, and excellent conversation. There will also be time to soak in stunning vistas, swim in the lake, and spend time with the wonderful and gracious Knezeviches. We'll hear from the Knezeviches about their philosophy of advocacy work and learn about land stewardship. On one day of the trip, we hope to go for a nearby hike to check out another relatively ungrazed upland landscape. On the last day of the trip, we'll break camp, pack up, and head home.
---
Accommodations
We will have a car-camping-style base camp at Johnson Lake Canyon. The Trust and the Knezeviches will provide water, a full camp kitchen, and a port-a-potty on site.
The Trust provides: All meals, water, snacks, field equipment, tools, and training.
Participants provide: Personal transportation to Kanab, Utah, or the site (4WD high-clearance vehicle required), individual camping gear, coffee mug, lunch container, work clothes, work gloves, wide-brimmed hat, sunglasses, rain gear, and clothes for warm days and cold nights. Please come prepared.