by Jessica Stago, Change Labs Director
---
The Grand Canyon Trust is proud to partner with Change Labs to help entrepreneurs realize their dreams and build a strong, resilient, and culturally respectful economy across Native America.
---
Running a business can look a little different on the Navajo Nation. For one thing, in addition to parking spaces, you might need a hitching post. At least if you're Germaine Simonson, owner of the Rocky Ridge Gas & Market, whose customers sometimes arrive on horseback to shop for necessities like propane, flour, and cold drinks.
At Change Labs, we're committed to helping Native entrepreneurs overcome the unique barriers that can otherwise stop small businesses in their tracks by connecting them with the training, services, support, and professional networks they need to ensure their businesses not only take flight, but soar.
Every year, we hand pick a small cohort of small-business owners and aspiring entrepreneurs from a competitive pool of applicants. Change Labs members, once selected, dive into a 12-month business incubation program that kicks off with a startup boot camp, progresses through intensive marketing and finance trainings, and culminates in a shark-tank style sales pitch that members must pass in order to complete the program.
In 2019, Change Labs is proud to see 12 Native business owners graduate with flying colors. These visionary, driven, and hardworking entrepreneurs are spreading their wings across many sectors of the Navajo economy, from food service and catering, to the tourism industry, to equipment repair, to traditional arts and crafts, and meeting real needs for goods and services in their communities.
Meet the class of 2019
View in full screen (suggested for mobile)
"I didn't know how to establish a business. I knew what I wanted to do, but not how to structure it," said 2019 graduate Samuel Shingoitewa of Sunbear Fitness and Repair Services, who, during his incubation year, not only got the assistance he needed to set up his business successfully, but also secured several long-term contracts to maintain and service fitness equipment in facilities across the Navajo Nation. "Without this type of push, I don't think I'd be where I am," he confided during the graduation ceremony.
The kind of personalized support and assistance the business incubator provides helps about a dozen entrepreneurs a year take their businesses to the next level, but if Change Labs is truly going to achieve its mission of fostering businesses that sustain and uplift healthy communities across tribal lands, we need to see hundreds of small businesses flourish, not just dozens.
The reality is bank loans are hard to come by on the reservation, many buildings don't have electricity or running water, let alone internet, and the roads can be rough literally and metaphorically, with massive and complicated administrative hurdles and red tape to maneuver around. Faced with all these challenges, Native entrepreneurs often can't follow the conventional routes to starting and growing a small business. That's why, in addition to the businesses we mentor and support in the incubation program, Change Labs is determined to serve the larger entrepreneurial community. How do we do that? By meeting people where they are, first and foremost by offering coworking space in Tuba City where entrepreneurs can rent a private office, use conference and meeting rooms, access high-speed wifi, and check out and use laptops, software, printers, and other business essentials. Our 80-square-foot pop-up pod takes this show on the road, bringing a small but efficient coworking space to communities across the reservation and is available for rent at a reasonable rate.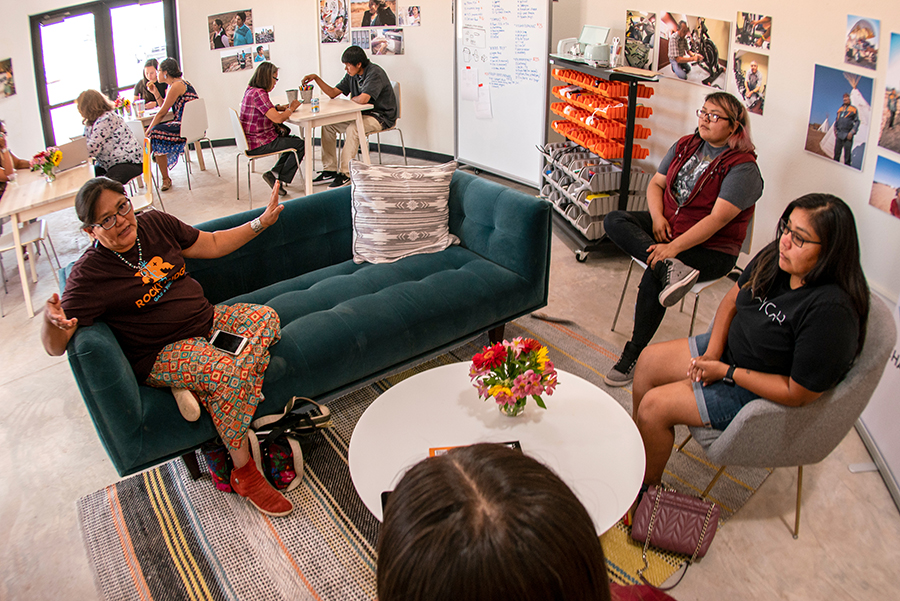 From our home base in Tuba City, we also offer on-site business counseling to community members, along with workshops and trainings on everything from how to prepare for filing taxes for your business to avoiding potential legal pitfalls. Above all, we aim to be a hub and a resource for change-makers across tribal lands in all the early stages of building a business, whether you're an aspiring entrepreneur whose business idea is still just a spark in a lightbulb inside your brain, or a budding small business owner navigating the growing pains that come with blooming into something bigger.
We couldn't be prouder of the 12 businesses who have just graduated from Change Labs in 2019. Whether you're on the market for moccasins, in the mood for sushi, craving a peaceful night away, a tour of Navajo land, or a meditative meander through a breathtaking slot canyon, whether you need bodywork on yourself or your car, your feet need attention, you have cards, invitations, or T-shirts to print, a treadmill in need of repair, a fancy party or event that requires a one-of-a-kind dress, an item to recycle, or need to stock up on gas, propane, or a bale of hay for your horse at Germaine's store, the Change Labs class of 2019 has got you covered.
Congratulations, Change Labs members! We can't wait to see the change you make today, tomorrow, and through all the years ahead.
ná bąą hózhǫ́!