by Emily Thompson, Volunteer Director
I've heard it said that our lives happen in 7-year intervals. Relationships begin and end, bodies transform on a cellular level, physical appearances change, mental and emotional states vary, careers evolve.
This has held true for much of my life, and I've felt another transition coming for the past year or so. Turning 40 in July sealed the deal.
I've been working in the Grand Canyon Trust's Volunteer Program full time since 2011 and took over as the director of the Volunteer Program in 2015. I've had the incredible opportunity to manage a program that gets to do what I call the "fun" part of conservation. Here's why:
We work with the most amazing people on the planet — volunteers
Volunteers are a selfless, generous, and passionate subspecies of human. Over the past eight years, I've worked alongside students, mathematicians, botanists, rocket scientists (really!), software engineers, and teachers. No matter their age or background, Trust volunteers show up to work hard and have fun. And they show up over and over and over again. I'm so grateful to each of you for all you give.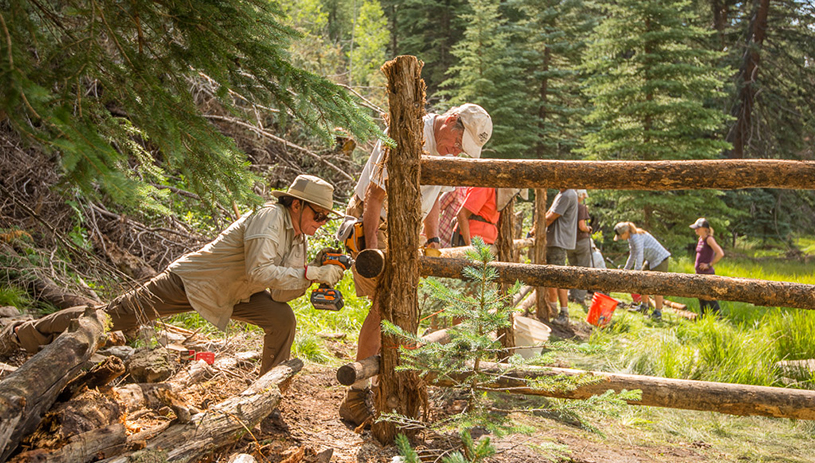 Volunteering provides a meaningful way to act
Folks from diverse backgrounds find their way to the Trust with a common goal: to give back to the landscape that has given so much to each of us. In a political climate that can leave even the biggest optimist feeling hopeless and defeated, strapping on a pair of work boots and putting on some leather gloves with a group of people who want to make a difference gives me a sense of purpose. Volunteers become part of a community of like-minded people who inspire and empower me to keep doing the good, hard work we have to do.
We work in the most spectacular landscapes
Whether closing roads in Vermilion Cliffs National Monument with an AmeriCorps crew of 10 20-somethings, working with Hopi and Navajo farmers to prep their fields for growing season, surveying springs in Bears Ears National Monument, removing tamarisk trees with handsaws while backpacking through Paria Canyon, or looking for beavers on Boulder Mountain, the volunteer projects I've led have taken me to some of the most amazing places my eyes will ever see.
We get to see a project through to completion in less than a week
Politics and policies don't change overnight. Much of the Trust's work protecting the Colorado Plateau can take months or even years to see progress, but volunteers help us create visible changes on the land in a matter of days! We can build a fence to protect a spring from being trampled by livestock and elk; we can improve habitat for pronghorn by modifying cattle pasture fences; we can pull thousands of invasive plants to protect an ecosystem; we can install a solar photovoltaic system for a Navajo family that has never had electricity; and we can construct rock structures in streams that will almost immediately help them recover from severe erosion. I have walked away from dozens of volunteer trips with a unique sense of accomplishment that can't be matched in any other way.
We have a party every year to celebrate our work
What's more fun than throwing a big bash to honor our volunteers and our accomplishments? Join us Nov. 15, 2018, at the Trust homestead for music, food, drinks, and mingling with Trust staff from all across the plateau.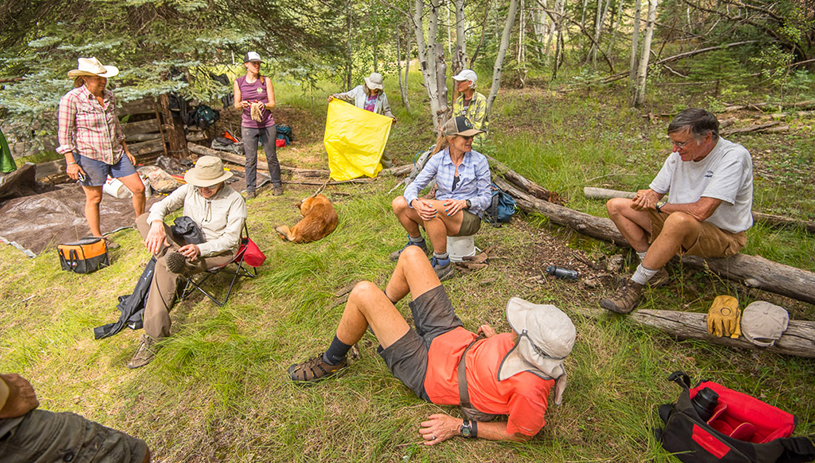 I'm so grateful for everything I've learned in the past eight years working in the Trust's Volunteer Program. I can't say a big enough thank you to everyone I've taken on a volunteer trip, every intern I've mentored, every staff member I've supervised. You've taught me how to live a life with passion and enthusiasm; how to give generously; how to be more patient with myself and others; and you've reminded me every day that the future of our world is in our hands. I'll spend the rest of my life looking at the land with a different lens: one that sees invasive plants that need to be removed, precious waters that need to be protected, wildlife habitat that needs to be preserved, and communities that need healing and justice.
In November, I will be stepping away from my position as Volunteer Program director and into the role of Engagement and Outreach manager, a new position at the Trust, in January 2019. I'm thrilled for the opportunity to continue finding creative and unique ways to engage Colorado Plateau communities, Trust members, and donors in our work. I also look forward to passing the baton to a new Volunteer Program director.
Do you have what it takes to lead a dynamic program at the Trust and build a volunteer community for positive change on the plateau? Join our team.
Are you interested in volunteering with the Trust? Find out more about upcoming projects! ›